Head to the Cube at Bahen Centre for made-to-order food with fresh ingredients (photo by Romi Levine)
Juicy burgers. Freshly baked cupcakes. Filling grain bowls. There's lots of delicious on-campus food to get you salivating this September.
But with all that choice, the hardest decision will be where to go first.
We've rounded up U of T's top foodies to share their favourite campus bites, neighbourhood eateries and guilty pleasures.
Chef Jaco Lokker, U of T's director of culinary operations, can't wait to introduce students to this year's new food options.
"All the menus have gone through a full redevelopment," says Lokker.
Check out the new Gourmet Burger House in the Medical Sciences building (or its existing location at Sidney Smith), or some of Lokker's campus favourites like Sambal and Tortillas.
Lokker says food services at U of T's downtown Toronto campus is dedicated to adapting to changing appetites – introducing more artisanal cuisine, ethically sourced meats, and healthy, high-protein choices.
"We're shifting most of our beef to serving Ontario-raised beef," says Lokker, adding that it comes from a local provider of hormone- and antibiotic-free meat.
And there's plenty for your sweet tooth, he says, with a new dessert line provided by local favourites Phipps Bakery Café and Dufflet Pastries.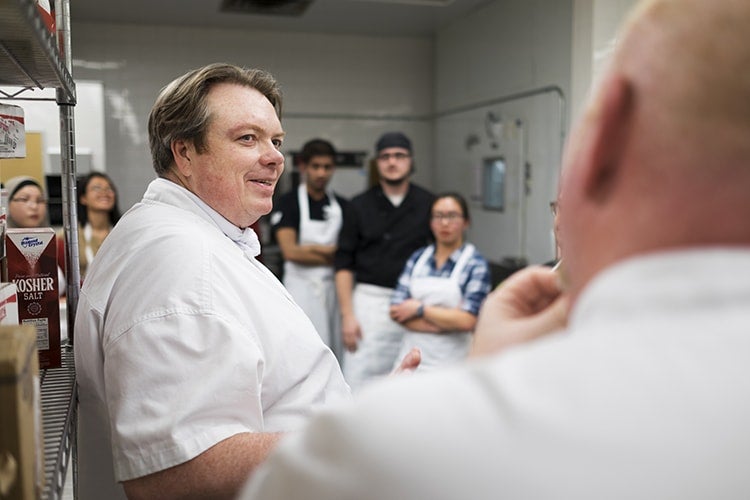 Chef Jaco Lokker coaching students during the U of T Iron Chef competition (photo by Geoffrey Vendeville)
Prefer to cook up your own creations? Apply to be a part of U of T's Iron Chef team for a chance to compete in the kitchen against other North American universities. Applications will open this fall.
Lokker's local favourites Kinton Ramen and Potbelly Sandwich Shop are minutes from the downtown Toronto campus. Venture farther east to visit his favourite Saturday spot, St. Lawrence Market.
"I'm at the market every weekend," he says.
Our newest alumni from all over the world also shared with us their top neighbourhood spots.
"Toronto has cuisine for every ethnicity," says recent grad Chang-Dae Hyun.
University Professor David Jenkins, one of U of T's top nutrition experts and author of the Glycemic Index, which ranks food based on their effect on blood sugar, is a fan of the vegetarian fare in Kensington Market. His favourite places to eat are just a short walk from the downtown Toronto campus.
"What a fantastic area of town for those who want to eat well in a humanitarian way that saves the planet," says Jenkins. "You don't have to give up a thing."
His favourite spots in Kensington are Buddha's, Greens Vegetarian, Cosmic Treats and Hibiscus Café. Great veg options exist on campus, too, such as the Green Beet and Harvest Noon.
For some incredible Indigenous food in Kensington, head to Pow Wow Café for Ojibwe tacos or to Koreatown for Anishnawbe favourites at NishDish.
If you head east, you'll find great local options close to the U of T Scarborough campus. 
In fact, U of T President Meric Gertler's favourite restaurants are in Scarborough: Kub Khao Thai Eatery and Shawarma Empire.
Chemistry professor at U of T Scarborough Bernie Kraatz is mad about Canbe Foods.
"It's one of my favourite takeouts," he says. "And the Egg Roti is fantastic. A meal for a little over $2? You cannot beat that!"
For adventurous foodies, take a culinary tour of Scarborough using Scarborough, A Little Taste – a website and mobile app developed by the U of T Scarborough Culinaria Research Centre where you can find everything from Caribbean to Vietnamese cuisine.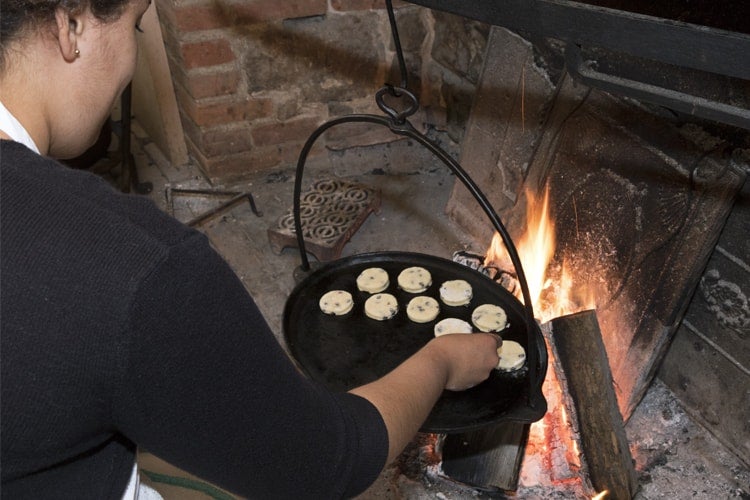 U of T students learned to cook like it was 1817 at Fort York (photo by Romi Levine)
If you're lucky, cooking might even be a part of your course work – like these students who followed 400-year-old curry recipes, or these undergrad researchers who learned how to bake Derby cakes in the Fort York historic kitchen.
At U of T Mississauga, registered dietitian Kimberly Green offers some healthy and tasty food recommendations.
"My favourite place to eat on campus is actually Colman Commons at Oscar Peterson Hall. A lot of students think it's just for those who live in residence, but there is so much variety, something for everyone," she says. "There is a salad bar, veggie options, comfort food, anything you want."
For more tips on healthy eating, U of T Mississauga students can book an appointment with Green for free.
Have a favourite food spot on your campus? Share it with us on Twitter or Instagram.