#UofTGrad17: the aquarium, the opera, the best bubble tea – international grads' guide to Toronto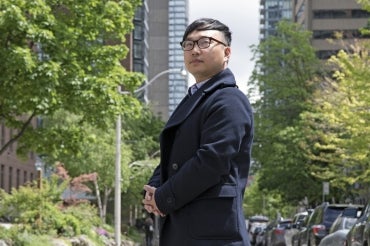 Family and friends of graduating students are arriving from around the world to help celebrate convocation at the University of Toronto.
U of T News asked graduating international students for tips on some of their favourite spots in the city – from cool neighbourhoods to giant parks, and of course, the best places to eat.
Here's what they recommend:
When Chang-Dae Hyun came to Toronto, he was amazed at all of the different kinds of food available.
"Toronto has cuisine for every ethnicity," says Hyun, who will be graduating with a degree in political science from the Faculty of Arts & Science.
Some of his favourite spots are close to the downtown Toronto campus, like Sukhi's Biryani House on Hayden Street and Pig Out BBQ on Spadina Avenue.
Hyun first came to Canada from South Korea as a high school student at Trinity College School and went on to study at U of T. He took a break after his first year to serve in the Korean military before continuing his studies.
He's lived in Canada on and off for 15 years so when he's feeling homesick, he heads to Cho Sun Ok – a Korean restaurant in North York.

Click the icons on the map to check out U of T students' favourite places in Toronto
The Distillery District, Ripley's Aquarium of Canada and Rouge Park are on Hyun's must-see list. But for a uniquely Toronto experience, he heads to the theatre.
"I like to watch a lot of operas and orchestras. A good thing for students is you get a really good deal," he says.
Students can buy discounted tickets at the Canadian Opera Company and the Toronto Symphony Orchestra.
"I've already watched three operas this year," he says.
Asuka Kono, who will be graduating with a master's degree in landscape architecture from the John H. Daniels Faculty of Architecture, Landscape, and Design, also finds that food is the best cure for homesickness.
And she doesn't have to go far from campus to get it – her favourite spot is Konnichiwa on Baldwin Street.
"At Daniels, there are no Japanese people so I can't speak Japanese at all at school. But every time I go to the restaurant with my friends, I definitely feel at home."
Living in Toronto has also introduced Kono to different types of food – from Jamaican to Polish and Greek.
Trying new things was a big part of Nana Boa-Amponsem's experience studying in Toronto.
"So many things were very new to me here," says Ghanaian Boa-Amponsem, who double majored in economics and equity studies.
She has sampled everything from fried dumplings to sushi – while also tapping into the city's caffeine obsession.
"Coffee wasn't something very common back home – usually if you'd see someone drinking coffee, it was because they were staying up late. It wasn't something people do for breakfast every morning," she says.
While she spends most of her time on campus, Boa-Amponsem likes to go for strolls along Spadina Avenue and hang out at Christie Pits Park.
Claire Zhang said she adopted a healthy habit while at U of T. 
"I actually really like salad now, and things that are really healthy and clean," says Zhang, who came to U of T from Shanghai to study civil engineering. "There's a lot of salad shops here like Fresh and Hibiscus in Kensington Market."
But she still loves venturing to Chinatown for some dumplings at Mother's Dumplings or heading to Yonge Street for bubble tea at CoCo Fresh Tea & Juice.
UTC