#UofTBackToSchool: 12 things every new student should know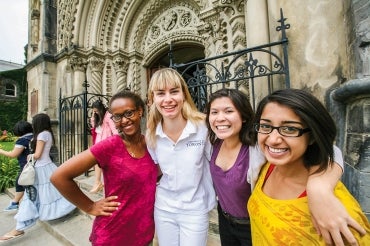 It's easy to get caught up in the fast pace of life at the University of Toronto, especially as a new student. Be sure to brush up on these 12 essential campus supports and services ranging from health care to gender diversity before beginning the school year.

Safety
U of T provides many safety resources, including instructions to register for U of T's 24-hour emergency alert system. U of T also provides emergency housing services, as well as student food banks on the St. George campus in downtown Toronto, U of T Mississauga and U of T Scarborough.
You can also visit the Sexual Violence Prevention & Support Centre for information, resources and workshops. If you are a victim of sexual violence or assault, you are encouraged to contact or visit the centre.

Health and wellness
It's critical to practise self-care throughout the school year. There are numerous on-campus options for health care. Check out the university's health and wellness centres for prescriptions, medical care and check-ups.
Health & Wellness Centre (St. George campus)
Health & Counselling Centre (U of T Mississauga)
Health & Wellness Centre (U of T Scarborough)
These centres are also excellent resources for mental health support. All three campuses offer services, including individual psychotherapy, group therapy and same-day counselling. If you need immediate help, you can call the Good 2 Talk Student Helpline, the Gerstein Centre Crisis Line or one of many suicide prevention helplines, chats and texting support services.
Other mental health resources include a walk-in mental health clinic that offers drop-in counselling to students and is located only a 10-minute walk from the St. George campus.

Accessibility
U of T is proud to provide a host of student accessibility services in and out of the classroom. Learn more about the diverse array of accessibility services offered by U of T.
Accessibility Services (St. George campus)
Accessibility Services (U of T Mississauga)
AccessAbility Services (U of T Scarborough)

Gender and sexual diversity
For LGBTQ resources, workshops and events, visit the tri-campus Sexual & Gender Diversity Office's website. To get involved in the community, check out U of T initiatives such as Positive Space and OUT@UTM or explore more specialized programming such as Que(e)rying Religion.
The Centre for Women and Trans People is an excellent resource for intersectional feminist programming, as well as for providing a safe and harassment-free space for women and trans individuals. Trans students can find essential resources and information, such as how to change your name on official U of T documentation or the locations of all-gender washrooms on campus, here.

Indigenous students
Students hoping to explore and connect with their Indigenous identity can visit First Nations House and the new Indigenous U of T website for supports, events and resources. All members of the U of T community are welcome.
Check out the U of T Mississauga Indigenous Centre or the U of T Scarborough Indigenous Outreach Program for unique programming such as weekly smudge ceremonies, Indigenous film nights and moderated nature walks.
All three campuses offer Indigenous learning opportunities and celebrations accompanied by the knowledge and support of an on-campus Indigenous Elder-in-Residence.

Equity services
As the largest university in the world's most multicultural city, U of T has taken many strides toward maintaining a diverse, equitable and representative campus, such as its initiative to increase equity and diversity in research and innovation. For more information about supports and resources, visit U of T's Anti-Racism & Cultural Diversity Office or one of its tri-campus Equity Offices.

Multi-faith services  
The university offers several on-campus multi-faith locations, as well as on-campus chaplains and resources for religious accommodations.
For multi-faith prayer and meditation space, faith-based counselling, research opportunities, information on religious retreats and more, visit one of the tri-campus Multi-Faith Centres.
Multi-Faith Centre (St. George campus)
Multi-Faith Spaces (U of T Mississauga)
Multi-Faith Engagement (U of T Scarborough)

International students
Whether you came from abroad to study at U of T or are a domestic student hoping for an international study opportunity, supports and services regarding your international experience are readily available at all three campuses.
Centre for International Experience (St. George campus)
International Education Centre (U of T Mississauga)
International Student Centre (U of T Scarborough)

Financial services
Between scholarships, bursaries and grants, U of T offers a wide range of financial services and supports to students. Learn more about getting financial aid or securing a scholarship, many of which are offered through your college or faculty.   

Academic success
Slogging through piles of readings or writing a 3,000-word paper may seem like lonely work, but you don't have to do it alone. Head over to the Sid Smith Commons to join a Recognized Study Group at the St. George campus or a Facilitated Study Group at U of T Mississauga or Scarborough and ace your next test with the help of your peers.
Alternatively, tackle that seemingly impossible paper at one of U of T's 14 writing centres located across all three campuses. For more resources and tools for refining your study skills, improving time management and more, visit one of the tri-campus centres for academic support.
Academic Success Centre (St. George campus)
Robert Gillespie Academic Skills Centre (U of T Mississauga)
Academic Advising & Career Centre (U of T Scarborough)

Family services
U of T is devoted to meeting the needs of its diverse network of students and families through its Family Care Office, which offers resources such as family care counselling and suggests child care options near campus. U of T provides further on-campus resources for students with children, such as Robarts Library's family study space. Resources are also available for LGBTQ parents.
Stay in the know
The easiest way to stay connected with U of T news, events and up-to-date information is by following U of T on social media.
Twitter, Instagram or Facebook (Tri-campus)
Twitter, Instagram or Facebook (U of T Mississauga)
Twitter, Instagram or Facebook (U of T Scarborough) 
If social media's not your thing, find one of the many ASKme booths around campus or consult anyone wearing an orange "ASKme" shirt. If you want a question answered without leaving the house, ask any U of T-related question online or explore other resources such as the U of T Student Life Offices, U of T Mississauga's Centre for Student Engagement or U of T Scarborough's Department of Student Life.
You can also stay in the know by picking up a copy of a campus newspaper such as The Varsity, The Medium or your college or faculty's newspaper.
Also, be sure to check out U of T News for the latest news about the university.
UTC