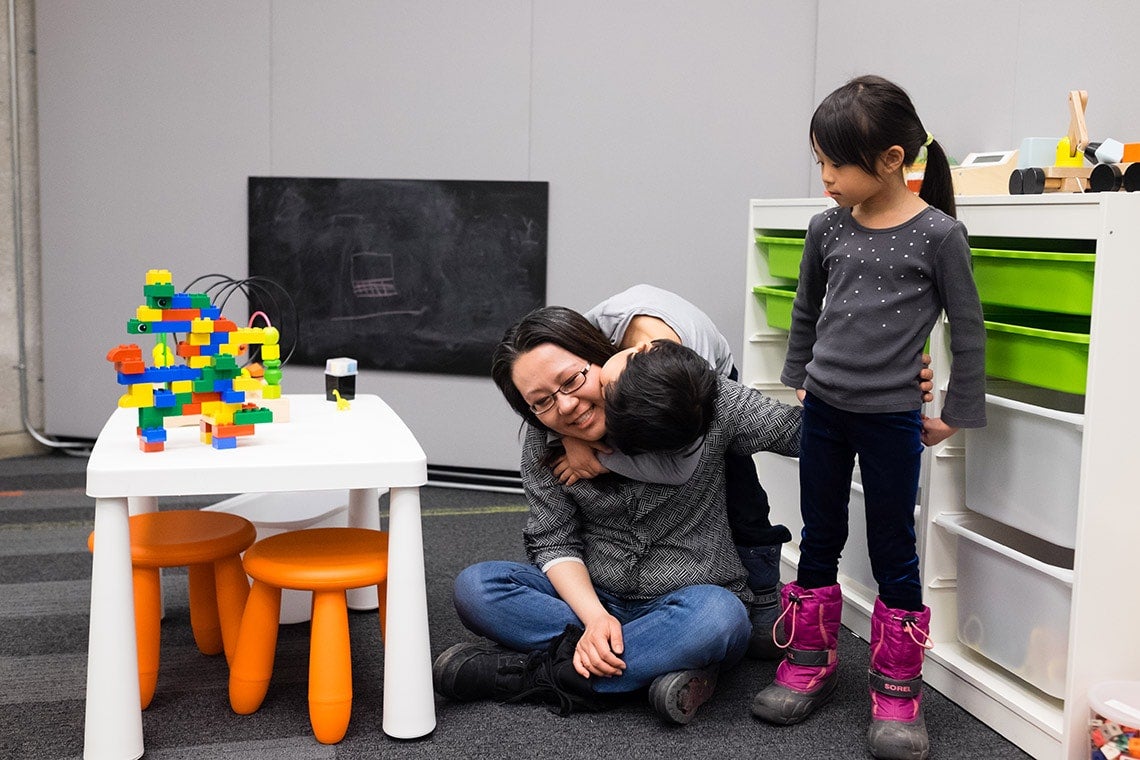 New room is believed to be first of its kind in Canadian university or college
One of the biggest challenges at university for Chelsea Chen isn't a midterm or an assignment – it's finding room to study. 
She is a single mom with a five-year-old son, London, and seven-year-old daughter, Chloe. At the same time, she's completing a certificate in teaching English as a second language and working part-time. 
She can focus on coursework while the kids are in school or during their sports or music lessons. But when she needs to use the library, she often has to bring them along and find a room where she can keep one eye on her kids and the other on her books.
Through a lack of options, she once had her kids sit at computers flanking hers and type in a word processor while she searched the online catalogue.
"It's not recommended but that's what I had to do," she says. 
A space opening this week at Robarts Library is designed to ease the burden on student parents as well as staff and faculty who have young children. The family study space on the ninth floor has room for 20 people and includes work stations, toys and child-sized furniture.
Parents with children under 12-years-old must register online to acquire a fob and access the room.
"It's definitely going to help so many parents," Chen says. "I know that from my experience, this space would make me a better student. I would feel like I'm not leaving my kids to their own devices while I study, and I know they will have some enrichment and they'll be happy to go there."
Similar spaces exist at academic libraries in the U.S. and U.K., but U of T's Family Care Office and U of T Libraries say this is a first for a Canadian university or college.
"This is just one more step in making the university more inclusive of everyone who comes and works and studies here," says Francesca Dobbin, director of family programs and services. 
Time is precious for parents with young children, especially students who juggle schoolwork, family obligations and a part-time job, Dobbin says. The family study space has the same hours as Robarts, making a trip to the library easier on parents who can't get a babysitter on evenings and weekends.
A designated space for parents in the library also helps build a community among a group that tends to be invisible in universities, Dobbin says. "Students with family responsibilities are kind of unseen unless they come to the campus with their children," she says.
A survey of graduate students in 2016 suggests that the demands of raising a family are challenging for university students. About 15 per cent of PhD students, 10 per cent of research master's students and 13 per cent of professional master's students said that family obligations represented a "major obstacle" to their studies. 
Since 1993, the Family Care Office has provided students, staff and faculty with advising and workshops on parenting, childcare and eldercare. About 600 student-parents contact the office for advising each year, Dobbin says.

Mark Kiss, 9-and-a-half months old, and his mom Angelika, a PhD student in linguistics, at home in U of T Student Family Housing. Angelika plans to use the new family study space at Robarts (photo by Geoffrey Vendeville)
The new family room comes equipped with an inventory of toys to keep children occupied: building blocks, plastic dinosaurs, kids' furniture and a chalkboard. For the adults there are four computers, tables for individual or group studying, and a screen for presentations or screening kids' videos. There are nearby washrooms with nursing and baby-changing facilities, and the room has an anti-microbial carpet from the same company that supplies SickKids Hospital. The room has been soundproofed to avoid bothering other students.
"It's important to have a safe and secure space that allows parents to engage in their academic pursuits while also caring for their children," says Larry Alford, the university's chief librarian.
Angelika Kiss, a PhD student in linguistics, says the new space will come in handy. 
She usually studies at home where she can watch her energetic 9-month-old Mark. 
It isn't long before Mark loses interest in his picture-books and demands his mom's attention. "I would love it if I could just read a few pages of an article with Mark being awake because that's sometimes impossible. He's so active," Kiss says.
A special room for parents who want to use the library would make it much less tricky to do research with a toddler in tow, she says.
Search The Bulletin Brief