Undead or unexplained? Photos, books on the paranormal at U of T's Fisher Library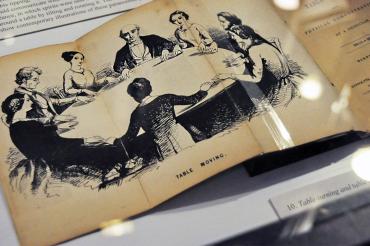 While modern science helps us understand the world around us, it's the unexplained that really captures our imagination.
University of Toronto's Thomas Fisher Rare Book Library is celebrating our fascination with otherworldly beings in an exhibit called "Investigating the Paranormal," on display until the end of January. 
Curated by Fisher librarian Chris Young and archivist Natalya Rattan, the display draws from a collection of more than 1,500 items from the 18th century until today. The collection was donated by U of T alumnus Adam Crabtree, a former Catholic priest who has been interested for awhile in paranormal experiences.
The collection, which also available online, includes illustrated books, fictional pieces, journals and important literature pertaining to psychical research, which is the study of the paranormal.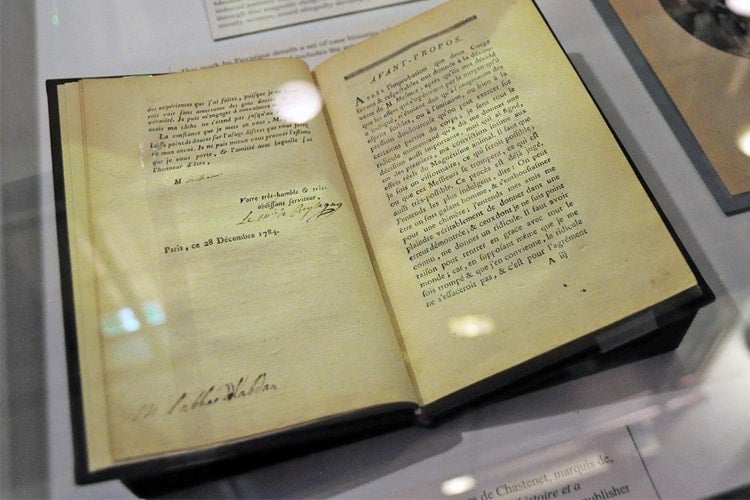 This first edition of Puysegur's work, is signed by the author. It's of the most valuable books in the collection (photo by Romi Levine)
Crabtree was a Benedictine monk but decided to leave the monastery while studying philosophy at U of T. 
After finishing his studies, he became a psychotherapist and began to explore paranormal phenomenon.
"I used hypnosis or trance states to make the work more effective in exploring the inner life of my clients, and in the process, I became very interested in understanding how hypnosis came to be and how the unusual things that were being revealed about the unconscious life of human beings came to light," he says. 

Crabtree's collection includes books about the paranormal with interesting illustrated bindings (photo by Romi Levine) 
Crabtree was attracted to the works of psychical research's forefathers – Franz Anton Mesmer and his pupil Marquis de Puysegur. 
"Puyesgur explored how people talked and what view of the world they had when they were in a mesmerized state," says Crabtree.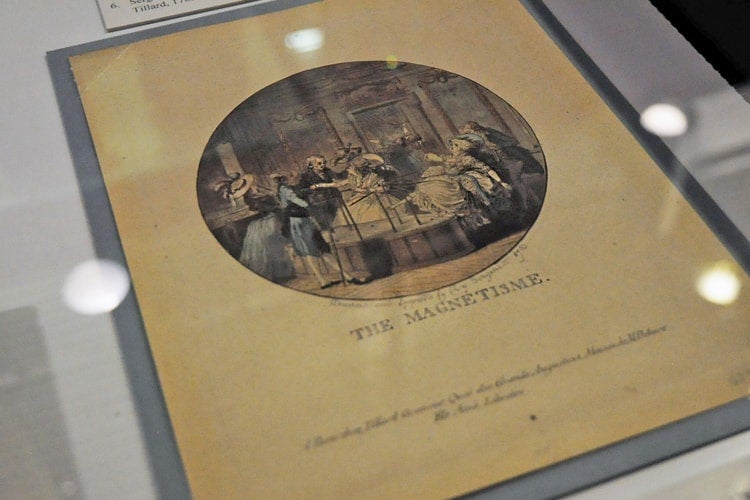 This is the first illustration of a séance from the 18th century. It may even depict Mesmer himself (third from left). Patients are grasping iron rods protruding from the water. They applied them to ailing body parts, to transfer therapeutic magnetism to their bodies (photo by Romi Levine)
Though psychical research is considered a fringe science today, that wasn't always the case, says Young.
"When it was starting off in the 19th century, people used contemporary scientific methods for it," he says. "The problem at the time was there wasn't enough evidential proof that these paranormal activities were actually happening. That's why it never took hold as a scientific discipline along the lines of chemistry, biology."
Mainstream fascination in the paranormal also began in the 1800s with social events meant to conjure spirits such as seances and table turning. 

Spiritualist events like table turning were popular in the 19th century (photo by Romi Levine)
"Table turning is a type of a seance. Allegedly spirits are communicating with you, but somebody was probably turning it with their foot – who knows? It's kind of like a ouija board," says Rattan. 
Early photographers also claimed to have captured paranormal phenomenon – a trend explored in the Fisher exhibit. 

Ectoplasm is a substance that is said to be visible on mediums when photographed (photo by Romi Levine)
"Photography was fairly new and involved a lot of chemicals to be able to reproduce the photographs," says Young. "So people would take photographs, and there would be this mirror image of a face or other types of lighting that had been captured and people couldn't explain it."
Rattan adds that people at the time thought the likenesses that appeared were people that had died who were important to them.

Sir Arthur Conan Doyle was a member of the Society for Psychical Research (photo by Romi Levine)
Psychical research was so popular in the 19th century that well-known figures like Sherlock Holmes author Sir Arthur Conan Doyle embraced it. 
The topic may not be as readily embraced today, but Crabtree's collection is beginning to spark interest: U of T scholars and even an American PhD student have looked into it. 

Can you see the ghostly faces in this photo? Spirits are alleged to have been captured on camera (photo by Romi Levine)
UTC