'The Handmaid's Tale': Margaret Atwood's handwritten first draft at U of T's Fisher Library
Ahead of the TV adaptation premiere, U of T News looks at rare items in Margaret Atwood's 600-box archive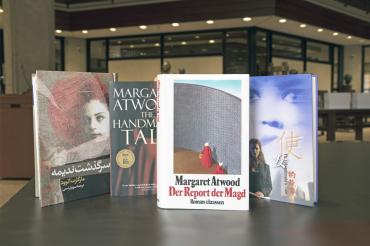 The television adaptation of Margaret Atwood's iconic novel The Handmaid's Tale is set to hit the small screen on Wednesday.
Fifteen years before The Handmaid's Tale was published, Atwood began providing material – from manuscripts to personal letters – to the University of Toronto's Thomas Fisher Rare Book Library.
The award-winning author and poet has deep roots at the University of Toronto – she completed her undergrad at Victoria College and was the writer in residence in 1972. She'll be returning to her alma mater on Wednesday for a screening of the first episode of The Handmaid's Tale, followed by a Q & A at Innis College.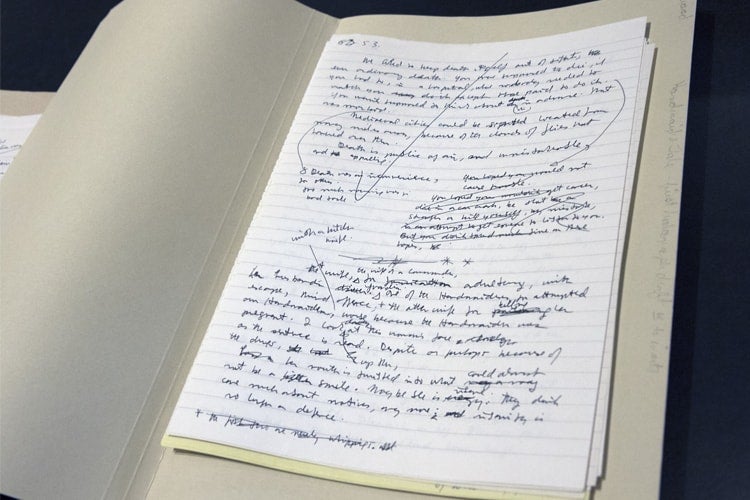 A page from Atwood's first handwritten draft of The Handmaid's Tale, complete with notes and amendments (photo by Romi Levine)
The 10-episode drama, which begins airing this week, will introduce Atwood's story of Offred, a handmaiden trapped in a patriarchal dystopia, to a large North American audience. But the 1985 novel has long been considered part of the canon of Canadian literature.
The library has over 600 boxes-worth of material spanning almost 50 years, including the first handwritten draft of Handmaid's Tale, says Jennifer Toews, modern manuscripts and reference librarian at Fisher. The collection includes book covers of the novel from all over the world, including in Iran where the book is quite popular, and a draft of the libretto from the Danish opera adaptation of the novel.
"She donates almost every year. It keeps growing and growing," says Toews.
Fisher Library also has the playbills Atwood illustrated and printed while at Victoria College and comics she's drawn over the years under the pseudonym Bart Gerrard – many of which have never been published.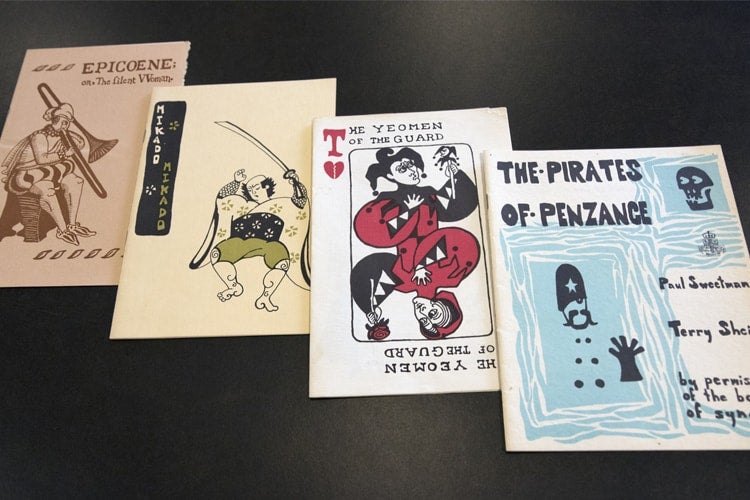 Atwood illustrated these playbills for her peers at Victoria College while she was an undergrad. "She had a little business where she would design and print them and sell them to the college," says Toews (photo by Romi Levine)
Academics, writers and fans come from all over the world to access Atwood's archival material, says Toews.
"There's a group of scholars, and they're waiting for the next instalment of papers – they're waiting to pounce on the new material, and start writing papers and planning colloquiums," she says.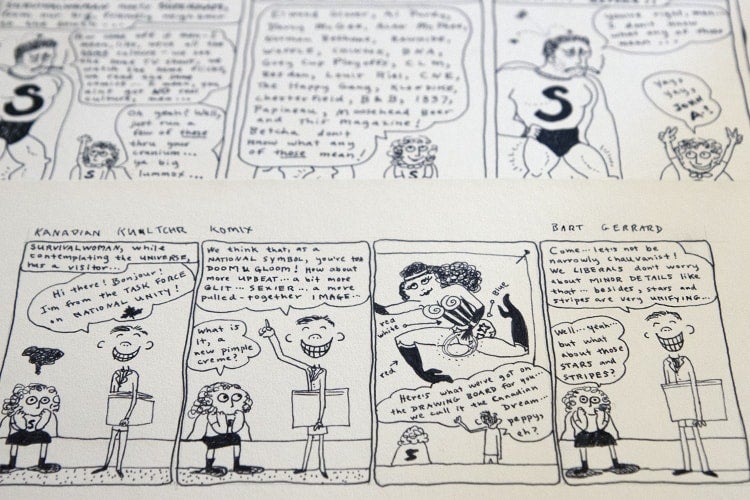 Some of Atwood's comics feature 'Survivalwoman' who Toews says is somewhat autobiographical (photo by Romi Levine)
Anyone can access Atwood's archive – items listed online can be requested through the Fisher Library website.
Toews works with Atwood's assistants to sort through and categorize her archives. She has had the chance to meet with the author several times.
"She's very nice, very attentive and very helpful," she says with a giggle. "I'm laughing because we sat [Atwood] at one of these tables. It was a really horrible one unfortunately with all kinds of dents in it, and she pulled a marker out of her bag and filled them in. She's pretty cool."
UTC