In university-wide effort, U of T moves services online to support students during pandemic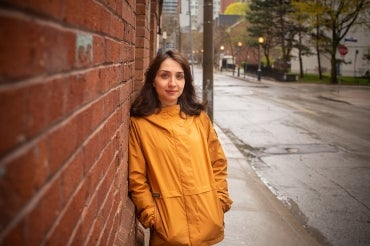 Azadeh Barzideh had spent months recruiting participants for her PhD research on reactive balance training in people with chronic stroke when the outbreak of the novel coronavirus suddenly made it unsafe to continue her work with high-risk individuals.
With her research on hold, the second-year doctoral student at the University of Toronto's Rehabilitation Sciences Institute quickly shifted her attention to her comprehensive exam. But she soon discovered that studying for the test while confined to her shared house in the Annex neighbourhood came with its own set of challenges.
"I had to bring my expectations down. That was one of the first things I learned during this process," she says.
Originally from Iran, Barzideh found support through new services offered through U of T's Centre for International Experience and division of academic success. She logged onto Zoom for an online chat about learning at home and joined a virtual study hub and graduate student writing group.
She also downloaded a Pomodoro technique extension for her web browser, helping her study in 25-minute bursts, and found a YouTube playlist of library sounds to help her concentrate.
"These things helped me move from my starting point to gradually stay on track," Barzideh says.
The Zoom discussion that Barzideh joined is part of a suite of new online programs set up by U of T to help students navigate the challenges of studying during a global health emergency that has limited social contact and closed campus buildings.
Across the university's three campuses, staff have found creative ways to adapt core services – many of which hinged on face-to-face interaction – for the COVID-19 era. That includes taking staple services that students have come to rely on, from fitness classes to counselling appointments, and moving them online, while also launching brand new programs that offer advice on studying at home or managing stress during the pandemic.
"It's clear that students are looking to continue to have that sense of community with us, and we're going to continue being there for them throughout," says Sandy Welsh, U of T's vice-provost, students.
The rapid transformation of campus services so they could be accessed online required "unprecedented" teamwork across the university, Welsh adds.
"The forums we're providing online are a real opportunity – not simply for us to convey information, but, more importantly, for us to check in with our students and for them to have a chance to connect with other students."
The list of virtual supports and resources offered by U of T run the gamut from wellness classes to virtual workouts. The university's Sports & Recreation division holds fitness classes through Zoom and Instagram several times a day, including barre classes, yoga and cardio dance parties. The Health & Counselling Centre at U of T Mississauga has moved its popular Wellness Hub online, including daily virtual workshops and Tea Talk Tuesdays – an opportunity for students to engage on topics like resiliency and share tips on how they're coping. U of T Scarborough has also transitioned to virtual services, even moving its popular Get Hired conference online. The three-day event helps upper-year students get a leg up in their job hunt.
The Centre for International Experience is hosting virtual language exchanges for students learning English as an additional language, and is working with the division of academic success to put on a new series of online discussions on subjects like structuring your day while managing different time zones.
"The whole idea is to have everyone talk about their experiences during the COVID-19 pandemic and start from there," says Yaseen Ali, a learning strategist at Academic Success who facilitates the discussions with Lydia Li, a student life officer.
Li says she and Ali encourage students to share their stories to demonstrate that others are often experiencing similar problems. "We try to build a common ground so they feel safe," she says. "They can be vulnerable with us and share their struggles without being judged. Our job is to give them validation, support and resources."
The list of online supports available to students doesn't end there.
At U of T's First Nations House, staff share Indigenous stories and teachings via Zoom and host online beading circles on Tuesdays. The School of Graduate Studies has moved many activities online, too, including virtual coffee hours and online workshops on subjects like how to manage your finances during and after the pandemic. Through Hart House, students can play board games with others online or join an audio book club.
Students who are feeling peckish, or just need a study break, can tune into a new Instagram series of bite-size cooking shows by Kimiya Karbasy, a residence life co-ordinator at University College and recent U of T graduate with a master's of science degree in nutrition. In each episode, available on @ucstudentlife's Instagram account, Karbasy goes over how to prepare simple and satisfying treats like black tea lemonade and peanut butter cookies.
"We really want to support students and let them know we're still here," she says about the college's new virtual programming initiatives.
"Even if they're not here physically, they're still a member of this community and we're still here to support them."
Support goes beyond online spaces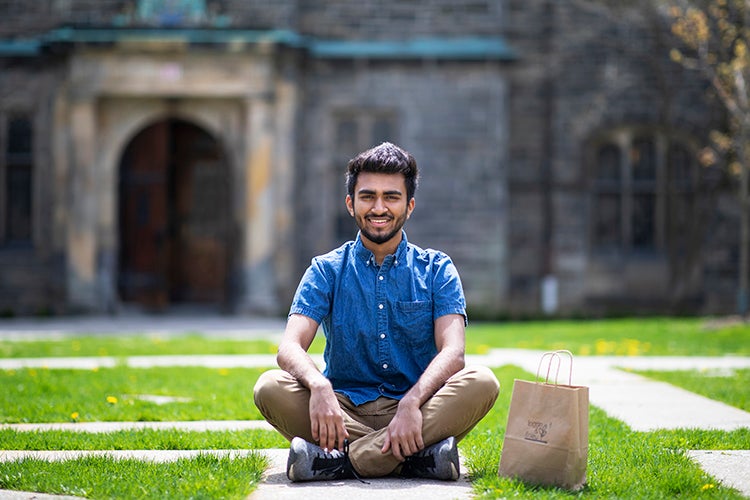 Hriday Chheda, who is studying computer science and math, was unable to return home to Mumbai because of travel restrictions, but says staff at Trinity College have been checking in on him and other students (photo by Nick Iwanyshyn)
Around Easter, Hriday Chheda found a surprise hanging from the doorknob of his dorm room in Trinity College: a care package from college staff that included a chocolate Easter bunny and a handwritten note of encouragement.
The computer science and math student, who couldn't go home to Mumbai because of travel restrictions, says he appreciated the gesture as opportunities for human interaction have been few and far between since social distancing has become the norm.
Trinity staff have also been checking in on each student in residence over the phone. "That was pretty cool," Chheda says, "because usually when you get a check-up call it's a quick, 'Hello.' But this lasted half an hour, and they asked me what my plans are for the summer and if I needed anything."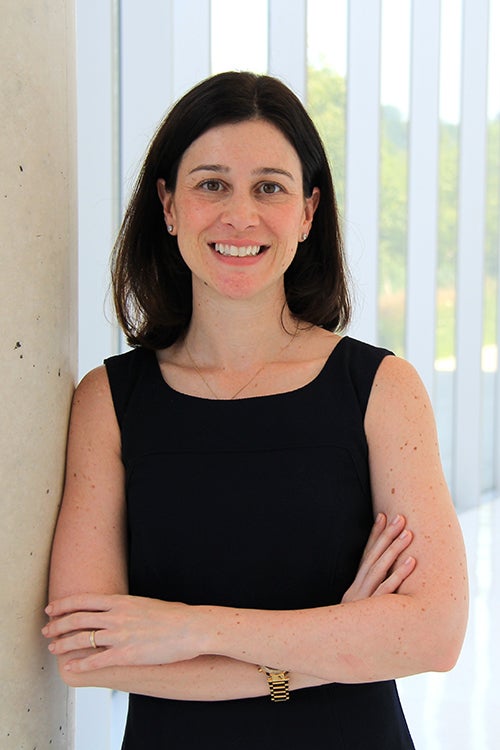 Andrea Carter, the assistant dean of student wellness, support and success at U of T Mississauga, is helping co-ordinate supports across the university, particularly for the more than 2,000 students still in residence across the three campuses.
"We know the research shows that the more a student has a sense of community, the better they do at university," Carter says. "So, it's really important that we don't lose that during a time of social distancing and different obligations on how we're [supposed] to interact with one another."
It's important that students know that services are still accessible, even if the university has scaled back in-person operations on campus, according to Carter.
To get the message out, staff from the Scarborough campus, U of T Mississauga and Hart House have been redeployed to residences across the university to spread awareness about campus resources.
While students and staff can't meet face-to-face, virtual sessions have exceeded expectations, Carter adds.
"We've always assumed that the learning and community exchanges have to happen in person, but I think what we're starting to see is you can still form meaningful relationships, even though they're virtual," she says. "Seeing someone's face on a screen and talking about the difficulties that come with living in these circumstances are meaningful for people and helping with their resiliency."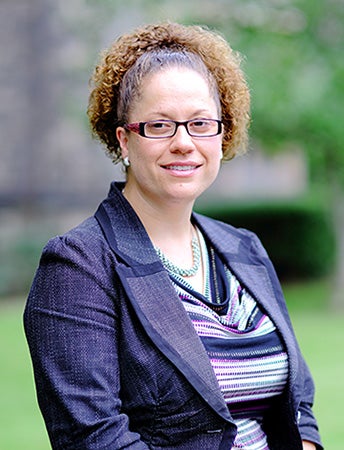 Kristen Moore, the dean of students at Trinity College, says all seven of the university's colleges are experimenting with new ways to engage and support students.
St. Michael's College, for example, has consolidated students living on campus so that no one would be living in a mostly empty building. They also made sure that students who had been living in the same dorm got to stay together. Residence staff welcomed students from the all-women's Loretto College and re-housed them on the same floor of another dormitory so they can be together.
At Trinity, meanwhile, there are weekly yoga and meditation classes through Zoom, gift card giveaways on Instagram and student surveys that ask how services can be improved.
"We've basically moved everything we do in person to online, and we've tried to supplement that by recognizing that students are really lacking the opportunities for connection that they usually have, which are really the bread-and-butter of the residence experience," Moore says.
Other initiatives elsewhere at the university include: opening up summer work-study positions that entail working remotely and providing bursaries to help students with unexpected costs like the need to extend their meal plan.
In conversations with students, whatever the medium, Moore says compassion and understanding is the operative word. "Everyone is doing the best they can in really unusual circumstances," she says. "We're here if students want to connect, even if we can't do it in the same way we normally would."
Along with Welsh, Joe Wong, the university's vice-provost and associate vice-president, international student experience and a professor in the Munk School of Global Affairs & Public Policy and the Faculty of Arts & Science, is heading a group of staff leaders across the three campuses that is looking at how to further adapt services in the wake of COVID-19.
"Some units are reporting that there are new students engaging with these services that weren't engaging in the past," Wong says.
Looking ahead to the fall semester, the group led by Welsh and Wong is planning for a situation where students may be working across time zones and different online platforms. Whereas new students typically get their bearings on campus during the first week of September, they may be arriving at different times in the fall as travel restrictions are progressively lifted.
Different parts of the university are working in tandem to support students as much possible, says Wong.
"We're seeing collaboration like we've never seen before."
UTC