Stay strong at home: U of T Sport & Rec moves fitness and meditation classes online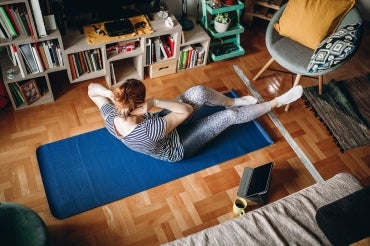 What do you do if you're an Olympic athlete and your training routine has been disrupted by COVID-19? If you're Kylie Masse, a Varsity Blues swimmer and winner of a bronze medal at the 2016 Games in Rio de Janeiro, you move your workouts indoors.
To stay fit, she's been taking part in free online workouts offered by the University of Toronto's Sport & Recreation division. 
"My training and schedule have changed drastically, similar to everyone around the world," Masse says. "It has been quite an adjustment to not have my usual regimented routine, but it has been nice to try different activities to maintain my fitness."
The workouts, ranging from high-intensity interval training (HIIT) to yoga and barre, were all part of the regular catalogue of group fitness classes offered by Sport & Rec before the pandemic. They were adapted for the home and moved online after COVID-19 forced the closure of athletic facilities.

"Moving our group fitness classes online was a significant undertaking that required a massive team effort on the part of our program staff and coaches," says Beth Ali, executive director of athletics and physical activity at U of T. "We know from research that physical activity brings both physical and mental health benefits. This is especially true in times like these." 

So far, Masse has taken part in the cardio dance party and barre classes (a hybrid workout that draws on elements of ballet, yoga and pilates) – and she says she'll be back for more.
"I loved the energy and the positivity of the instructors. They gave great instructions and guided our movements in a fun and enjoyable way," she says. "It really felt like you were physically there. The barre class was challenging, but awesome because it was something I had not done before." 
The classes provide an opportunity to try a new activity that you may have been too timid to try before, she added.
"The classes are so easily accessible and you can participate in them alone or, if you want company, with your parents, siblings, family or roommates."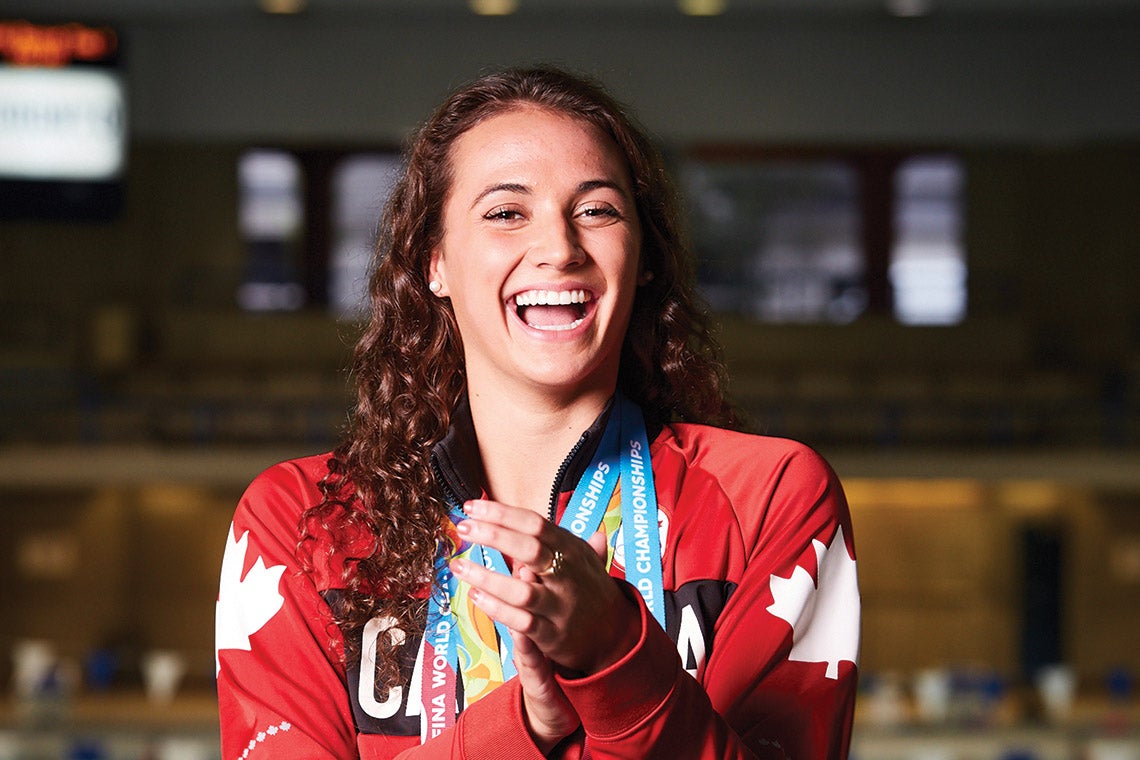 Varsity Blues swimmer Kylie Masse says she's so far taken part in online cardio dance party and barre classes (photo by Thomas Bollmann/Seed 9)
 
The live workouts and classes include meditation sessions to improve concentration and alleviate stress. Students can also get tips on quick, high-intensity workouts by watching MoveU Anywhere! workout videos. 

"We developed the MoveU Anywhere! videos last summer after hearing some students say that they don't have time to work out," says Kay Dawkins, manager of physical activity at Sports & Rec.
The videos were shot in dorms on the St. George campus and were originally intended to promote physical activity and a healthy active lifestyle among students in residence, but Dawkins says anyone can benefit. 

"It's really important in these unusual times for people to continue to do normal things and exercise is hopefully a part of that," says Adrian Lightowler, manager of fitness and performance programs at Sport & Rec.

Lightowler says you can get the same benefits from working out indoors as you would outdoors; it just requires a bit more creativity. The online workouts require no special equipment. All participants need to do is pick a class that fits their schedule and join through Instagram or Zoom. For those who can't make the livestream, the sessions are being recorded and added to YouTube archive.

"Gym regulars are going to get a great workout out of these classes, but for those who don't go to the gym regularly or ever, this is an amazing opportunity to try something they maybe didn't have the confidence to try before in the comfort of their own homes," says Lightowler. 

Each session has two coaches, with one providing instructions and the other demonstrating the exercises. The exercises are modifiable, which means individuals of all levels of fitness and skills can participate. 

"The coaches are trained to offer alternatives, but what really sets them apart is the research from U of T's Faculty of Kinesiology & Physical Education, which is embedded in our coaching and staff development. We're not just trying to make people tired. We want to give them the skills to enjoy a workout, but also teach them how to be physically active for life," Lightowler says.
Vasily Grigorovsky, a sixth year PhD student in biomechanical engineering at U of T, was a regular in the Squad Training and Big HIIT classes when they were offered on campus. When they moved online, he kept at it. 

"I find that they actually get me to work out. Sometimes it's hard to motivate myself to do it on my own, but if a live class is starting at 10 a.m. or 12 p.m., you just have to be ready. I like that there are multiple time slots, so if I can't make a morning class, I can still schedule in a workout," he says.

Grigorovsky says he likes that there are two coaches involved in each class.

"The interaction makes it more fun for everyone and it's easier to see different variations of the exercises. I think that is especially important when you are doing the exercises at home with limited or no equipment. The coaches do a great job of providing a wide range of alternatives, from using a backpack to lifting a couch."

So far, he's been joining the classes through Instagram, but is looking forward to trying them on Zoom, which allows for direct feedback from coaches. 

"After not really working out since mid-March, doing a few of these online classes brings back the feeling of satisfaction about doing some physical activity at a time when we are all mostly just sitting at home," he says. 

And while it's not a complete replacement for a gym workout, he says it comes close.

"These classes definitely make me sweat. The exercises can be as difficult as you make them and the coaches provide the same great coaching as before. Once the class gets going, I find that I am as focused on just exercising and not thinking about work, for example, as I would have been at the gym. Most of the classes also feature a bit of mobility and stretching, which is great during this stay-at-home time.

"But, having fun and interacting with other people is equally important now that we feel less connected and more isolated and it's a great way to counteract all the negative feelings associated with this continuing pandemic," he says.

Lightowler agrees.

"For people who are already part of our community, who are already familiar with our facilities, who know our staff and see them around, there is great value to keeping those connections going," he says, adding the coaches also thrive on staying in touch with the participants.

"Most coaches don't go into this business because they like to be on their own. There's a type of person that loves connecting with people and a lot of us are missing that connection right now. Our coaches are so happy to be able to connect with students and other members of our community online. They're getting a lot of satisfaction out of being able to help people through this time."
KPE