U of T ranks in top 10 for seven subject areas by influential global ranking firm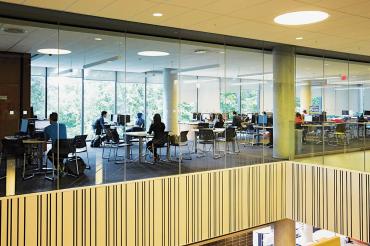 The University of Toronto ranks among the top 10 universities in the world in seven different subjects, and is among a handful of elite institutions to rank in the top 50 across nearly three dozen subjects, according to a new subject ranking by the independent Shanghai Ranking Consultancy.
The Global Ranking of Academic Subjects 2018, released this week, placed U of T among the top 10 in the world in the following subjects: psychology (2nd), medical technology (4), human and biological sciences (6), automation and control (7), sociology (8), management (9) and public health (10).
U of T also ranked in the top 50 in 35 different subjects. That's more than any other university except Harvard, Stanford and Michigan, and the same as the University of California, Berkeley.
In Canada, meanwhile, U of T ranked ranked first (or tied) in 29 subjects – more than any other Canadian post-secondary institution.
"We're thrilled to see the University of Toronto recognized for its academic strength across such a wide variety of subjects," said Vivek Goel, U of T's vice-president of research and innovation.
"This is rare among the world's universities and allows U of T students, regardless of their focus, to be exposed to many of the world's top scholars." 
The Shanghai subject ranking, now in its second year, looked at more than 4,000 universities in 54 different subjects spanning natural sciences, engineering, life sciences, medical sciences and social sciences.
The ranking uses bibliometric data to develop the majority of its indicators and complements the data with information about faculty honours and awards. Each subject has a different mix of indicator weightings, thresholds for inclusion and depth to the rankings, depending on the nature of the data being used.
In total, U of T was ranked in 50 of the 54 different subjects.
The Shanghai subject ranking's 2018 results echo those of the QS World University Rankings by Subject released earlier this year. The QS rankings placed U of T first in Canada and in the company of the world's elite universities in all of the five broader subject categories surveyed. It also ranked U of T in the top 50 in all but three of the subjects analyzed – more than another university.
The Shanghai Ranking Consultancy also produces the influential Academic Ranking of World Universities.
In the most recent edition, U of T held the 23rd spot in the world, up four places, and retained its title as the top globally ranked university in Canada.
UTC