U of T students work with Māori, Maya and other Indigenous communities and share what they learned in new forum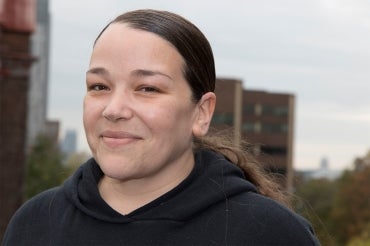 University of Toronto student Jaime Kearns says she just had the best summer of her life, living and working with the Māori peoples of New Zealand as part of a U of T internship program.
"It was eye-opening," says Kearns, a fourth-year Indigenous studies student and member of the Anishinaabek Chippewas of the Thames community. 
She has a keen interest in Indigenous archeology and was eager to learn about New Zealand's policies for repatriation of Māori archeological artifacts from museums and collectors around the world. She also took classes about Māori culture and worked as an editorial assistant for a Māori journal.
Interning at the Māori Centre of Research Excellence, Kearns says she was struck by the fact that the Māori language is recognized alongside English as an official language. "They're about 100 years ahead of us," says Kearns, who also noted that the Māori people got the right to vote about a century before Indigenous men did in Canada.
Kearns' internship abroad was part of the Queen Elizabeth II Diamond Jubilee Scholarship program at Trinity College, which includes internships in Guyana, Belize, New Zealand and Australia. She is now involved in the Indigenous-Settler Relations Forum and Course – a weekly program organized by Trinity College's director of ethics, society and law, Professor John Duncan. The program is split into a for-credit course for returning interns to continue their research, and a forum for Indigenous experts, academics and interested members of the community to engage with students who have returned from their travels abroad. 
The timing of the forum, says Duncan, coincides with increased efforts at U of T to work towards reconciliation with Indigenous peoples in Canada.
Earlier this year, a U of T steering committee released a Truth and Reconciliation report with 34 specific calls to action for the university.  "I think we're at this amazing moment where everyone's talking about reconciliation," says Duncan. "There's a cultural sense that there is something that could come out of it, so our efforts here at Trinity [College] are in that vein."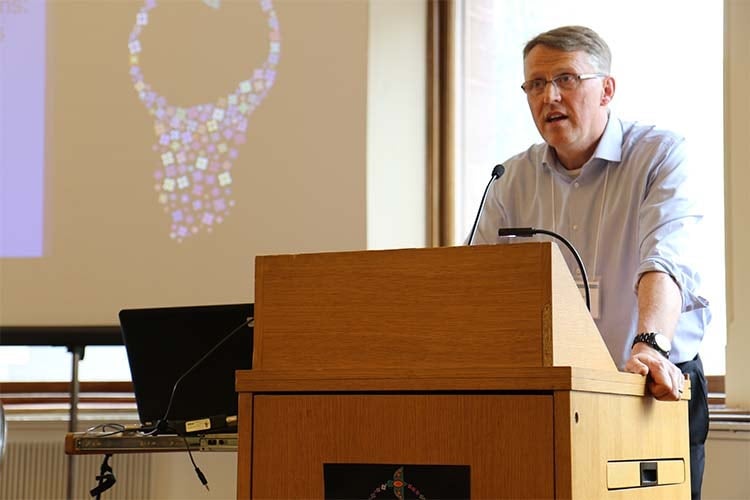 Professor John Duncan earlier this year at a conference exploring how universities can respond to Truth and Reconciliation calls to action (photo by Hannah James)
Hannah Lazare, a fourth-year Trinity College student majoring in ethics, society and law travelled to Guyana and says she found the experience "humbling."
"It was my first experience being directly involved in an Indigenous community," she says.
Interning at the Institute of Applied Science and Technology in Guyana, Lazare says she participated in research involving how science or technologies can enhance production for Indigenous businesses. She says she flew on tiny planes to Bina Hill – a community near the Brazilian border – to work with an Indigenous community that runs a soap-manufacturing operation.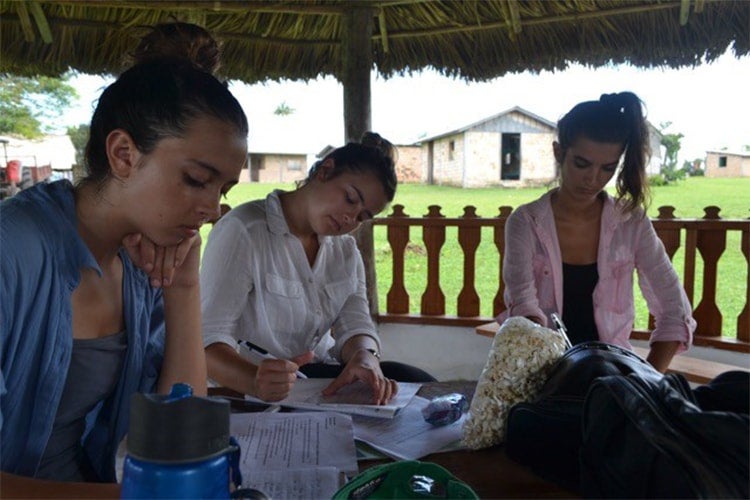 U of T students (left to right) Alessia Avola, Hannah Lazare and Andrea Dimiskovska travelled to Guyana to intern on projects related to Indigenous businesses (photo courtesy of Hannah Lazare)
Lazare says she had to learn and follow proper ethics protocols for working with Indigenous communities – beginning with asking for permission to enter the land and requesting to work with the people making the soap.
Zara Narain, a third-year Victoria College student at U of T also majoring in ethics, society and law travelled to Belize and interned with the Maya Leaders Alliance. The alliance represents the interests of 39 Indigenous villages in southern Belize that won a 2015 case in the Caribbean Court of Justice giving them rights to the lands they have historically used and occupied.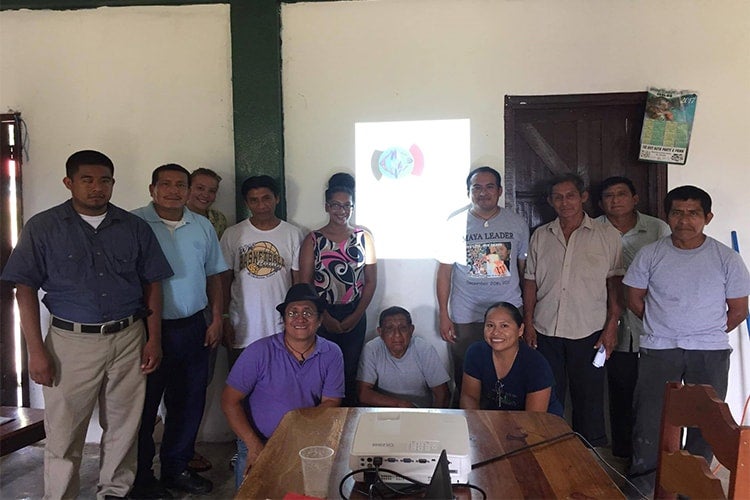 Zara Narain (centre left) at a presentation in Laguna Village about some village bylaws that she helped document with her fellow intern, Madison Lauren, a fourth-year anthopology student (pictured third from left) (photo courtesy of Zara Narain)
"The big question was, after this legal victory, what happens next?" says Narain, who travelled to Laguna and Santa Cruz villages to help document customary laws the communities were developing. They included a range of issues, from protocols for meetings to laws for cleaning and sanitation in communities.
Her role was to work with community leaders and Elders, helping to relay their ideas and responses to the Maya Leaders Alliance.
Narain says she wants to pursue international law and her experience in Belize gave her a new perspective on working with Indigenous groups on a global scale.
For Kearns, a summer in New Zealand helped her understand her own life as an Indigenous person living in Canada.
 "I think in Canada we have been oppressed for a long time, and it just becomes part of our daily lives," says Kearns. "Seeing some of the things the Māori are doing in New Zealand gave me ideas about different things that we can start doing and implementing here."
Kearns says New Zealand's policies about the repatriation of Māori artifacts are particularly interesting to her, and she hopes to start working on similar initiatives around Indigenous artifacts in Canada.
UTC