U of T students create menu-planning tool for Toronto women's drop-in centre
The tool helps identify new and existing recipes so chefs can use donated food items to create balanced meals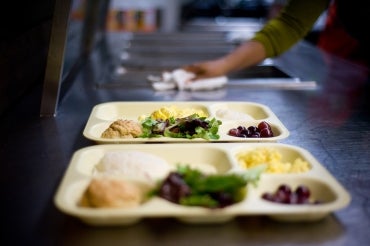 If a truckload of kale was delivered to an ordinary Toronto restaurant, it would be next to impossible for it to sell enough salads to exhaust the inventory, but that's exactly what chefs at a local Toronto women's drop-in centre do every week.
To help chefs at Sistering drop-in centre, which serves up to 250 meals daily to women who are homeless, under-housed, low income or marginalized, U of T students have created a menu-planning tool, which helps the centre not only meet the dietary needs of its clients but also make use of all donated food.
Since creating the tool in November, the students have been asked to replicate similar menu-planning aids for 29 more drop-in centres in Toronto.
"One of the biggest constraints faced by charitable food programs and organizations is the limited nutrient-dense food that they are able to provide for their clients due to inadequate resources," said Courtney McAskile, a second-year master's student at U of T's Dalla Lana School of Public Health.
She worked with fellow students Hazel Fernandez, Sarah Kassel, Etienne Nemanishen and Sistering to create the tool.

From left to right, Courtney McAskile, Sarah Kassel, Etienne Nemanishen and Hazel Fernandez helped develop the meal-planning tool
Homeless women experience low-energy intake and have diets that are low in fruits, vegetables and dairy products, but the team was surprised to learn that many people who consume meals at shelters and drop-in centres like Sistering experience chronic diseases like diabetes and hypertension.
The team believes that one of the reasons why is that although such organizations may have the best intention, budgetary shortfalls and the inability to choose which foods are donated may result in centres providing foods that are high in cholesterol, total fat, saturated fat and added sugars.
The team worked in partnership with Sistering's chefs, administrators, volunteers and clients in the fall of 2016 to create a menu-planning tool for chefs that identified how to use existing and new recipes in combination with other foods to create a balanced meal according to the Toronto Public Health plate model for drop-ins, a visual way to think about food group portions.
According to the healthy food model, half the plate should include vegetables or fruit, a quarter should be grains, and a quarter should consist of meat and alternatives. This plate model aims to include all essential nutrients in one meal, as drop-in clients may only eat one meal a day.
"We organized the tool by food group but also by commonly donated foods such as carrots, squash, or kale," McAskile said. "This way, if chefs receive a large shipment of squash or kale but don't know what recipe to prepare in order to use up the shipment, they could easily flip to that section and find a number of recipes making use of this ingredient."