U of T students create 'hemispheric connection' with podcast focused on COVID-19 and Latin America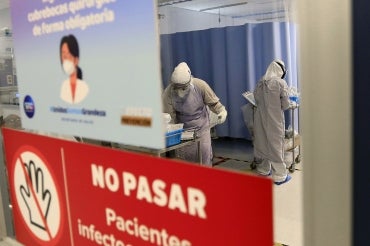 Through the worst days of the COVID-19 lockdown, a group of University of Toronto students found renewed purpose by launching Radio Viral, an initiative of the El CafeciTO podcast that explored the impact of the pandemic on Latin America.  
The students – Leonardo Cosenza, 21, from Brazil, Ana Rodriguez, 21, from Colombia and Raquel Serrano, 20, from Ecuador – said they realized that as much as the pandemic upended their lives in Canada, the impacts were more far-reaching in countries such as Brazil, Mexico and Peru, where people lack the social safety networks Canadians enjoy. The podcast, produced for U of T's Latin American Studies program, was one of 155 projects to receive a U of T COVID-19 Student Engagement Award – an initiative designed to support students and foster a global community during the pandemic.
Supported by U of T Mississauga, U of T Scarborough and other U of T faculties and divisions, U of T's Office of the Vice-President, International collectively provided $489,000 to fund multidisciplinary projects through the COVID-19 Student Engagement Award. The successful projects, involving more than 500 students, ranged from efforts to reduce food waste to the design of a rapid deployment shelter and a digital operating room assistant to help optimize surgical workflow under COVID-19 restrictions.
U of T News recently caught up with Cosenza, who is at University College, Rodriguez, a St. Michael's College student who recently graduated, and Serrano, a Trinity College student, to talk about putting together Radio Viral and how U of T's student engagement awards helped provide them perspective during a challenging time.  
---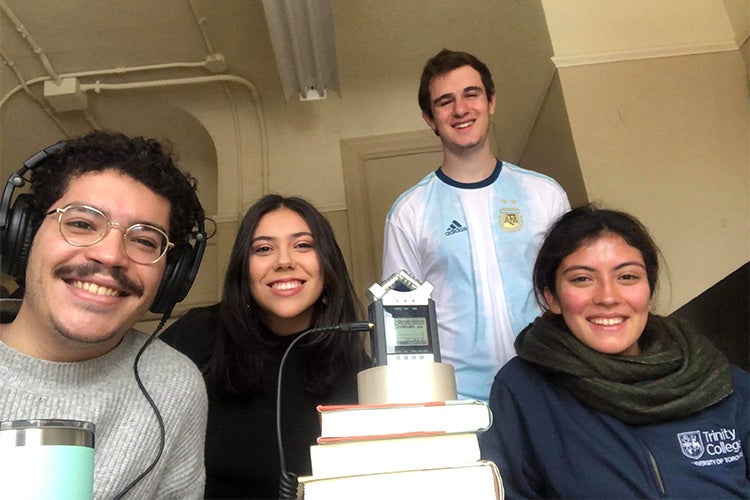 The Hosts of El CafeciTO appear in a photo taken in November 2019, before the global pandemic. From left to right: Leonardo Cosenza, Ana Rodriguez, Guilherme Patury (who is part of El CafeciTO, but was not part of Radio Viral) and Raquel Serrano (photo by Berenice Villagomez)
What have you learned about the challenges facing students in Latin America in regards to the pandemic?   
Serrano: The El CafeciTO podcast and its Radio Viral initiative has taught me that it would be a mistake to consider that all students are facing the same challenges at the same level. This pandemic has exposed the existing inequalities in the health, political, economic, social, and educational systems in Latin America. While for students in Canada online classes might be one of the biggest concerns, students in certain parts of Latin America are encountering economic, social and health issues that will have long-term effects on their academic and personal plans.   
Cosenza: The pandemic brought me back home to Brazil where I stayed in isolation for many months. As I already struggled with mental health, this time in isolation only worsened my symptoms. I had to pause my independent research project and my plans to go to an in-patient clinic. The podcast idea came right before one of my worst crises and at first made me really worried I would not be able to accomplish the task. However, as the days progressed, I felt better and the podcast began to pull me out of the quarantine monotony.   
What countries have done well and what countries have struggled?   
Serrano: When looking at who has struggled the most during this pandemic, I think of how our shared colonial legacy has positioned Indigenous, Black, rural and informal communities to be the most vulnerable to COVID-19. Years of neglect and underdevelopment in these marginalized communities – paired with minimum governmental accountability – has led to a lack of access to clean water and to adequate medical infrastructure. Therefore, these communities are the ones who are facing the worst of the virus, across all Latin American countries.   
How do you find students to speak to for your podcast?   
Rodriguez: For Radio Viral, we chose to focus on creating a hemispheric conversation. We chose our topics based on our contributors' interests and expertise. We recorded episodes about our transition into digital life, local realities, student entrepreneurs and the challenges of running a business during the pandemic. We have used this platform to bring light to issues that are often swept under the rug in Latin American societies such as mental health, Indigenous realities, as well as the intersection between Black Lives Matter and the pandemic in Latin America.   
How do you think podcasts with voices from all over help build community, especially in a time when we cannot travel?   
Rodriguez: Radio Viral brings in new voices from the hemisphere every week and we share their expertise and realities with all our listeners. In a time when we cannot travel, the best we can do is learn about the regions of the world we wish to visit one day. Listening to the testimonies of those who live there will ultimately build a deeper connection with the destination without ever leaving our homes.   
Cosenza: I used Brazilian podcasts to connect to my country during the times I missed it the most. By listening to podcasts, I virtually attached to a place that translated the warmth I felt at home. In El CafeciTO, we decided to encourage more informal conversations to reflect how we normally express ourselves to create a friendly environment for Latinx listeners. Our mannerisms and accents are also a way to share a similar space with our audience in the podcast. In sharing our student perspectives, we try to voice different areas of the community to echo some of the ideas within our community. All of this helps create a sense of attachment as you listen to the podcast that builds a friendly community of listeners.    
Serrano: Podcasts with different voices help build community by demonstrating that although our experiences may be different, we're still able to understand and support each other. Even if travelling is not allowed, listening to podcasts is one way to explore and learn from and about other realities. We can do so from the comfort of our living rooms.    
What's been your experience during the pandemic been and what role did the podcast play in shaping it?   
Rodriguez: It was extremely difficult for me to finish my last assignments and exams because I had to move back in with my parents. I didn't even have a desk to use to study. Once I finished my schoolwork, I was feeling a bit lost without anything to do. The podcast gave me a purpose during this pandemic. I have been able to throw myself into this project and gain new skills by taking on the creation of the website. I have been able to connect with students across the globe who are experiencing similar hurdles as me, which is really reassuring.   
Serrano: Overall, my experience in this pandemic has been full of ups and downs. My decision to stay in Canada was based on the belief that if anything happened to me, I would have easier and better access to medical and social services than if I were in Ecuador. But the feeling of safety was accompanied by feelings of solitude and disconnection. In the two years that I've been in Canada, I have never felt more distant from my country as my experience during the pandemic has been very different from what my family, friends, and other Ecuadorians have gone through. The El CafeciTO podcast and its Radio Viral initiative have helped me connect with students from Latin America to share our personal experiences and comment on how the pandemic is affecting our countries. I hope this podcast helps other Latin American students at U of T and abroad feel connected with others, learn about how different countries are doing and serve as a starting point for important conversations that need to take place.   
UTC