Students from U of T Engineering among those working to solve COVID-19 challenges around the world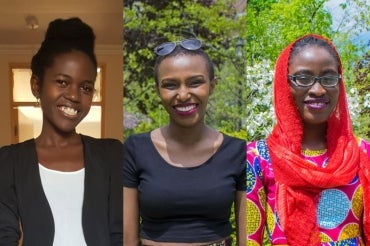 As the COVID-19 pandemic rearranged the plans of students at the University of Toronto over the past few months, one question was on many minds: What can I do to help?
Now, with the support of the university, dozens of students are poised to make an impact.
The U of T COVID-19 Student Engagement Award was created to help inspiring innovations designed to respond to the COVID-19 crisis take flight. More than 150 multidisciplinary teams on all three campuses have received up to $3,000 each to support development of their projects over the next three months.
At U of T's Faculty of Applied Science & Engineering, undergraduate and graduate students are leading or contributing to several teams. The faculty has invested an additional $54,000 to support the engineering projects, which address a wide range of issues – from hand hygiene to reduce the spread of the virus to strategies to maintain good mental health while in isolation.
"I feel very thrilled, grateful and inspired. As a team we are honored to have U of T's support in our endeavours to make a difference," says Lilian Kabelle, who is pursuing a master's degree in engineering. Her team's project envisions an "engineering think tank" that will bring together engineers of various disciplines to consider and counteract the impact and challenges of COVID-19 in East Africa.
Kabelle, who grew up in Kenya, believes this co-ordinated approach could identify and develop viable engineering solutions for issues that are complicating the fight against the virus.
"I have a burning desire to be a causative change agent for positive development in my home region, to whatever degree possible," adds Kabelle, whose team also includes Engineering's Marie Merci Ishimwe and Ngone Lo from the Faculty of Information.
Their team is currently building the think tank platform, gathering data to finalize the challenges to be tackled and confirming commitments from volunteer engineers to engage in the project.
Engineering