Turning food waste into renewable bioplastics: The winners of U of T's Hatchery Demo Day entrepreneurship competition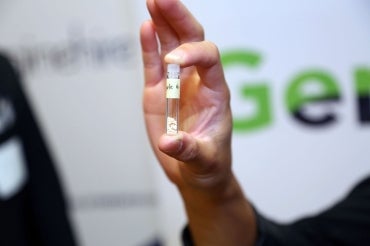 Twelve startups founded by engineering students pitched their visions to a room of judges, investors and faculty members at the fifth annual Hatchery Demo Day, held earlier this month at University of Toronto's Faculty of Applied Science & Engineering.
"Five years after we founded the Hatchery, the spirit of entrepreneurship continues to be the engine of all that we do," said Joseph Orozco, executive director of The Entrepreneurship Hatchery, in his opening remarks. "We nurture the mindset for entrepreneurial thinking, and we have seeded the ideas that I believe will transform our society."
Demo Day is the culmination of The Hatchery Nest program, a four-month accelerator that pairs student teams with experienced mentors to develop their businesses. They receive detailed feedback on their business plans, explore their proposed market, learn about patents and marketing and build prototypes using 3D printers and other fabrication resources.
A second Hatchery program, Hatchery Launch Lab, focuses on supporting startups built on graduate-level research in the faculty.
Of the dozen teams that presented at Demo Day 2017, four took home a share of $42,500 in seed funding, including one $20,000 grand prize and two $10,000 runner-up prizes donated by alumnus Anthony Lacavera, founder and chairman of Globalive Holdings and former CEO of WIND Mobile. An additional $2,500 Orozco prize is provided through funds raised by the students themselves.
This year's winners are:
$20,000 Lacavera Prize: Genecis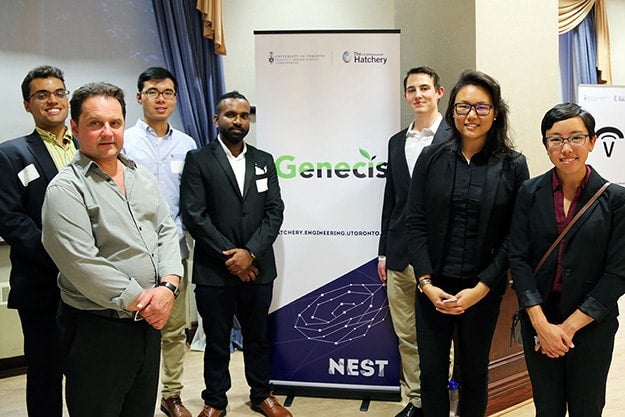 The Genecis team (from left): Marcos Ingreja, Walter Pawliw, Bowen Li, Hasitha de Alwis, Robert Fairley, CEO Luna Yu and Kaitlyn Chow (photo by Tyler Irving)
Restaurants throw away a lot of food, and that costs money. In fact, large-chain, full-service restaurants can pay tens of thousands of dollars each year just to dispose of their food waste in landfills. Genecis has a solution that is both greener and less costly.
"We turn restaurant food waste into bioplastics," said Luna Yu, founder and CEO of Genecis. "We make money from both the collection fees we charge to the restaurants, and from the bioplastics and compost we produce from them."
Genecis uses two different cultures of microorganisms. One breaks down leftover food into energy; the other uses this energy to grow and accumulate substances called polyhydroxyalkanoates, or PHAs. PHAs are a type of biodegradable plastic, and can be made into products such as thin-film packaging or bottles.
Because they are recovering value from food waste, Genecis believes they will be able to charge lower collection fees than typical waste disposal companies, while enabling restaurant owners to feel good about where their waste goes. The company has done extensive testing in the lab, and the funding they earned at Hatchery Demo Day will enable them to build a 1,000-litre pilot bioreactor to test the process at a larger scale.
"The Hatchery really helped us hone our business models and point us in the right direction in terms of what we should focus on," said Yu. "I honestly don't think we would be in the position we are today without them."
$10,000 Lacavera Prize: Xpan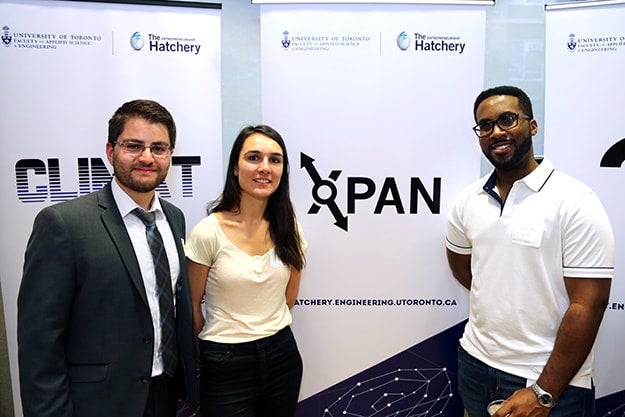 The Xpan team (from left): Founder Zaid Atto, Seray Cicek and Chevis Dilbert (photo by Tyler Irving)
Laparoscopic surgery – sometimes known as keyhole surgery – is an attractive medical option for patients: Smaller incisions can reduce both pain and healing time. In this type of surgery, instruments and cameras are inserted into the body through a device known as a trocar.
Members of the Xpan team believe that the trocar can be improved. "Sometimes, surgeons discover that they need a bigger instrument partway through the surgery," said Zaid Atto, Xpan's founder. "They have to take the small instrument out, take the small trocar out, insert a bigger trocar, and finally insert the bigger instrument."
The process is inefficient, and exposes the patient to additional risk.
A year ago, surgeon Priscilla Chiu of the Hospital for Sick Children brought the problem to Chris Bouwmeester, assistant professor, teaching stream of the Institute of Biomaterials & Biomedical Engineering, and the students in his fourth-year class. Atto and his teammates developed a trocar that expands to a larger size. Their prototype has won awards both within U of T and at the American Society for Artificial Internal Organs 63rd Annual Conference.
Team Xpan – consisting of Atto, Seray Cicek and Chevis Dilbert – continued to develop multiple iterations after the capstone project ended and has also filed a provisional patent on the device. They plan to use their prize to continue to refine the design of their prototype.
"The Hatchery was a great help with the patent application process, and also partnered us with mentors who were experienced and showed us how to get there," said Cicek. "Tonight is further validation that we really have a solid plan," added Atto.
$10,000 Lacavera Prize: Tejo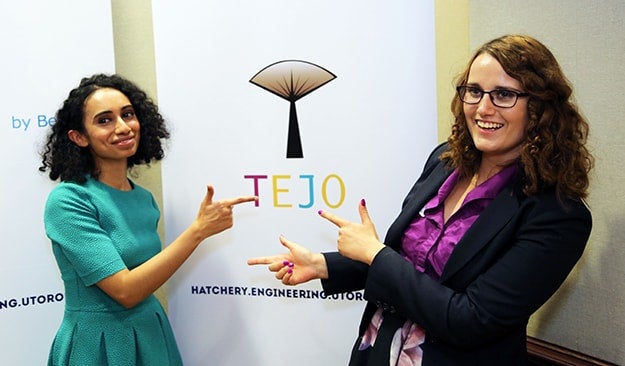 Lakshmy Subramanian (left) and Rachel Baker are the co-founders of Tejo (photo by Tyler Irving)
The North American makeup industry is worth more than $10 billion, but it does a poor job of serving people with darker skin tones. Not only is darker makeup more expensive, but many traditional retailers don't carry the brands that provide these shades. Buying online can be a gamble, as it's difficult to choose the right colour without trying the product.
"You're supposed to pick from swatches, but different screens render colours differently," said Rachel Baker, co-founder of Tejo. "What looks great on your smartphone might not look great in real life."
Baker and her business partner, fashion management student Lakshmy Subramanian, believe that artificial intelligence and machine learning offer a way forward. Tejo users simply take a selfie, which is then fed into software designed by the pair. Using open-source computer vision and a proprietary algorithm that accounts for ambient lighting conditions, Tejo determines a user's precise skin tone and recommends an appropriate brand. If the user chooses to buy, Tejo collects a 5 to 10 per cent commission on the sale.
"Before we joined The Hatchery, we were really struggling to get people who don't wear makeup to understand what our business is," said Baker. "They provided us with excellent mentors and advisers, and really helped us to get a really clear vision of what we want our company to be."
The pair plan to use the prize money to file a patent on their software and expand their e-commerce platform, which is already accepting early sign-ups online.
$2,500 Orozco Prize: enginehire 

Akash Goel is the founder of enginehire (photo by Tyler Irving)
The startup enginehire leverages data to connect young engineers with employers looking for talent. Young engineers create a profile that puts equal emphasis on their experience and their passions, whether they're interested in structural design, green infrastructure, acoustics or machine learning. Proprietary algorithms then slice through this rich database, delivering companies five to 10 ideal candidates for a given position.
"Traditional job posting sites deliver too many irrelevant candidates, because anyone who sees a job that might be remotely applicable to them applies," said Aakash Goel, enginehire's founder. "On the other hand, recruitment agencies are very expensive, and many don't bother with entry-level jobs. We can deliver that same value for a fraction of the cost."
The "sweet spot" for enginehire is mid-sized engineering companies, who are constantly hiring, yet at the same time do not have large HR departments. "There are thousands of mid-sized engineering companies in the GTA, but most of them are not household names," said Goel. "We are giving young engineers exposure to companies that may be perfect for them, but that they may never have heard of otherwise."
The startup has built a database of thousands of young engineers and has already made several matches. Goel's goal is to push rapid database growth and to continue building relationships with an ever-increasing array of companies across Ontario, Canada and eventually, the United States.
This is Goel's second time in the Hatchery; in his first year, he was part of Team Shour, which developed a smart showerhead that helps users save time, money and the environment by optimizing their water use. The team has applied for a patent on their invention.
Faculty of Applied Science & Engineering