U of T startup's AI tracks cognitive function of Toronto retirement home residents: CTV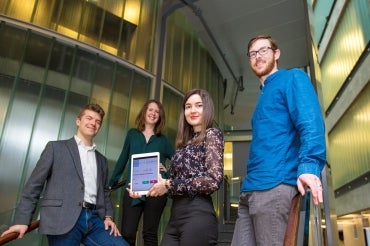 A University of Toronto startup that uses artificial intelligence to track patients' cognitive impairment is being tested by retirement living provider Revera, which operates nearly 100 retirement communities in six provinces across Canada. 
The tablet-based test developed by WinterLight Labs only takes about four minutes to complete, compared to about 20 minutes for a standard paper-based test, and simply requires a patient to describe a picture. 
WinterLight CEO Liam Kaufman told CTV News the technology picks up on subtle speech cues that, with a high level of accuracy, can spot the early signs of dementia.
"They pause more frequently," said Kaufman of affected patients. "They'll use fewer nouns, so they're forgetting the names of people, places and things. And they compensate by using more pronouns."
Revera's project with WinterLight is one of more than a dozen that received funding through Ontario's $20 million Health Technologies Fund earlier this year. In a retirement community setting, WinterLight's test can help employees identify changes in patients' cognitive abilities more quickly so the appropriate level of care can be provided. 
In addition to Kaufman, WinterLight was co-founded at U of T by Katie Fraser, Maria Yancheva and Frank Rudzicz, who is a rehabilitation scientist at University Health Network and an assistant professor at U of T's department of computer science in the Faculty of Arts & Science. 
The startup received significant assistance from U of T's network of on-campus incubators and accelerators, including UTEST, the Department of Computer Science Innovation Lab (DCSIL), the Health Innovation Hub (H2i) and the Creative Destruction Lab (CDL). 
WinterLight's technology is proving to be more palatable to seniors than the written tests Revera currently uses to gauge cognitive decline, according to CTV News. 
"Often times, people feel like they're taking a test so it really increases performance anxiety," said Rhonda Collins, Revera's chief medical officer.
"This is an opportunity for us to provide something that's easy to administer and doesn't feel like a test."
UTC