U of T startup lands financing to grow its AI-powered legal research business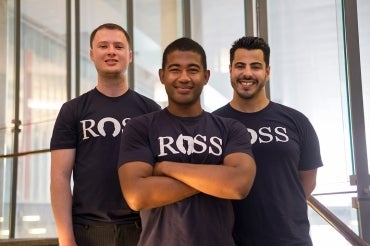 Jimoh Ovbiagele says the story of ROSS Intelligence began in the hallways of the University of Toronto's department of computer science. This week, ROSS added another chapter.
The company, which uses artificial intelligence, or AI, to speed up legal research, said it raised US$8.7 million in new funding, led by iNovia Capital with participation from Comcast Ventures Catalyst Fund, Y Combinator Continuity, Real Ventures, Dentons' NextLaw Labs and angel investors, reports TechCrunch. 
That's in addition to a US$4.3 million seed round, also led by iNovia.
Ovbiagele and co-founders Andrew Arruda and Pargles Dall'Oglio's AI-powered startup has been at the forefront of reimagining legal research. With a backbone in machine learning and natural language processing, ROSS is challenging legal technology developed by LexisNexis and Thomson Reuters, according to TechCrunch.
Arruda, now CEO of ROSS, tells TechCrunch that a benchmark test by Blue Hill Research found "30 per cent more relevant info with ROSS in less time." 
The company, now based in Silicon Valley, got its start at U of T as part of an IBM Watson University Challenge in 2014, where ROSS took second place. Earlier this year, the startup returned to U of T to launch a new research and development headquarters in Toronto. 
"With our AI R&D headquarters in Toronto, a world of possibilities is open to us when it comes to ensuring the best and brightest engineers continue to join the ROSS team," Arruda said at the event.
The new funding is expected to help ROSS scale into new practice areas of law, accelerate product growth, invest in sales and marketing and launch new products outside of legal research. 
Computer Science