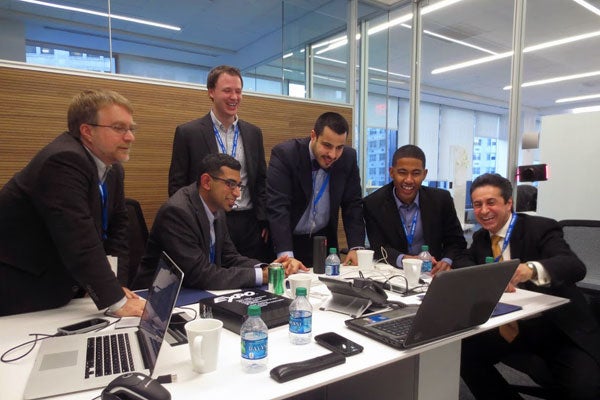 U of T team takes second place in IBM Watson challenge
The University of Toronto team that built a virtual legal research database for the IBM Watson Cognitive Computing Competition made it to the final round of the top three before finishing the competition in second place. 
"When the final deliberation took place, the panel couldn't decide who should occupy the top spot," said U of T lecturer Steve Engels, who travelled with the team to New York City. "They argued for a long time, even sending somebody out to apologize for the delay."
But, in the end, the panel awarded first place to the University of Texas at Austin, Engels said. The University of California, Berkeley placed third.
The contest began when International Business Machines Corp. (IBM) asked 10 elite schools, including Stanford, Carnegie Mellon and U of T, to put together teams at each university using its famous Jeopardy-playing super-computer, named Watson. U of T was the only Canadian institution invited to participate; its computer science department was recently ranked among the top 10 computer science departments worldwide in the prestigious Shanghai Jiao Tong University's Academic Ranking of World Universities. (Read more about the decision to bring Watson to U of T.)
In December, through a computer science course taught by Engels, Mario Grech and Helen Kontozopoulos, five U of T teams competed against each other in a challenge to develop an entrepreneurial intelligence-based legal application, using Watson's cognitive computing engine through its cloud computing system.
Students from the department of computer science and the Faculty of Information – Jimoh Ovbiagele, Shuai Wang, Akash Venkat, Pargles Wenz Dall'Oglio and Andrew Arruda – triumphed after successfully pitching their business model, an electronic paralegal system called "Ross" that is aimed at assisting lawyers with case research. Judges for the U of T competition said the team won for its use of the technology and its succinct business plan. (Read more about the Watson challenge at U of T. Read the Globe and Mail article about the team.)
The team said its ultimate goal is to build a great Canadian company.
The iSchool Connection
Wang and Venkat agree that the artificial intelligence competition taught them valuable business skills that will serve them well no matter what they do in their careers.
Kelly Lyons, a professor at the Faculty of Information (iSchool) and department of computer science, said she was not at all surprised that the team U of T sent to New York was a collaboration involving iSchool and computer science students.
"Designing and building a sophisticated, useful and important application requires the diversity and breadth of knowledge delivered through our finely-tuned programs."
Wang, a first-year iSchool student, and Venkat, a second-year student, say their education at the university, especially a course taught by iSchool Professor Eric Yu, helped them bring the skills they learned in class to their project.
"These exemplary entrepreneurs are leveraging leading-edge technology to fuel their career goals," said Professor Yu. "I am proud to have iSchoolers in New York representing our city and university in the first-ever Watson Challenge."
How it Works
Helping lawyers reduce research time is key to the functioning of Ross, the students said. All teams were given access to Watson on the cloud, which allowed them to feed the computer program large amounts of text from Ontario corporate law decisions and statutes as reference material.
The super computer Watson then processed that information and the students' application, Ross, made that data accessible to lawyers and legal researchers. Ross can, for example, predict the outcome of court cases, suggest readings or answer a wide variety of legal precedent questions, at any point in a legal process. It even provides a percentage number rating how confident it is on the accuracy of search results. Ross also alerts the user to new cases or results on their smart phone.
According to the inventors, Ross takes seconds to spit out legal research that might take others hours to gather.
"Lawyers could use Ross' artificial intelligence to transform the practice of law, and that's what we're hoping to achieve," said Venkat.
The student inventors warn, though, that Ross doesn't make lawyers unnecessary; it's just that clients may need to hire fewer of them.
See the demo video below:
Kathleen O'Brien is a writer with the Faculty of Information at the University of Toronto.