Zimman Yousuf shows off her UCheck "green screen" ambassador badge on the St. George campus (photo by Johnny Guatto)
Layla Ahmed, a fourth-year neuroscience and molecular genetics student at the University of Toronto, is thrilled to see the St. George campus stir back to life this fall – and is playing a key role facilitating the safe return to in-person activities.
Part of a new team of UCheck ambassadors, Ahmed and her colleagues are posted to busy locations on U of T's three campuses where they ask passersby if they have successfully completed UCheck before leaving home. U of T's UCheck self-screening tool is designed to flag potential symptoms and, if none are reported, to show a green status displayed on a user's phone or on a supplied iPad.
The ambassadors are also there to help guide students, staff and faculty through the UCheck process.
"Seeing everyone back, it's really nice," Ahmed says. "Of course, there's still physical distancing in some places and everyone's behind a mask, but I always enjoyed the vibe of campus.
"If everyone can be happy and safe that would be great." 
Ahmed, who had recently worked two shifts at Sidney Smith Hall and the Bahen Centre for Information Technology, said she and her team are there to remind people to fill out UCheck – not to badger those who had forgotten.
The ambassadors on the St. George campus last week were equipped with extra masks and a bowl of treats – chocolates, granola bars and gummies – to thank people for completing UCheck.
"It's good for people to sit back and think to themselves, 'Do I feel bad today? Could I pass a bug on to others?" Ahmed said, pointing out it's also flu season.
The program is scheduled to roll out at U of T Scarborough today – where those asked to show their green screens can enter a draw for a new iPad – and at U of T Mississauga on Wednesday. There will eventually be about two dozen ambassadors working across U of T's three campuses.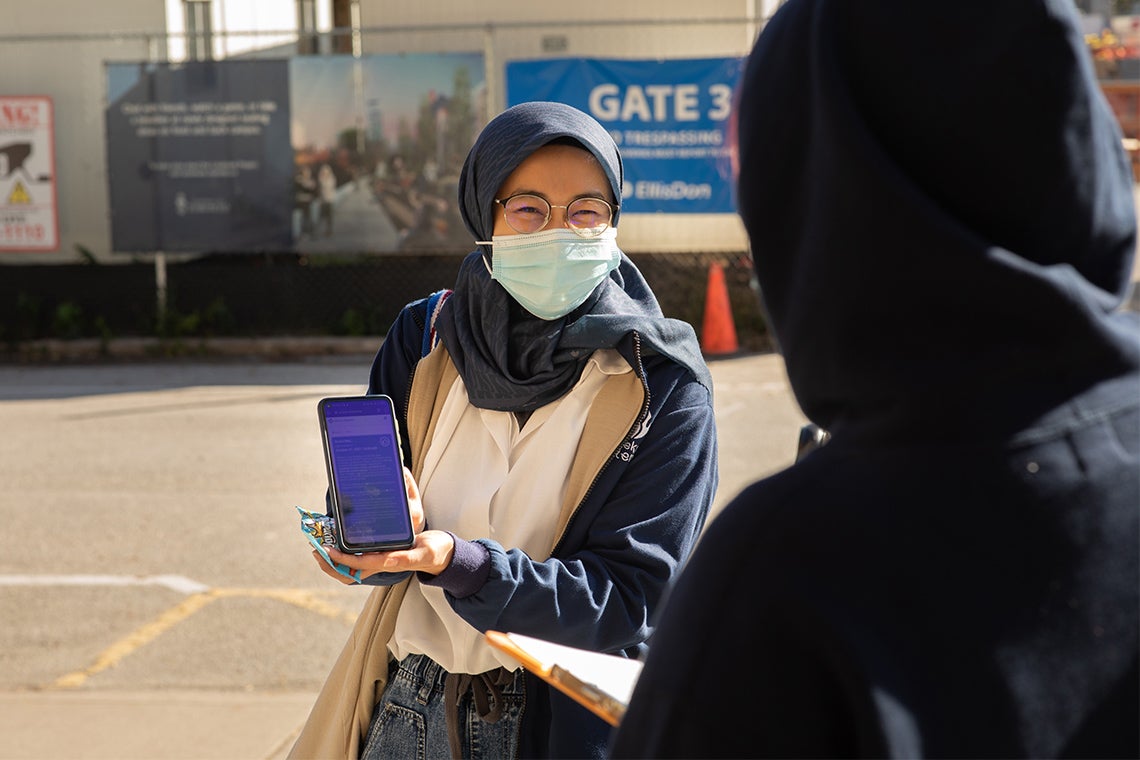 Master's in education student Rezka Mardhiyana displays her green UCheck screen to an ambassador (photo by Johnny Guatto)
Salvatore Spadafora, special adviser to U of T's president on COVID-19 and senior adviser to the dean of the Temerty Faculty of Medicine, said self-screening remains important even among a highly vaccinated community such as U of T.
"COVID vaccines, although highly effective and protective against serious outcomes, are not 100 per cent effective against infection," he said. "As such, those who are fully vaccinated can – there's small chance – they can contract SARS-CoV-2 and an even smaller chance they can carry it and infect others."
UCheck is designed to flag even subtle symptoms associated with COVID-19 to limit the possibility of transmission, according to Spadafora.
As for the ambassadors, Spadafora said they provide a valuable reminder to fill out UCheck.
"All of us, as we go about our activities of daily living, can forget to do something like the UCheck screening," he said, adding that he, too, has sometimes forgotten to complete UCheck before leaving his house and found himself filling it out just before arriving at campus. 
Ron Saporta, U of T's chief operating officer, property services and sustainability, said the goal is to promote UCheck self-screening before coming to campus in a friendly and supportive way.
"This helps us stop the spread and reinforce the message: If you're not feeling well, please stay at home."