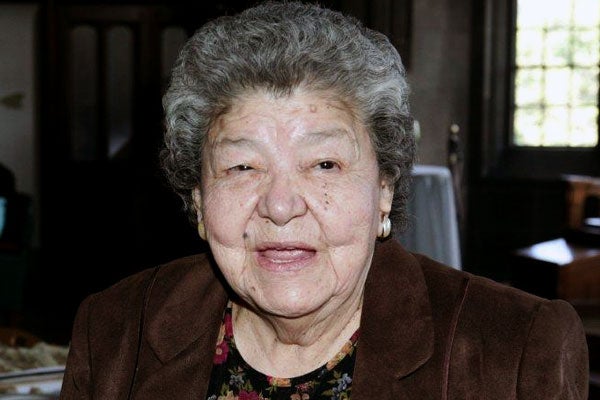 In memoriam: Lillian McGregor
Toronto's Aboriginal community lost a great citizen last week, and the University of Toronto lost a loyal friend with the passing of Lillian McGregor, former Elder-in-Residence at First Nations House (FNH).
McGregor, from Whitefish River on Birch Island, was a well-respected member of Toronto's Aboriginal community for more than 60 years.  Before coming to First Nations House, McGregor was a registered nurse in Toronto and a proud mother and grandmother.  In 1994, she was invited by the late Rodney Bobiwash, Director of FNH, to serve as the Elder-in-Residence. 
After retiring in 2008, McGregor remained very much a part of the Aboriginal community at the University of Toronto, returning as a Visiting Elder.  In 2002, she received an Honorary Doctorate from the University, and last year she was honoured at an unveiling of a trophy for the Dr. Lillian McGregor Aboriginal Award of Excellence.  Every year, Aboriginal students apply for the Lillian McGregor Award, visit in-house Elders and Traditional Teachers, and learn about their peoples and cultures through programs in a space which owes its beginnings to people like McGregor.
"Lillian was an important member of the university community while at First Nations House," said Jonathan Hamilton-Diabo, Director, Office of Aboriginal Student Services, First Nations House.   "As the Elder, she relentlessly emphasized the importance of education.  She also possessed an incredible knowledge of traditions and language, which she was always ready to share, but the traits that stood out were her sense of humour, her caring for the students and above all, her dedication and love for her community and family.  At First Nations House, although 'retired' since 2008, her presence never left us."
One student anonymously wrote in 2002 that McGregor has "been the heartbeat and lifeblood of First Nations House since its inception."
Anita Benedict, a former Director of First Nations House, wrote that "Lillian McGregor has served the Aboriginal community at the University of Toronto with unstinting generosity of spirit and unfailing diligence."
McGregor was a very visible member of the Aboriginal community and participated in many committees and boards across the city, including the Elder Council at the Native Canadian Centre of Toronto, Nishnawbe Homes Incorporated, and Native Child and Family Services.  She served as an Elder for Ontario's Aboriginal Healing and Wellness Strategy and participated at many civic events over the years, including Human Rights Day celebrations and Toronto's Olympic bid. She was also selected as a Torch Carrier for the Winter Olympics in Vancouver.  McGregor received many awards, including National Aboriginal Achievement Award for Lifetime Achievement, the Order of Ontario, the William P. Hubbard Award for Race Relations and the Leading Women Building Communities Award (given by the Province of Ontario).  
McGregor once said about her experience at U of T, "My desire to preserve our Aboriginal culture, tradition, and spirituality became a well-known attribute; and I was soon busier than I had ever been in the everyday workforce. I welcomed the opportunity to assist my own Native community."
McGregor is survived by her three sons, four grandchildren and one great grandchild.  She will be greatly missed.
The U of T flag was lowered to half-mast at all three campuses on Monday, April 23rd, the day of Lillian McGregor's funeral.