'By us, for us': Students organize University of Toronto's first powwow in decades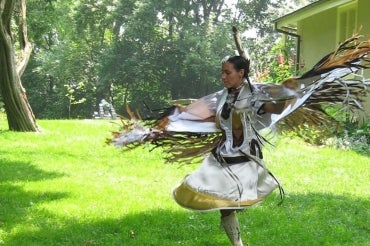 This Saturday, U of T's Athletic Centre gymnasium will be filled with Indigenous drums, colourful grass dancers, beaded crafts and a chance to hear Indigenous languages for the university's first major, arena-style powwow in decades.
The event, Honouring Our Students Pow Wow and Indigenous Festival, is being organized by U of T students and open to the public. Carolyn Bennett, Minister of Indigenous and Northern Affairs and an alumna of U of T's Faculty of Medicine is expected to be in attendance.
It's a "teaching powwow," meant to educate others about Indigenous traditions, said Jennifer Sylvester, president and communications coordinator of the Indigenous Studies Student Union.
"It was the students who came to the Indigenous Studies Student Union and said, 'We don't have a powwow to call our own,'" she said. "I brought that forward when I started reaching out to the various places on campus for support. We wanted this to be a moment to honour students.
"U of T has been producing leaders for more than 180 years. It's a matter of taking the time to honour those who have come through this school, those who are on their path, and setting a path for those who come in the future."
For many students, this was their first experience organizing a powwow. They called upon Amos Key Jr., a new faculty member in the Centre for Indigenous Studies at the Faculty of Arts & Science to help. Key Jr. has many years of experience organizing and dancing in powwows.
Organizers say U of T has never hosted such a large powwow. Work on the event began around the same time that U of T's Truth and Reconciliation Steering Committee began work on its report.
"There's a momentum building, there's a buzz on campus," says Sylvester, whose student union was founded less than two years ago. "Now we're putting on an event to honour indigeneity here in Canada, we have the freedom to share our culture with the University of Toronto – all of that aligns with reconciliation."
The powwow, which is free, officially begins with the Grand Entry at 1 p.m., including U of T elders, dancers, and key supporters from across the university including Vice-Provost Susan McCahan.
Chief Stacey Laforme of the Mississaugas of the New Credit First Nation will be joining the powwow, bringing his community's Eagle Staff and flags.
"This is extremely culturally significant as the U of T operates upon the Dish with One Spoon Treaty, of which New Credit is an official signatory," says student organizer Trina Moyan.
Head male and female dancers are U of T students Buck Neshkiwe and Nichole Leveck.  
"I am honoured and proud to be in company of such strong, resilient individuals that are true way makers," says Leveck, who is sewing new regalia for the occasion. "This is the power of U of T's Indigenous students"
The powwow also features Metis jiggers, smoke dancers, Aztec dancers, Inuit drummers and singers, Indigenous food and workshops to learn words in Indigenous languages.
It's all part of the spirit of inclusivity and celebrating indigeneity, says Sylvester.
UTC