U of T's Geoffrey Hinton and Allen Lau help kick off 2021 Collision conference
Presentations by deep learning pioneer Geoffrey Hinton and University of Toronto alumnus and entrepreneur Allen Lau were among the highlights of the opening day at this year's influential Collision technology conference.
Hinton, a U of T University Professor Emeritus who now works at Google and has been dubbed the "godfather of deep learning," spoke on Tuesday about his efforts to develop a new type of artificial neural network that can recognize and interpret images better than existing systems.
One of more than 600 presenters at the annual conference that runs until April 22, Hinton noted that most current systems use convolutional neural nets that don't recognize objects the way people do.
"They use lots of texture information, which people are insensitive to, and they use a lot of shape information that people are sensitive to," said Hinton, an A.M. Turing Award-winner who is also the chief scientific adviser at the Vector Institute for Artificial Intelligence.
"They also aren't very good at extrapolating to new viewpoints. People can see an object from one viewpoint and then extrapolate to many different viewpoints. But convolutional neural nets need to see objects from lots of different viewpoints to understand them."
To illustrate this flaw, Hinton showed images of a school bus that had been mildly obscured with visual noise. While humans can still easily recognize the images as showing school buses, Hinton revealed that convolutional neural nets mistake the buses for ostriches.
His solution? A system called GLOM – short for "agglomeration" – that's inspired, in part, by the relationship between cells, organs and DNA.
"What I want to do is design neural nets so they have different ways of seeing the same thing, just as people do, and they see things the way people see things," he said. "That would make them far more interpretable and far less likely to make crazy errors – like that school bus."
For the second year running, Collision – which features global speakers from technology, business and media – is being held virtually due to the COVID-19 pandemic. The event, which counts U of T is an official partner, was slated to be hosted in Toronto for three years starting in 2019.
The theme of AI was also core to the panel discussion with Lau, whose storytelling platform Wattpad was recently purchased by South Korean internet giant Naver for US$600 million. Lau joined senior executives from Naver for a discussion on the democratization of storytelling through digital technologies.
Lau, who founded Wattpad with fellow U of T alumnus Ivan Yuen in 2006, said that using AI to study the feedback and insights provided by Wattpad's users provides "insight that nobody else has."
"Because of the sheer volume of the content and also the insights, comments and other data surrounding that, leveraging AI is a very obvious choice for us to understand the insights of the content programmatically," said Lau, an alumnus of U of T's Faculty of Applied Science & Engineering. "Leveraging that, we can adapt the content to other forms such as movies, TV shows and print books as we started doing a few years ago."
He added that the 160-million-strong combined userbase of Wattpad and Naver – and the companies' growing reach – would serve to continually diversify their content and cater to the evolving tastes of audiences.
"A few people held the key to the entire system in the past – now we're expanding this to seven billion people on this planet. Everyone will have a say," Lau said.
"So, in that context, I believe the content will be more diverse than before because the input to the system will not be coming from a handful of people – it will be coming from the world's population."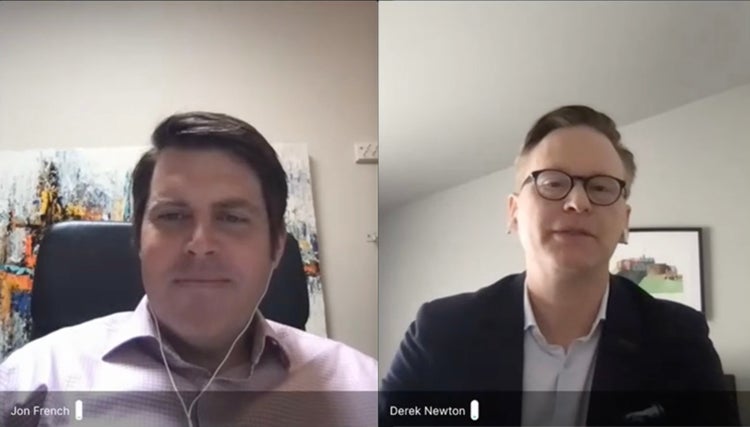 Jon French, director of U of T Entrepreneurship, and Derek Newton, U of T's assistant vice-president, innovation, partnerships and entrepreneurship, led a session to help entrepreneurs, industry leaders, investors and government engage with U of T's innovation and entrepreneurship ecosystem.
U of T also hosted a session on Wednesday to help entrepreneurs, industry leaders, investors and government engage with the university's thriving innovation and entrepreneurship ecosystem. Over the past decade, U of T entrepreneurs have created more than 500 companies and secured more than $1.5 billion in investment.
During the session, Jon French, director of U of T Entrepreneurship, noted that the university's network of campus-linked accelerators – spread across its three campuses – provides an array of resources and supports to entrepreneurs at all stages of their journey, and with different backgrounds and areas of expertise.
"We always talk about there being no single door, or wrong door, into the entrepreneurial ecosystem, and that our students, researchers, faculty and alumni who build companies quite often can participate in multiple campus-linked accelerators to get where they need to be," he said.
Derek Newton, U of T's assistant vice-president, innovation, partnerships and entrepreneurship, added that U of T has been working hard to combine its research strengths with the resources to protect and commercialize those ideas. That includes protection and management of intellectual property (IP). Since 2016, investment and mergers and acquisitions activity involving startups built on university IP has grown from $175 million to more than half a billion dollars in 2021, he said.
"This is an exciting trajectory that we're looking to accelerate and continue – with your help, with your partnerships – to help the University of Toronto launch even more ventures that will continue to grow and scale here in Toronto and around the world," Newton said.
Newton also hailed the potential impact of the Schwartz Reisman Innovation Campus, which is being constructed at St. George with the help of a $100-million gift from Gerald Schwartz and Heather Reisman.
"This is really the next generation of the University of Toronto's support for our innovators, entrepreneurs, companies that are based on made-in-Canada IP," said Newton.
U of T's involvement in Collision continues Thursday with a talk by Mike Murchison, CEO of AI customer support firm ADA. He will speak about emerging trends in the customer experience space.
UTC