Like TIFF for tech: Collision conference shines a spotlight on city's booming innovation scene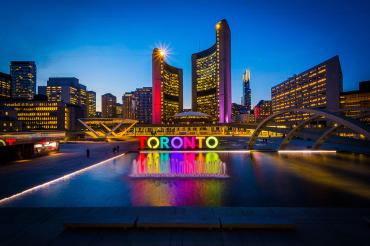 Roberto Cervantes and his team at CryptoNumerics are keen to take advantage of next week's giant Collision tech conference to put the startup co-founded by University of Toronto alumni on the map.
One of the world's fastest-growing and most influential technology conferences, Collision's arrival in Toronto speaks to the rising importance of the city's thriving tech and startup scene – not to mention the support it has received from U of T and its various innovation partners.
The three-day affair, which has relocated to Toronto from New Orleans for the next three years, will feature over 600 speakers as well as exhibits catering to the startup and tech sectors. It kicks off on Monday and wraps up on Thursday.
"We're going to use Collision to talk to people and spread the word about who we are," said Cervantes, a co-founder of CryptoNumerics, which uses artificial intelligence, or AI, to help companies in the financial and medical sectors crunch people's data without compromising privacy.
"We want to talk to the corporate ventures and the innovation departments of companies to see how we can get in."
Cervantes adds that Collision's move to Toronto will give startups like CryptoNumerics, which received support from U of T's Creative Destructive Lab, an unprecedented degree of global exposure. "Collision will bring a lot of people who might not have come to Canada and Toronto otherwise," he said. "It's a very positive thing for Toronto startups because it will offer access to other startups, investors and different ways of thinking and doing things."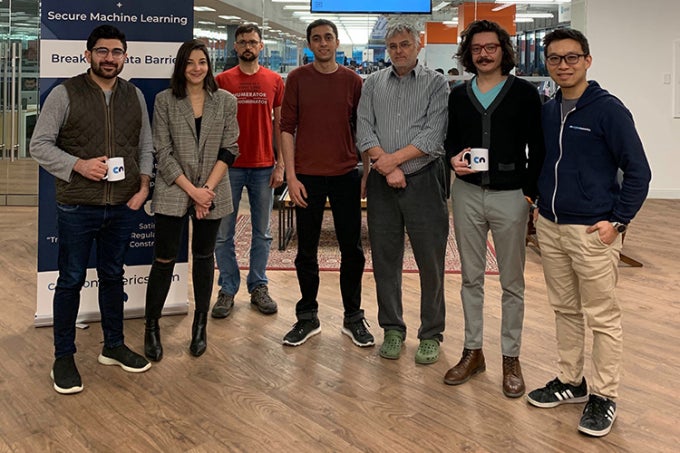 "Collision will bring a lot of people who might not have come to Canada and Toronto otherwise," said Roberto Cervantes (second from right), one of CryptoNumerics' co-founders (photo courtesy of CryptoNumerics)
Collision arrives in Toronto at a time when the city's tech and startup scene has plenty of momentum behind it. Just last year, for example, commercial real-estate firm CBRE said Toronto added more tech jobs than San Francisco, Washington and Seattle combined, and now ranks among North America's top five tech talent markets. Meantime, a recent report by Silicon Valley think-tank Startup Genome ranked the Toronto-Waterloo region 13th globally, and number one in Canada.
As for U of T, the university recently announced plans for the Schwartz Reisman Innovation Centre, a 750,000-square-foot complex designed to anchor U of T's unique cluster of world-leading artificial intelligence scientists and biomedical experts, its world-class entrepreneurship network, and the country's largest concentration of student- and faculty-led startups. The centre was made possible by a $100 million gift to the university from Canadian business luminaries Gerald Schwartz and Heather Reisman.
In 2017, U of T also made headlines for partnering with government and industry to launch the Vector Institute for Artificial Intelligence, which counts deep-learning pioneer and University Professor Emeritus Geoffrey Hinton as its chief scientific adviser.
Charles Plant, a longtime tech entrepreneur and investor who is at U of T's Impact Centre accelerator, said landing Collision could give the city an extra push to launch it into the top echelon of tech ecosystems.
"Collision is a great opportunity for us to make a bigger impact to show the world what we're doing," Plant said, adding that the conference has the potential to do for Toronto's tech industry what the Toronto International Film Festival (TIFF) did for the city's film scene.
"TIFF put Toronto on the map and associated Toronto with the film industry in a way that enabled it to grow more effectively. I think that's what Collision can do for the tech industry. It can put Toronto in a place in the world that's more prominent."
The speakers announced for this year's summit include leading figures from Fortune 500 companies, heads of some of the world's most exciting startups and influential figures from media, entertainment and sport.
U of T President Meric Gertler will speak to the challenge of scaling up companies and innovation ecosystems during a panel discussion titled "Managing Unexpected Growth," scheduled for May 23 at Collision's Startup University stage. U of T alum Allen Lau, CEO of self-publishing startup Wattpad, will also be on the panel.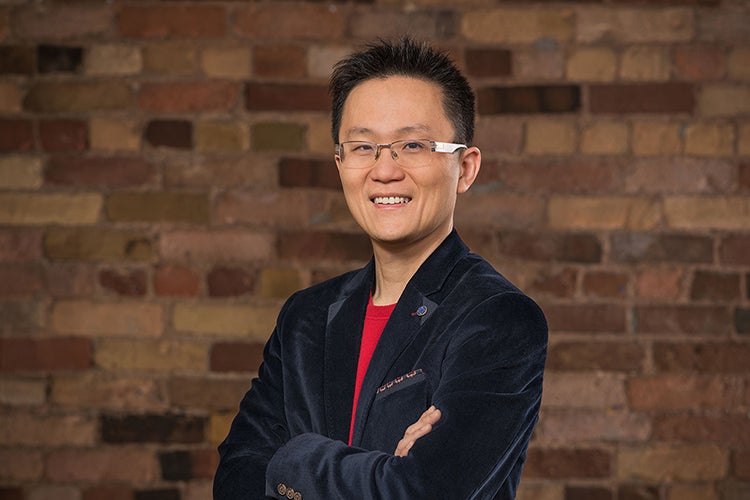 Alumnus Allen Lau, who is co-founder and CEO of the story-telling platform Wattpad, will be on a panel with U of T President Meric Gertler (photo courtesy of Wattpad)
"Toronto is fast becoming one of the top global cities for technology innovation, so it's only fitting that one of the world's most influential technology conferences should move to our city," said Derek Newton, U of T's assistant vice-president of innovation, partnerships and entrepreneurship.
"U of T is proud to be one of the pillars of Toronto's startup ecosystem, with our world-class research, talent production pipeline, assortment of accelerators and the university's leadership role as a founding partner of innovation organizations like the MaRS Discovery District and the Vector Institute, which are crucial to making this city the vibrant technology hub that it is today.
"We look forward to Collision's speakers, events and workshops energizing and inspiring the next generation of innovators from U of T."
U of T will have a strong presence at Collision and will maintain a booth near the conference's main stage, with a rotating cast of university-linked startups, incubators, co-op programs and alumni given the chance to engage with attendees.
Among the 15 or so startups to be featured at U of T's booth is Blue J Legal, which uses AI to predict the outcomes of tax and employment law cases.
"We see Collision as an excellent opportunity to share our vision of bringing absolute clarity to the law, everywhere and on demand," said Michael Rodgers, director of marketing at Blue J Legal, which received support from U of T's UTEST program and the Creative Destruction Lab (CDL), a seed-stage accelerator affiliated with the Rotman School of Management.
"It's a chance for us to showcase our one-of-a-kind technology and connect with innovative companies and professionals pushing the envelope of what's possible in their respective fields."
U of T will also host innovation tours during the conference, giving attendees the chance to learn about opportunities to collaborate with the university's vibrant research and entrepreneurship community.
"We've heard from Silicon Valley alumni of ours, investors, potential corporate partners and startups looking for talent," said Keri Damen, managing director of U of T Entrepreneurship. "It's a great opportunity to showcase U of T, Toronto and Canada at large to the global tech community.
"Collision will bring in hundreds of global media, so it's a great opportunity for us to reach a wider audience and let them know about the fantastic work being done here at U of T." 
U of T entrepreneurs have created over 500 startups over the past decade and have generated more than $1 billion in investment. The university's innovation network – which includes 10 campus-linked accelerators – is ranked among the world's top five university-based incubators in the world, according to UBI Global.
Plant said U of T's world-leading leading research makes it perfectly placed to produce new tech companies. He hailed the impact of U of T Entrepreneurship in fostering a community of innovators and entrepreneurs – something he said didn't exist during his early days as an entrepreneur.
"We've now acquired a community of people who know each other, that work together, that see each other at events," he said. "That's fundamental to establishing a successful tech economy."
However, Plant said several challenges remain, particularly related to the scaling up of promising startups into world-leading companies.
"If we can figure out how to scale companies, our potential is limitless," he said. "U of T has raw potential like you wouldn't believe."
UTC