U of T's 2021-2022 budget to focus on students, provide more supports for equity-deserving groups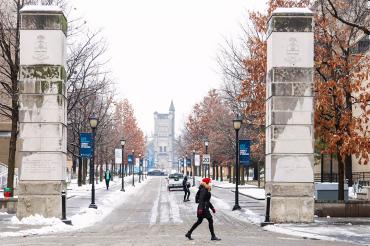 The University of Toronto plans to make additional investments in student learning, supports and financial aid, as well as boost access for equity-deserving groups and hire more Black and Indigenous faculty members – all while continuing to respond to the unprecedented challenge of COVID-19.
These are among the many priorities to be funded through U of T's 2021-2022 budget, which is scheduled to go before Governing Council on April 6. In total, the balanced budget plans for $3.12 billion in spending in 2021-2022, an increase of 4.4 per cent over the previous period.
"The overall priority for this budget is our students," says Cheryl Regehr, U of T's vice-president and provost. "Across the university, there are plans to invest in teaching, in enriching students' experiential and online learning, research opportunities, support services and financial aid.
"Students are the lifeblood of this institution and we want to see them thrive at every step of their academic journey."
That includes supporting equity, diversity and inclusion at every stage of students' academic life – from encouraging high school students from diverse backgrounds to apply to undergraduate programs, and then making sure the faculty they interact with reflect their experiences – all while providing students, faculty, staff and librarians with the supports they need to succeed.
Through its University Fund, U of T plans to spend $4.5 million in the upcoming academic year on specific initiatives aimed at supporting underrepresented groups and addressing systemic barriers. They include: $1.5 million to hire 20 additional Black and Indigenous faculty, bringing the total number hired through four phases of the Diversity in Academic Hiring fund to 100; $1 million to make permanent a program of two-year post-doctoral fellowships for Indigenous and Black scholars, and $1 million to establish an Institutional Access Office to acknowledge and address the historic exclusion of equity-deserving groups from the university community.
There is also money to hire additional staff to support both graduate and undergraduate students and advance U of T's response to the Truth and Reconciliation Commission of Canada, among other initiatives.
"U of T is at our best when brilliant, talented and creative people from many different backgrounds know the university is somewhere they can succeed and thrive," says Regehr, who is also a professor at the Factor-Inwentash Faculty of Social Work.
"We want people to see there is a place for them here."
The University Fund will also be used to invest $4.2 million in enriched learning opportunities for all students, $7.6 million in research support and $9.1 million in various divisional priorities, including support for those divisions that have been disproportionately impacted by Ontario's 10 per cent cut to tuition fees, which took effect in the 2019-2020 academic year and was followed by a tuition freeze in 2020-2021.
U of T is continuing to make investments in mental health and wellness with the support of the province, which recently announced $7 million in additional funding for mental health supports for post-secondary students. That's on top of $19 million earmarked by the province in 2020-21, an increase of $3 million over the prior year.  
"In a continuation of previous budgets, we're also making new investments in mental health reform and new spaces for the delivery of our mental health services," Regehr says.
Like many other universities, U of T continues to face unprecedented challenges associated with COVID-19. But the 2020-2021 budget nevertheless paints a cautiously optimistic picture for the year ahead and is built on the assumption that U of T will gradually resume in-person operations as COVID-19 vaccines are administered across Canada and around the world.
One thing is clear: U of T continues to attract the best and brightest students. Despite uncertainties around travel and shifting public health guidelines, U of T's undergraduate enrolment increased for both domestic and international undergraduates last fall, with the latter group forming the largest cohort in U of T's history.
As a result, international enrolment remains on track to reach 30 per cent of the undergraduate population by 2025.
To ensure that no domestic student who is accepted to a U of T program is prevented from pursuing their studies because of a lack of financial means, U of T is budgeting $291 million in regular financial aid for 2021-2022. That's translates into about 58 per cent more financial aid per student than is offered by other Ontario universities.
"With the pandemic, we were anticipating some pretty severe budgetary implications, as has happened to universities around the world," Regehr says.
"At the same time, people stepped up in wonderful ways across the university. Our residence staff and facilities staff went to extraordinary measures to keep everyone safe. Our faculty and staff in registrar offices and student life worked hard to make sure students were engaged and supported, finding new ways of teaching, moving services online, investing in IT and technology-enhanced learning.
"The tremendous effort that went into making sure people were kept safe, that our academic priorities were met and that our research continued – all that came together into a much stronger-than-expected student enrolment and student retention."
U of T also managed to partially offset many unforeseen pandemic-related expenses – delivering thousands of courses online, supporting critical COVID-19 research, providing additional financial aid and implementing health and safety measures for all students, faculty and staff – by saving money on travel and building occupancy costs, as well as through the salary restraint agreements negotiated with employee groups.
There are, however, several U of T operations that continue to struggle under the weight of COVID-19. That includes the university's various ancillary services, which include food and beverage offerings, parking and student residences. Such services are normally self-sustaining and not funded by the operating budget.
"Despite cost containment measures, these units will likely require deficit spending over the next several years as they develop a path to recovery in a post-COVID world," says Trevor Rodgers, U of T's assistant vice-president, planning and budget.
"The university is committed to working with each ancillary unit and will provide support in cases where long-term sustainability or critical infrastructure is at risk."
Another challenge stems from the current tuition fee framework, which translated into a $113-million reduction in annual tuition fee revenue for the university as compared to previous long-range budget planning that assumed annual average increases of three per cent. For 2021-2022, U of T's budget assumes Ontario's freeze will remain in place for another year. That amounts to an additional $26 million shortfall compared to the long-range plan, or a total annual shortfall of $139 million since the changes first went into effect.  
In recent years, the university has also seen a shift in the balance of funding between tuition and provincial operating grants. Just 21 per cent of the operating budget is now supported by the provincial government, down from 22 per cent last year. By the end of the current five-year plan, U of T anticipates that just 18 per cent of its budget will be funded by operating grants.
The university plans to undertake several major capital projects over the next five years, including a second Instructional Centre at U of T Scarborough, a new Arts, Culture and Technology building at U of T Mississauga, renovations of several Faculty of Arts & Sciences buildings on the St. George campus, as well as a new Data Sciences Centre and the Academic Wood Tower, a 14-storey tower expected to be the tallest mass timber and concrete hybrid building in North America.
U of T's Four Corners strategy – which aims to take advantage of the university's real-estate holdings to support U of T's academic mission and generate additional revenue – also has several projects that are in various stages of planning, design and construction. They include faculty and student housing on all three campuses and the second phase of the Schwartz Reisman Innovation Centre on the St. George campus, which will house efforts to advance innovation and the commercialization of research.  
"Many members of our community are staying at home right now as we work together to overcome COVID-19," says Scott Mabury, U of T's vice-president, operations and real estate partnerships.
"But the pandemic won't last forever. That's why the University of Toronto is preparing for a gradual and safe return to campus, while actively taking steps to build the spaces and amenities that we're going to need in the future."
UTC