U of T to partner with CAMH to overhaul mental health services for students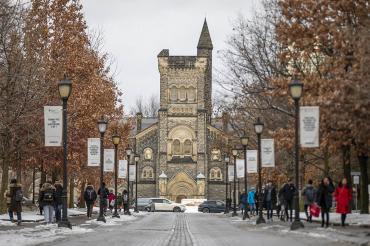 The University of Toronto is partnering with the Centre for Addiction and Mental Health (CAMH) as it takes immediate steps to harmonize mental health services across its three campuses, boost funding for mental health and wellness and work toward a "stepped model of care," which will see students receive treatment tailored to their level of need.
U of T also seeks to foster a "culture of caring" and will strive to make health and wellness spaces more functional and in line with best practices in health and design.
The initiatives are key elements of the university's response to the final report of the independent Presidential and Provostial Task Force on Student Mental Health. The 13-member task force, which included undergraduate and graduate students, spent months gathering input from students, staff and faculty across U of T's three campuses before making its recommendations – all 21 of which have been accepted by the university.
"We have listened to our students through this process," says Cheryl Regehr, U of T's vice-president and provost. "We know that there are areas where we need to do better and we're taking action based on the task force's recommendations.
"We're deeply committed to student well-being and success."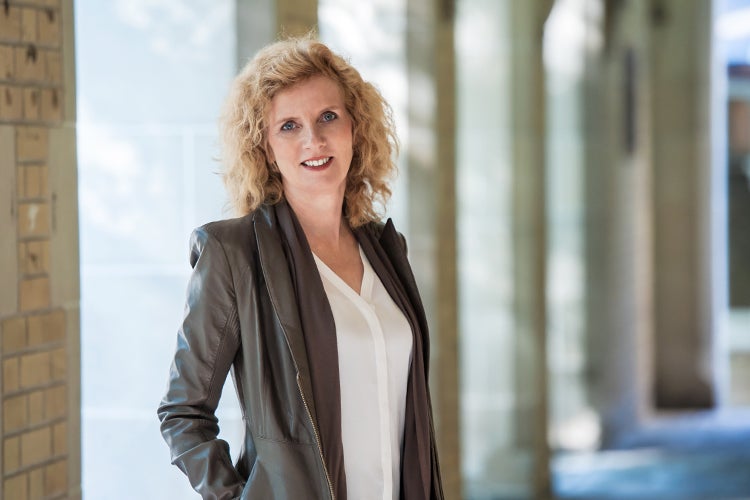 Cheryl Regehr, U of T's vice-president and provost, says the university has listened to students and is taking action on the task force's recommendations (photo by Lisa Sakulensky) 
U of T, like peer institutions across North America, has faced a surge in demand for counselling and related services. The percentage of Ontario post-secondary students who report depression, anxiety and suicide attempts has risen dramatically in the past six years, according to data compiled in a 2019 report by the American College Health Association.
"Mental health challenges commonly arise at a time of intense life transitions, and a focus on the health and wellbeing of young people is central to realizing future potential," says Catherine Zahn (left), the president and CEO of CAMH. 
"CAMH will contribute the expertise and experience of leading youth mental health clinicians and researchers to assist the University of Toronto in carrying out this serious and important work."
The university will create a mental health services redesign team led by Joseph Desloges, a professor in the department of geography and planning and a former principal of Woodsworth College. The team includes two experts from CAMH, Alexia Jaouich, director of implementation and innovation in the Provincial System Support Program, and Sean Kidd, an associate professor of psychiatry at U of T and senior scientist and division chief of psychology at CAMH.
The redesign team's ultimate goal will be to create an "integrated tri-campus" system overseen by a clinical director. The team, which will consult thoroughly with students, will aim to simplify the existing system by creating a single website, a consistent approach to way-finding, a single online booking system and a single electronic records system, as well as requiring a single institutional letter for accessibility services.
There are also plans to create pathways between campus-based services and CAMH, as well as other hospitals and agencies in Toronto, in a recognition that mental health is a shared responsibility that can't be tackled by the university in isolation.
When it comes to training the mental health clinicians of tomorrow, the partnership will see U of T and CAMH experts work together to provide enhanced clinical education programs in student mental health, including professional development for U of T staff, as well as curriculum innovation and important experiential learning opportunities for students such as expanded internships and placements.
The two partners will similarly work together to create a new initiative focused on research excellence in youth and student mental health that will provide research-informed, evidenced-based solutions that will aid universities in Canada and around the world.
U of T will also direct more resources to student mental health and will continue to make it a priority for fundraising, Regehr says. She adds that U of T will "redouble its efforts" to seek government support for increasing mental health services on campus.
The facilities that are home to mental health resources on campus are due to get an update, too.
U of T has committed to reviewing health and wellness spaces on each campus in response to feedback from students who told the task force that some facilities were too busy, difficult to navigate or lacking in privacy. Steps are already being taken to modernize the health and wellness centre in the Koffler building on the St. George campus.
In response to questions about U of T's culture and how it affects student well-being, the university says it will change "specific practices or policies that may be counter-productive." At the same time, the university will foster an environment of compassion and sense of community to complement its culture of academic excellence.
"We believe a culture of academic excellence and a culture of caring go hand-in-hand," Regehr says.
The university is also developing an implementation strategy based on the work of a separate expert panel focused on undergraduate student educational experience. It's expected, among other things, to address concerns about institutional policies and systems that may act as barriers to student wellness and success.
The School of Graduate Studies, meanwhile, is spearheading a "healthy labs" initiative to implement best practices for cultivating a positive lab atmosphere and good relationships between students and supervisors.
As for the university's mandatory leave of absence policy, the task force noted that some members of the U of T community perceived the policy as a "potential barrier to students seeking mental health services." Regehr says the university is aware of confusion surrounding the policy, and will redouble its efforts to communicate the compassionate intent of the policy and how it is actually implemented. She emphasized that it is intended as a last resort to support students in rare cases where their behaviour causes concerns for the safety of others.
U of T's response to the recommendations of the task force comes on the heels of several other initiatives the university has taken to improve the delivery of mental health services since March of 2019, when U of T President Meric Gertler announced a four-point action plan on student mental health. They include offering same-day counselling services on the St. George campus, offering drop-in counselling at Robarts Library during exam periods and the recent expansion to all U of T students of the My SSP text-and-chat helpline, which provides on-demand counselling services.
Now, with partners like CAMH, the university will be able to make further progress tackling this "complex and pervasive" challenge, Regehr told U of T News. 
"I truly believe that with this partnership we can work on solutions that will benefit not only our own students but students at other institutions that are similarly struggling to address this issue that we're seeing around the world." 
---
Feeling distressed? Find someone to talk to right now – and if there is an immediate risk, call 911.
Round-the-clock support:

Students can speak to a trained crisis worker at any hour of the day.
U of T My SSP for students: call 1-844-451-9700 or download the app at the Apple App Store or Google Play. Immediate counselling support is available in 35 languages and ongoing support in 146 languages.  
Other 24-7 supports available to students include:
The following services are available to students on all three campuses:
Faculty and staff have access to 24-7 support through:
UTC