U of T researchers on need to preserve data, evidence, timelines as U.S. government sites overhauled
"This is a moment when universities are needed profoundly"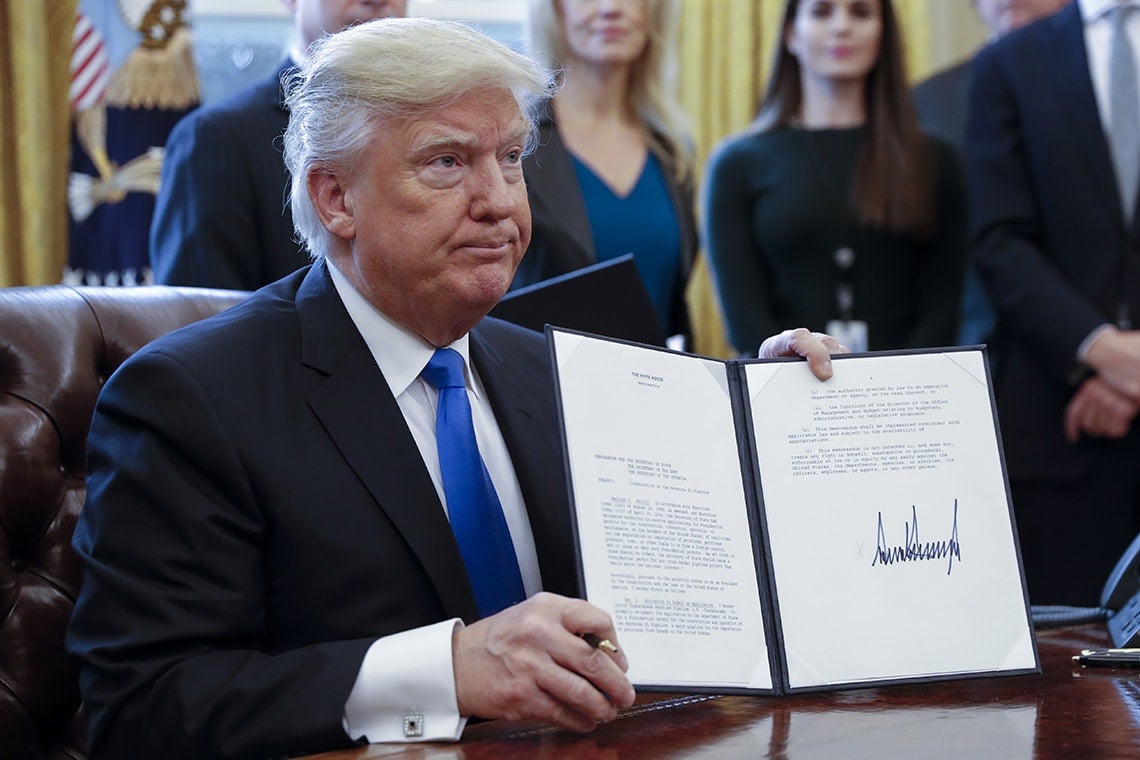 Hours after U.S. President Donald Trump was sworn into office, media across North America began reporting the removal of information related to climate change from the White House website.
A page about lesbian, gay, bisexual and transgender issues was also taken down. The section of whitehouse.gov that as recently as  last Tuesday focused on Obama's achievements in protecting LGBT rights is now redirecting visitors to a blank page with the message: "The requested page"/lgbt" could not be found."
Although changes to the website, whitehouse.gov, and the president's social media accounts are normal during a presidential transition, the recent alterations show that certain programs and policies – notably those related to climate change – are at risk, said Michelle Murphy, a professor and feminist technoscience studies scholar at U of T. 
"If we look at the new White House page on America First energy, they are very clear that they are going to cancel the Climate Action Plan," Murphy said.
Policy and program changes under the new administration were expected, but "if you cut programs creating and caring for environmental data, you starve out that research and its accessibility," Murphy said.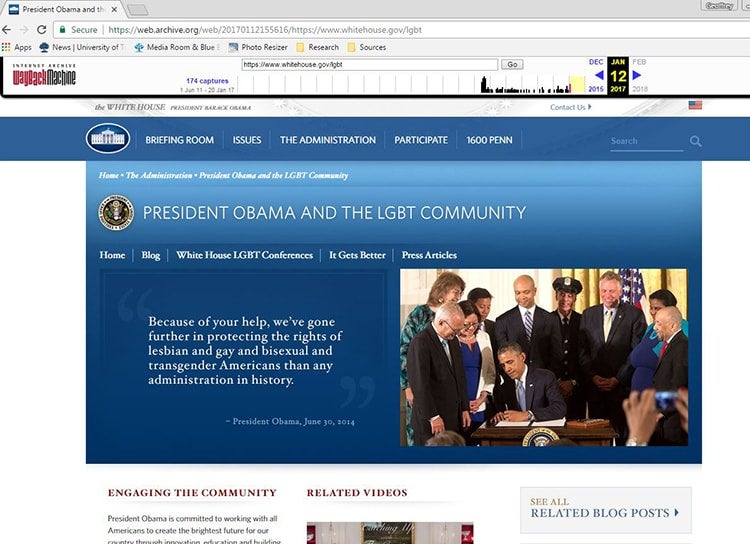 A snapshot of whitehouse.gov/lgbt in January before it was changed. Screenshot via the Internet Archive's Way Back Machine
How much existing data is at risk of disappearing is unclear but Murphy, U of T instructor Matt Price, Assistant Professor Patrick Keilty from the Faculty of Information, and Sam-chin Li, U of T's government publications and reference librarian, are trying to preserve U.S. environmental data before it's too late.
Their effort is part of the Internet Archive's End of Term 2016 project, the goal of which is to scrape federal websites of data and archive that data during this change of power. The Internet Archive is a non-profit digital library based in San Francisco that hosts the Way Back Machine.
Soon after Trump's election, the U of T faculty members warned that valuable information on the Environmental Protection Agency website was vulnerable. In December, they organized a much-publicized hackathon to identify vulnerable websites.
Li, the U of T reference librarian, says U.S. government environmental data could be deleted just as Canadian government climate data, collected by the National Roundtable on the Environment and Economy, was removed under Prime Minister Stephen Harper.
Funding for the roundtable was cut in 2013, and "many of its reports, including those advocating carbon pricing and reduction in greenhouse gas emissions were gone with the website," she said.
It's important to archive online government data since most of the information is "born digital," Li said, meaning that there are no hard copy back-ups of content.
"Once it is gone, it is gone," she said.

Michelle Murphy, a U of T history professor and director of the Technoscience Research Unit, helped organize a hackathon in December to find and store environmental data that might be deleted under the Trump administration (photo by Geoffrey Vendeville)
Already, changes have been made to the EPA's website that suggest earlier concerns were well founded, Murphy said. 
"We are watching for references to the Clean Power Plan being removed, and what kinds of language or programs will be put in their place."
The U of T team is using proprietary software to track changes to a sprawling list of government websites – including, for example, the EPA's website for climate and energy resources for state governments. They are planning to release their findings online.
"This is a moment where we have to trust our research and empirical practices, and not the doublespeak coming out of politicians," Murphy said. "This is a moment when universities are needed profoundly."