U of T recognizes outstanding volunteers at Arbor Awards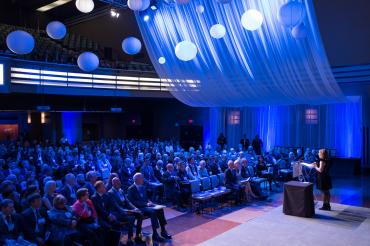 Thousands of students graduate from the University of Toronto, Canada's largest university, each year. The readers who invite students up to the stage to receive their degree have a formidable task – to correctly pronounce the names of students from 150 different countries around the world.
Helping them with that task is Elizabeth Cowper, a professor emerita of linguistics. Years ago, Cowper, faculty colleagues and staff in the Office of Convocation created a training program and guide for university readers, providing them with tips on how to pronounce names with roots in different languages.
"Some students come from other countries. There are new Canadians. We don't want them to be othered and we don't want them to be made to feel like their names are weird," Cowper told U of T News. Most of all, she felt for these students' parents who may be in the audience. "If the person reading the name totally blows it, then the parents get the idea that we don't know who their kid is. And that just makes me feel bad."
"Overall, we have seen the quality of reading gradually come up," said Cowper, who has continued to volunteer her time more than four years since retiring.
For their efforts, Cowper and her colleagues in the reader program – Christina Kramer, a professor of Slavic linguistics, and Michael Patrick Albano, an associate professor at the Faculty of Music – received Arbor Awards. The award recognizes university volunteers who are generous with their time and talent, embodying the values of U of T's Latin motto, velut arbor aevo (may it grow as a tree through the ages). 

"By your example, you remind us of how the U of T community plays an outsized role in making our world a better place," said U of T President Meric Gertler (photo by Gustavo Toledo Photography)
President Meric Gertler thanked the recipients of this year's Arbor Awards on Monday evening at a ceremony at the Carlu, an Art Moderne event space at Yonge and College. "Through your dedication, wisdom and enthusiasm, you are touching the lives of countless members of our U of T community," he said, "opening new horizons for our students, championing the work of our scholars and helping rally other alumni and friends to support our shared goals."
Barbara Dick, assistant vice-president of alumni relations, extended  thanks to the families of recipients, noting that every minute they volunteered at the university is one not spent with their loved ones. "We know that every minute and hour our Arbor Award recipients give to us is one they don't share with their family," she said.
Each of the more than 100 award winners – from Ryan Ackers, U of T's alumni representative in Calgary, to Morgan Wyatt, an Innis College alumnus and mentor – was called up to the stage to receive acknowledgement.
A few people accepted their award as a group, including the Bikila Award board of directors. They enlisted the support of the Ethiopian-Canadian community to promote Ethiopic history, language and culture studies in the Faculty of Arts & Science, raising more than $300,000. They were instrumental in helping U of T offer an introductory course in the ancient Semetic language of Ge'ez (an intermediate course is being offered this fall). One of the Bikila members, lawyer, alumnus and community activist Tamrat Gebeyehu, received his award posthumously.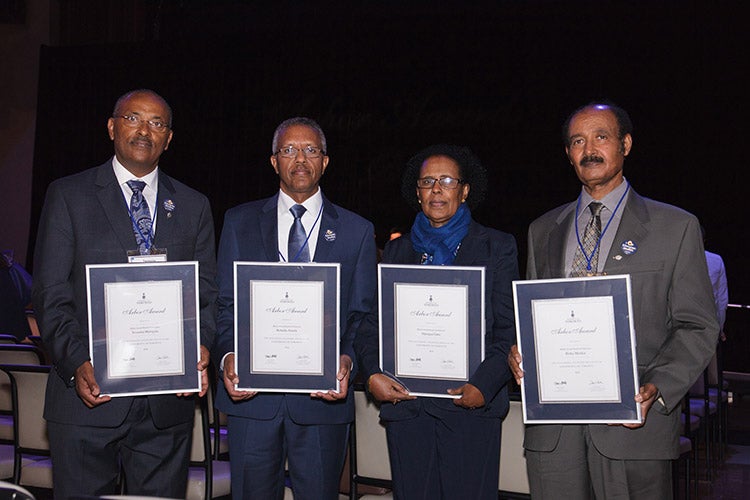 The Bikila Award Board of Directors, from left: Tessema Mulugeta, Behailu Atnafu, Haregua Getu and Birku Menkir (photo by Gustavo Toledo Photography)
Another group who received the award was the Robarts Library book room volunteers. Since 2006, the group of mostly alumni – one of whom graduated in 1962 – have sold second-hand books and vinyl at the library, raising important funds for facilities and services.
There was also the Singapore Malaysia campaign committee, of the Faculty of Applied Science & Engineering, who make up the core of the region's tight-knight alumni community. They raised funds to support the new Myhal Centre for Engineering Innovation and Entrepreneurship on the downtown Toronto campus. 
Volunteers across U of T's three campuses were recognized for their contributions. Sanna Szeto accepted the award for coaching, mentoring and assisting U of T Scarborough's field hockey program. She has coached every season since she graduated in 2004, and helped the team win a championship for the first time in 15 years.
Leonidas Tampacopoulos graduated from what was then known as Erindale College, now U of T Mississauga, in 1996. The alternative education/special education teacher has been mentoring fourth-year students at his alma mater for 16 years. He told U of T News he was aimless in his last year of university and wanted to help students find their path. 
New U of T Chancellor Rose Patten – herself an Arbor Award winner – closed the night with remarks on U of T's "strong and increasingly vibrant culture of volunteerism."
"Through your own contributions, you are making U of T an even greater force for good in our society."
UTC