U of T launches class on ancient Ethiopic language with a donation from The Weeknd
The university is now one of the only places in the world where students can learn Ge'ez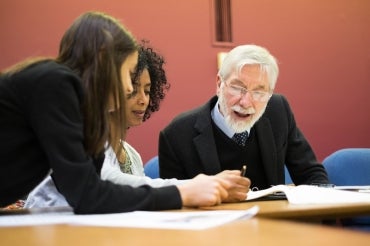 Tens of thousands of ancient Ethiopic manuscripts – maybe more – have collected dust for over a century because they are written in what is now a rarely studied language, Ge'ez. 
But a new course at the University of Toronto is teaching a new generation of students to understand the ancient Semitic language so that one day they can access this long-lost trove of knowledge. 
This week, Professor Robert Holmstedt of the department of Near and Middle Eastern civilizations welcomed 25 students and members of Toronto's Ethiopian community to the first day of an introductory course on Ge'ez, which like Latin, is only used in religious services, in this case for the Ethiopian Orthodox and Catholic churches.
With this course, U of T becomes one of the only places in the world where students can learn the fundamentals of Ge'ez. The program came about through several significant donations, including from The Weeknd, the Ethiopian community and the Faculty of Arts & Science.
Department chair Professor Tim Harrison has said that he hopes, with continued support, U of T will eventually add more courses and be positioned to launch the first Ethiopian studies program in North America.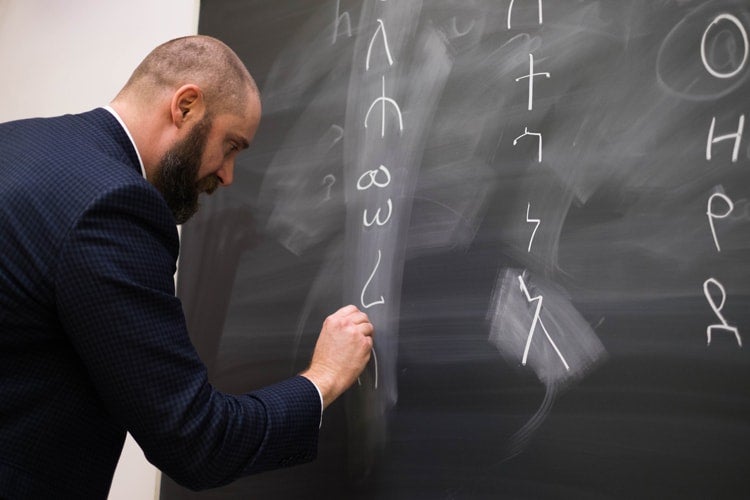 Professor Robert Holmstedt, a specialist in Biblical Hebrew and Northwest Semitic languages, introduces students to orders of the alphabet in the first class on Ge'ez. 
Since the subject is so rarely taught, Holmstedt had to invent course materials and revise one of the only Ge'ez textbooks in English, the 40-year-old Introduction to Classical Ethiopic: Ge'ez by Thomas O. Lambdin. Ge'ez is a window into an ancient culture and offers insights into other Semitic languages, he said.
"I like giving students access to things that 99.5 per cent of the world doesn't have access to," he said. "It's part of advancing our knowledge and the pursuit of truth. This is the very nature of the university. We can't leave this behind." 
Michael Gervers, a history professor at U of T Scarborough, helped launch the course with a $50,000 donation and a call to Toronto's Ethiopian community to contribute.
The call was answered and the donation matched by none other than Toronto native and Grammy-award winning artist Abel Tesfaye, a.k.a. The Weeknd.
The campaign for the language course has a $200,000 goal and has received support from the Faculty of Arts & Science and the Bikila Awards organization, a local Ethiopian community group named after Olympic marathoner Adebe Bikila. 
On Monday, just as he had promised, Gervers sat in on the class, hoping to be one of the first to learn the language at U of T. 
Although he has been studying ancient Ethiopia for 40 years – he has swung from ropes to explore rock-cut monasteries in Ethiopia and created a database of tens of thousands of photographs of Ethiopian art and culture – Gervers does not know the language.
Amharic-speaking students helped him with his pronunciation when he was asked to recite a letter of the alphabet.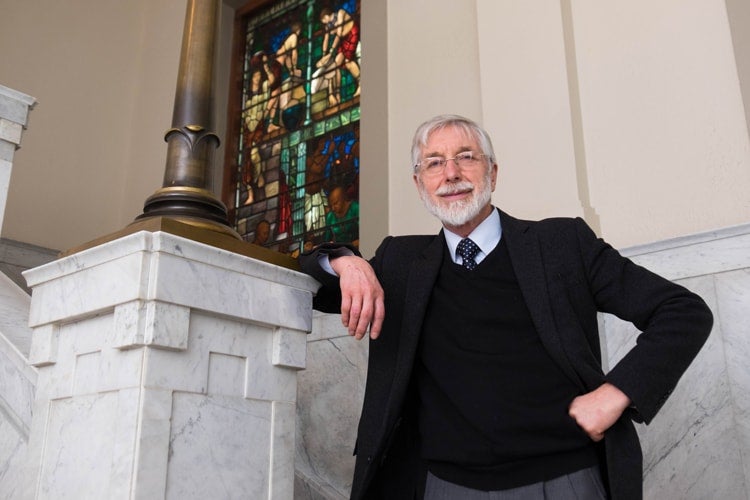 Professor Michael Gervers has studied Ethiopian history and culture for four decades and helped start the Ge'ez course at U of T 
The course's first students included members of the Ethiopian and Eritrean communities, students with an interest in Ethiopian culture, medievalists and students in comparative linguistics. 
Before any of the students can uncover the secrets of ancient Ethiopic texts, they must learn the basics. In their first class, they were introduced to Ethiopic letters and to the present tense of verbs like "to sit."
Hours of memorization come next. Holmstedt urged his students to carry a ringlet of flashcards so they can learn the alphabet on the go.
"Walk around campus memorizing words instead of looking at your phone," Holmstedt said. 
Gervers said he hoped the Ge'ez course would be the first of many classes that would form the basis of an Ethiopian studies program at U of T. He has proposed a graduate-level course in the history of Ethiopia.
"Ethiopia is usually left out of the curriculum because it's so different," he said. "There is no point of entry through European languages like English, French, Spanish or Italian." 
The campaign will need additional funding to add further courses in Ge'ez – and even more to kickstart Ethiopian studies.
For many students in the course, the subject isn't only academic.
Sahlegebriel Belay Gebreselassie, a third-year undergrad in international relations and political science, has an "intimate personal connection" with the class. 
"It's a part of learning my history, my language," he said.
UTC