U of T places second in Forbes magazine's 2019 list of Canada's Best Employers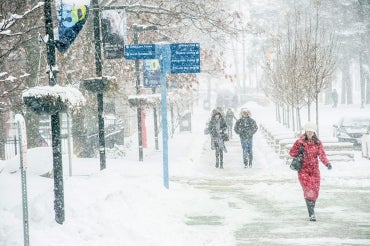 The University of Toronto has been named one of the top two places to work in Canada, according to Forbes magazine.
The global media company's annual list of Canada's Best Employers saw U of T move up 61 spots to second place, nipping at the heels of Google's number one position.
"We make a lifetime investment in people," Professor Kelly Hannah-Moffat, U of T's vice-president of human resources and equity, said in an interview with Forbes.
"We have 20,000 employees and a two per cent turnover rate, which, at other higher education institutes, is around seven per cent."
U of T attracts, retains and engages its workforce through a number of intentionally inclusive, diverse and equitable initiatives that support employees over various life and career stages.
For example, the university provides family support to its employees through generous parental leave and child care benefits, as well as tuition waivers for employees and dependents. Flexible work, phased retirement and a defined benefit pension plan are also available for many faculty, librarians and staff. A True Blue Recognition Platform provides an online space that houses 14 annual awards that make up U of T's formal recognition strategy. It also allows colleagues to informally recognize each other for small victories and day-to-day accomplishments.
"The number of faculty and staff who have been here for decades is phenomenal, and their commitment to the institution is equally impressive," said Hannah-Moffat. "People can move around and do a range of jobs throughout their careers."
The university continues to work on a range of inclusion initiatives that retain diverse talent and place a high priority on achieving employment equity. U of T recently demonstrated progress in increasing representation among faculty and staff who self-identify as women, racialized / persons of colour, and LGBTQ. 
It also continues to focus on areas where there are employment gaps, such as among persons of Indigenous and Black backgrounds. Some of these initiatives include significant budget allocations to hire faculty and staff from these underrepresented communities, and Indigenous Mentoring Day, a bi-annual event that offers job-seekers a unique opportunity to shadow a U of T professional.
The Forbes list of Canada's Best Employers surveys 8,000 Canadians working for businesses with at least 500 employees. Respondents are asked to rate how likely they would be to recommend their employer to others, and to nominate organizations other than their own. The final list ranks the 300 employers that receive the most recommendations.
HRE