Indigenous Mentoring Day: U of T to host unique job-shadowing event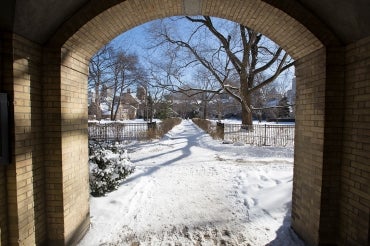 The University of Toronto will be hosting Indigenous Mentoring Day – an experiential learning opportunity for job-seeking individuals who identify as Indigenous / Aboriginal People of North America.
The U of T initiative, to be held Feb. 21, matches prospective employees with experienced professionals across the institution's three campuses to provide candidates with unique insights about working and building a career at the university.
"The principles of equity, diversity and inclusion and their fundamental relationship to excellence are at the heart of the mission and values of this university," said Professor Kelly Hannah-Moffat, U of T's vice-president of human resources and equity.
"As a leading employer in Canada, we embrace the opportunity to engage with Indigenous communities to continue building an inclusive workforce where all members flourish."
In its latest Employment Equity Report, U of T published new data that shed light on the diverse makeup of staff, faculty and librarians. The 2017-2018 report identified areas where the university made progress, such as increases in representation among faculty and staff who self-identify as women, racialized / persons of colour, and LGBTQ. The report also highlighted opportunities for improving employment gaps, particularly among Indigenous groups, and other inclusion initiatives to ensure positive employment experiences.
"Developing meaningful opportunities for Indigenous community outreach strengthens our path towards reconciliation," said Erin Jackson, U of T's chief human resources officer.
"We are committed to advancing employment equity in all employee groups and positions, and we will continue to develop recruitment and succession plans to close the remaining gaps."
Indigenous Mentoring Day adds to U of T's collective efforts toward reconciliation. In its 2017-2018 Budget Report, U of T allocated $2.5 million to support the hiring of 20 faculty and 20 staff from Indigenous backgrounds. The university also allocated an additional $1 million per year for three years to fund post-doctoral fellowships for individuals from underrepresented groups to increase the pool of Indigenous and Black scholars.
Members of the public who identify as Indigenous / Aboriginal People of North America are encouraged to register for this event. Mentees should have successfully completed, or be near completion of, their post-secondary studies, or possess an equivalent combination of education and experience. All mentees will be entered into U of T's talent pool and, as applicable, considered for future career opportunities at the university.
HRE