U of T offers tuition and mental health support to students affected by the war in Ukraine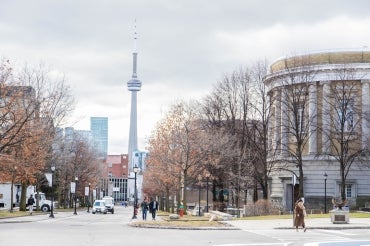 The University of Toronto is offering financial assistance and mental health support to students whose studies are being disrupted by the war in Ukraine.
Current graduate and undergraduate students whose financial circumstances have been affected due to the war can receive assistance through the Emergency Grants program. Support will also be offered through tuition deferrals for the summer and fall semester, with students asked to contact their registrars for details.
Each student's situation will be evaluated on a case-by-case basis to determine the type and nature of support needed.
"The University of Toronto is moving quickly to provide financial aid and other support for students and scholars affected by the devastating war and humanitarian crisis unfolding in Ukraine," says Joseph Wong, vice-president, international.
"We are here to support students and make sure their futures are not derailed by war and conflict. I encourage every student who is need of support to reach out to their registrar's office so we can help them figure out a plan."
In addition to offering financial assistance for current students and researchers, U of T is prioritizing the mental health of students who have been impacted by the war in Ukraine by offering group support sessions on the St. George campus.
Campus chaplains continue to hold weekly drop-in grief support circles for students who need a space to talk and to process their feelings related to the war. The online space, open to all students, is non-denominational and not specific to a religious tradition.
Health and Wellness is also holding monthly grief support sharing circles in partnership with the Multi-Faith Centre. The sharing circles offer an opportunity to connect with other students on campus to share stories and experiences with each other, and to learn ways to heal and gain strength during difficult times.
Students can receive 24-7 multilingual counselling support through my Student Support Program (SSP), which can be accessed by phone or via the My SSP app
The university is also identifying ways to support students and scholars fleeing Ukraine. 
Through its Scholars-at-Risk program, the university plans to match all donations up to $1 million from those who wish to support qualified students coming to U of T because of the conflict. The fellowship provides $10,000 a year for up to four years to students whose education has been impacted by changing political environments in their country of current or future study.
Created in 1999, the Scholars-at-Risk fellowship has supported scholars from all over the world who have faced conflict, war and other dangers. Among the recent recipients: Noura Al-Jizawi, who was detained, arrested and tortured for her role in helping to launch the Syrian uprising in her hometown of Homs; Diego Jesus Rada Rojas, a nuclear physicist from Venezuela who fled his home country because of harassment from the local government; and Negar Banisafar, who left Iran to complete English literature studies without being censored.
The program has also helped scholars from Jamaica, Turkey and Afghanistan, among others.
U of T was a signatory to a recent statement issued by the U7+ Alliance of more than 50 institutions from 20 countries that condemned Russian President Vladimir Putin's invasion of Ukraine.
"The Presidents of the U7+ Alliance member universities stand in solidarity with Ukraine, the Ukrainian people, and Ukrainian universities, and with all those who are affected by the violence currently perpetrated by the Russian government," said the international coalition that seeks to advance the role of schools as global actors.
"We are anguished and deeply concerned by this war brought upon Ukraine and by its catastrophic ramifications on so many lives."
The U7+ Alliance also reaffirmed its commitment to the safety and well-being of Russian students, faculty and staff on campuses.
On March 1, U of T President Meric Gertler issued his own statement on behalf of the U of T community.
"In the face of this shocking human suffering, our thoughts turn to the many University of Toronto students, faculty, librarians, staff, alumni and friends who have personal connections to Ukraine and the wider region, and to all members of our community who have been impacted by these recent events – including members of our Russian community who oppose the war and seek a peaceful resolution," he said.
UTC