'Anger, heartbreak and sadness': U of T President Meric Gertler condemns violence in Ukraine
University of Toronto President Meric Gertler is condemning Russian President Vladimir Putin's decision to invade Ukraine and "the violence and aggression it has caused."
On behalf of the U of T community, President Gertler spoke out against the invasion, which he said has been met with "horror, outrage, anguish, and utter disbelief." 
He said he supported diplomatic resolutions that would quickly restore peace.
"I strongly support all diplomatic efforts to achieve a swift end to the war, and the return to peace, security and democracy," he said in a statement Tuesday.
"In the face of this shocking human suffering, our thoughts turn to the many University of Toronto students, faculty, librarians, staff, alumni and friends who have personal connections to Ukraine and the wider region, and to all members of our community who have been impacted by these recent events – including members of our Russian community who oppose the war and seek a peaceful resolution.
"I know I join so many across our University in expressing anger, heartbreak, and sadness at this needless suffering."
Russia's military launched a full-scale invasion of Ukraine on Feb. 24, drawing near-instantaneous condemnation and harsh sanctions from governments around the world, including Canada's.
President Gertler said U of T has a special connection to Ukraine, including hosting many Ukrainian students. In addition, he highlighted the importance of U of T's Petro Jacyk Program for the Study of Ukraine, home to leading scholars and educators, as well as the department of Slavic languages and literatures and the Centre for European, Russian and Eurasian Studies – all in the Faculty of Arts & Science.
He said he was honoured to have the opportunity to meet Ukrainian President Volodymyr Zelensky when U of T hosted the Ukraine Reform Conference in July 2019.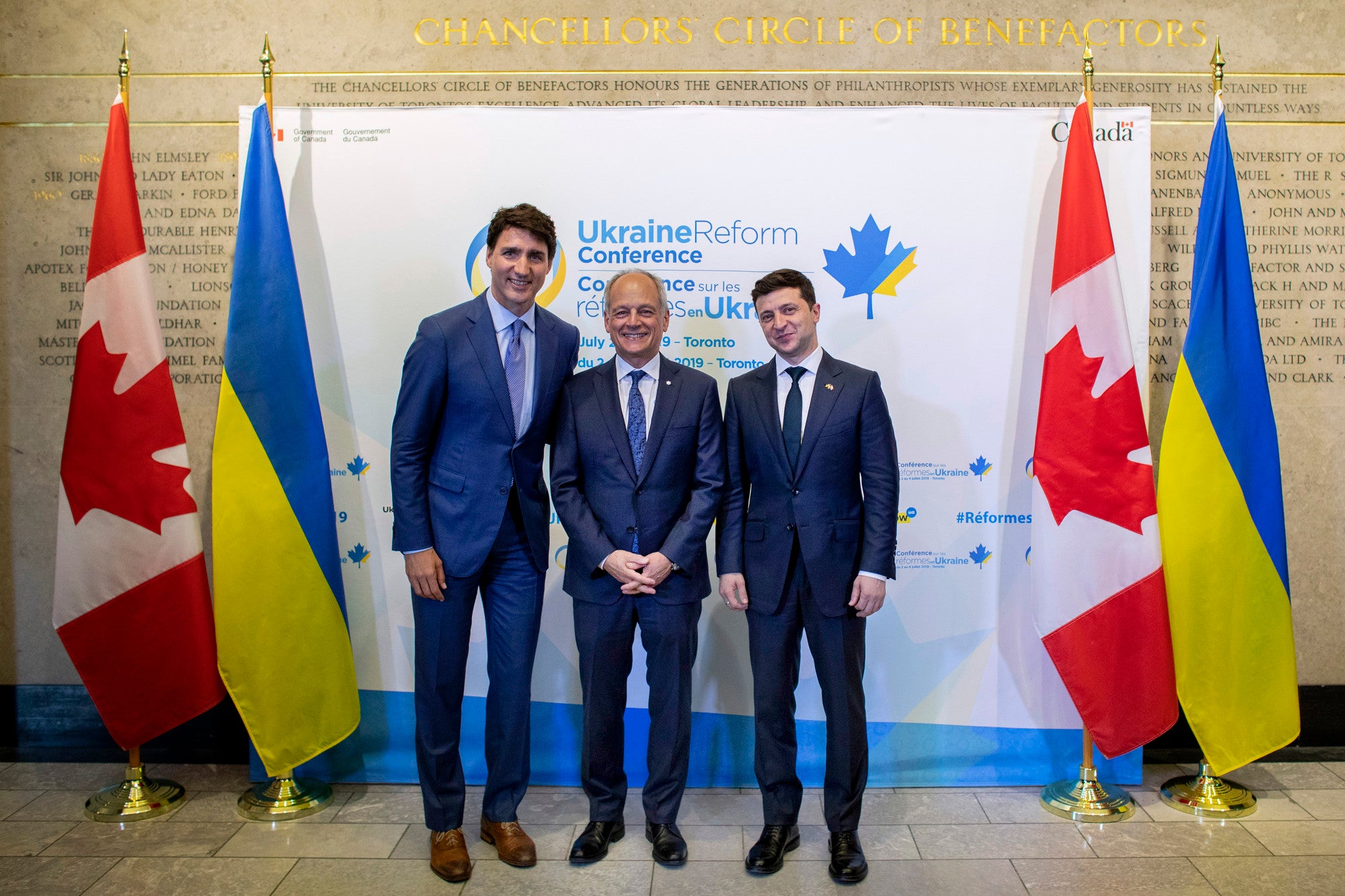 Prime Minister Justin Trudeau, U of T President Meric Gertler and Ukraine President Volodymyr Zelensky pose for a photograph inside U of T's Simcoe Hall at the 2019 Ukraine Reform Conference (photo by Nick Iwanyshyn)
"I was struck then by President Zelensky's personal warmth and great commitment to Ukraine and its people," he said. 
The conference was attended by Prime Minister Justin Trudeau, then-Foreign Affairs Minister Chrystia Freeland and other officials representing over 30 countries. Focused on the future of Ukraine, the conference included panel discussions and a speech by Zelensky as well as other delegates.
During these difficult times, President Gertler said universities have a unique responsibility "to foster deeper understanding of complex issues, to bring people together to learn from each other through dialogue, and to advance the human condition globally through education, discovery and outreach."
For example, two Ukrainian professors joined an online roundtable talk hosted by U of T's Munk School of Global Affairs & Public Policy just days after the invasion. Another panel organized by U of T Mississauga's department of political science was scheduled for Tuesday.
"I take great pride in the work of our scholars, and particularly so in times like these, when we are all struggling to make sense of the unfolding tragedy," President Gertler said.
---
U of T is reminding students, faculty and staff that there are services available at each of the three campuses for those who need support as the tragic events unfold in Ukraine.
The following services are available to students:
Health and Wellness Centre (St. George)
Health and Wellness Centre (U of T Scarborough)
Health and Counselling Centre (U of T Mississauga)
My SSP (support available 24-7/365)
Centre for International Experience
For staff and faculty:
Employee and Family Assistance Program (support available 24-7/365)
UTC