Censored in Iran, Scholar-at-Risk Negar Banisafar is eager to create a new future at U of T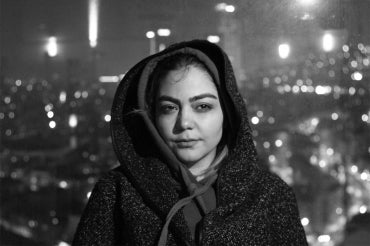 Negar Banisafar found it frustrating to be a humanities student in Iran – she couldn't express her opinions freely and witnessed first-hand the brutality of the government during political protests.
Now a graduate student at the University of Toronto, Banisafar began studying English literature at Allameh Tabataba'i University in Tehran in 2008 and later continued her master's studies at Soore University, which is considered one of the top art institutions in Tehran.
She hoped the opportunity would open doors. Instead, while working on her thesis, Banisafar received a crash course in the school's heavy-handed ways.
"They told me I couldn't use the word 'desire' because it has sexual connotations. I had to go through a lot of arguments and debates," she says.
"I had to change the word 'desire' to 'request.'"
She adds that studying English literature is generally frowned upon in the Islamic Republic of Iran, a theocracy that has a reputation for not allowing its citizens freedom of speech. "They had proposed the idea of eliminating this major in Iran because they believe it advertises Western ideas and opinions."
At Allameh Tabataba'I University, Banisafar recalls searching for student groups on campus. When she couldn't find any, Banisafar joined the women's basketball team in the hopes of finding community.
"This is where I got to know other students and traveled to different cities in Iran," she says. "It helped me learn more about the humanities, philosophy, economics and sociology. Later, I understood through these experiences that I learn from a certain approach called interdisciplinary approach to research."
It was ultimately this love of culture and critical thinking that drew her to U of T, where she is studying Near and Middle Eastern civilizations in the Faculty of Arts & Science.
Banisafar is one of four scholars this year supported by the Scholars-at-Risk Fellowship. Awarded by the School of Graduate Studies in a partnership with Massey College, the fellowships provide $10,000 to outstanding graduate students who are seeking asylum or refugee status in Canada, or whose study has been affected by political upheaval in their country of study. It also grants recipients the status of Scholar-at-Risk at Massey College.
She says receiving the scholarship felt like a "miracle" that has motivated her studies and future goals.
"I want to be a helpful member of society, as a researcher, teacher or writer," she says.
Although enrolled at U of T, Banisafar is living in Istanbul, Turkey, for the time being. Last month she received approval for her visa and hopes to travel to Toronto in late December.
Getting to North America has been a difficult process. Banisafar first attempted to study in Chicago, but was thwarted by Donald Trump's presidency, which made it all but impossible for her to get a travel visa to the U.S. because of the administration's order banning travel from some Muslim-majority countries.
Her first Canadian visa application, with her husband, was rejected, too. So, her second application did not include her husband.
"It's extremely difficult for Iranian students to get a visa because of the bad reputation of Iran's government," she says. "I can say we are victims of our government without having committed a crime."
Growing up in Iran, she was acutely aware of the limitations of living in a theocracy.
"The first thing you see is that women cannot choose what to wear in Iran. It's a basic right that is being taken away from us," she says. "And, academically, I understood that I couldn't violate the regulations that the government decided for us – wrongly, in my opinion."
The anti-government protests in 2009 had a profound effect on Banisafar's studies. She joined the thousands on the streets who protested against the presidential election results. She did not participate in her exams that semester because she felt there was something more important happening in her country.
"It was a wave of mixed emotions," she describes. "I had read history books about the cruelty of the Islamic regime, but I had not experienced it with my own eyes until the days of the protests. I saw how ruthless and inhumane they are and how relentlessly they kill people on the streets."
That's when she understood that she would never be protected by the government.
"It is there only to harm us," she says.
It soon dawned on her that if she continued to live in Iran, she would have to suppress her beliefs and passions – so she left in 2017 and moved to Istanbul. Alongside her studies, she also teaches English to Turkish and international students at Istanbul Okan University.
She's currently attending her U of T courses online – and says the experience is an about-face from her previous studies.
"I'm really enjoying my classes," Banisafar says. "My professors are very patient and respect a wide range of opinions. Students are free to express whatever they're feeling – even if the opinion is not completely formed in their mind. I know students at U of T are free to protest and they're still protected. In Iran, it's all about suppression and keeping silent.
"I look forward to being an active member of the university community where moral courage, lifelong learning, and collaboration are welcomed."
As for the future, Banisafar hopes to give back to the Iranian and Turkish communities.
"My biggest wish is that one day scholars and academics don't run away from these lands," she says.
UTC