U of T jumps three spots to place 12th in world for graduate employability: New ranking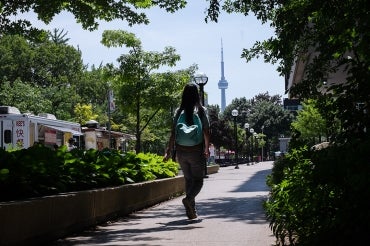 The University of Toronto is among the best universities in the world for graduate employability, a new independent study says. 
U of T jumped three spots to place 12th in the world in the 2019 QS Graduate Employability Rankings, after jumping four spots in last year's study, from 19th to 15th. Once again it was the highest-ranked university in Canada.
As well, U of T placed third among North American public universities and eighth among public universities worldwide.
"We are proud to be recognized once again among the top universities for employability," says U of T President Meric Gertler. "This result reaffirms the excellence of a University of Toronto education, which is highly valued by employers around the world."
The QS Graduate Employability Rankings cover more than 500 universities in its annual report.
London-based Quacquarelli Symonds Limited uses five weighted criteria in the ranking. The reputation of universities among employers counts for the most in the ranking, and is measured by the QS Employer Survey, with more than 30,000 responses. The other indicators are research collaborations with global companies, an analysis of high-achievers' alma maters, the number of employers who have an active presence on campus and the graduate employment rate one year after graduation.
The other Canadian universities in the top 100 are the University of Waterloo (25th), the University of British Columbia (38), the University of Alberta (87) and McMaster University (93). 
The Massachusetts Institute of Technology claimed the No. 1 spot this year, ahead of last year's top-rated university, Stanford, and current No. 3, the University of California, Los Angeles.  
It's another strong result for U of T, which is the highest rated university in Canada and among the best public universities in the world in the five most prestigious international rankings: Times Higher Education, the QS World University Rankings, Shanghai Ranking Consultancy's Academic Ranking of World Universities, U.S. News Best Global Universities Ranking and the National Taiwan University Ranking.
UTC