U of T makes gains on list of universities with best global reputations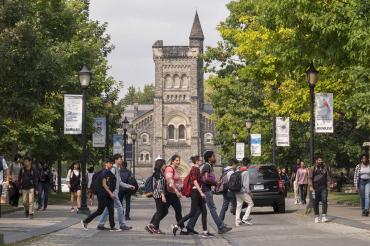 As the University of Toronto's Class of 2018 prepares to graduate, they can take pride in knowing their degree is from a university with one of the best reputations in the world.
Today, U of T placed 22nd in the world – and first in Canada – in an influential ranking of the world's top 100 most powerful university brands. That's two spots higher than last year on the list published by Times Higher Education (THE).
U of T ranked even higher at 11th among the top publicly funded universities in the world, tied with the Swiss Federal Institute of Technology Zurich (ETH Zurich).
"This is more wonderful news for all of us at the University of Toronto," said U of T President Meric Gertler. "It is a remarkable accomplishment once again to be recognized in the top tier of the world's best public and private universities.
"Our international reputation is built on the efforts of our faculty, staff and students – those efforts propel our world-class performance in teaching and the global impact of our research."
Three Canadian universities were in the top 50 and all made gains in their placements this year, THE noted in a news release. The University of Toronto was followed by the University of British Columbia at 38 (up from 40) and McGill University at 41 (up from 42).
THE compiles its Top 100 global university brands from a survey of more than 10,000 senior academics around the world.
American universities continue to dominate the list, with 44 institutions in the Top 100. Harvard University is again in the top spot for the eighth consecutive year, followed by MIT and Stanford University.
"What is particularly striking is that the U.S. has actually strengthened its position…despite fears that the U.S. is suffering a 'Trump slump' in terms of its global reputation," said Phil Baty, THE's editorial director of global rankings, in a news release.
He also noted Chinese universities, which have advanced up the rankings strongly in recent years, appear to be stalling. China's top universities – Tsinghua University and Peking University – stayed put at 14th and 17th, respectively, while other "stars from mainland China have slipped," THE said.
"This new data shows just how hard it is for emerging powers to break into the traditional global elite," Baty said.
In addition, for the first time in seven years, India has cracked the Top 100 with the Indian Institute of Science landing in the 91-100 band.
Overall, the University of Toronto continues to be the highest ranked Canadian university and one of the top ranked public universities in the five most prestigious international rankings: Times Higher Education, QS World Rankings, Shanghai Ranking Consultancy, U.S. News Best Global Universities and National Taiwan University.
UTC