U of T's reputation lands it among the top 30 global universities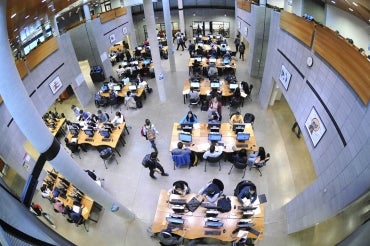 A rock-solid academic reputation – recognized by employers and scholars around the world – has again propelled the University of Toronto to the upper tier of top global universities.
At 28th – up three spots from last year – U of T is among the top global universities surveyed in the prestigious QS World University Rankings for 2019, published by global higher education company Quacquarelli Symonds. MIT landed in first place again this year.
Compared to other public universities on the list, U of T placed even higher at 16th in the world and third in North America behind Michigan (20th) and University of California, Berkeley (27th).
Last week, U of T was ranked 22nd in the world by Times Higher Education based on the strength of its university brand.
"The University of Toronto community is thankful for the recognition from our research peers and business leaders around the globe across such a wide range of subject areas," said Vivek Goel, U of T's vice-president of research and innovation.
"It's clear they see the tremendous value of hiring graduates with a U of T degree and in partnering with our researchers in the pursuit of critically important knowledge. It's rare to have such breadth and depth of scholarship in one institution. This ensures our students have the best and broadest learning opportunities with leading scholars."
The University of Toronto was again the top ranked Canadian post-secondary institution by QS, followed by McGill (33rd) and UBC (44th) in the top 100.
QS bases its ranking system on six criteria: academic reputation, employer reputation, faculty-to-student ratio, citations per faculty, international faculty and international students.
When it comes to academic reputation alone, U of T ranked 18th in the world, QS reported. The university also has a solid reputation among employers, ranking 35th, and made strides in its rankings for international students.
Overall, the University of Toronto continues to be the highest ranked Canadian university and one of the top ranked public universities in the five principal international rankings: Times Higher Education, QS World Rankings, Shanghai Ranking Consultancy, U.S. News Best Global Universities and National Taiwan University. U of T is also among only a handful of global universities to be highly ranked across all fields.
UTC