U of T hosts conference for International Day for the Elimination of Racial Discrimination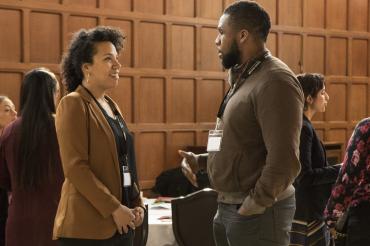 University of Toronto faculty, students and staff, along with colleagues from other Canadian universities, shared stories of battling racism and creating equity at the institutional level at this year's conference recognizing the International Day for the Elimination of Racial Discrimination (IDERD).
Speakers at the two-day conference at Hart House, organized by the Anti-Racism & Cultural Diversity Office, discussed best practices in recruiting and hiring racialized staff. They highlighted efforts at the Faculty of Medicine to encourage students from underrepresented communities to enter the field. They discussed the university's Indigenous initiatives over the last few years, including the success of the Faculty of Kinesiology & Physical Education's SOAR program, which brings Indigenous youth from across Ontario to U of T to interact with Indigenous students and staff.
And they shared the frustrations and challenges they've faced as they tackled racism and discrimination at the post-secondary level.
"You get burned out because of how much work has to go into trying to keep this on the front burner at all times," said Alissa Trotz, associate professor in women and gender studies and director of the Caribbean studies program, speaking about her involvement in the university's Black faculty working group.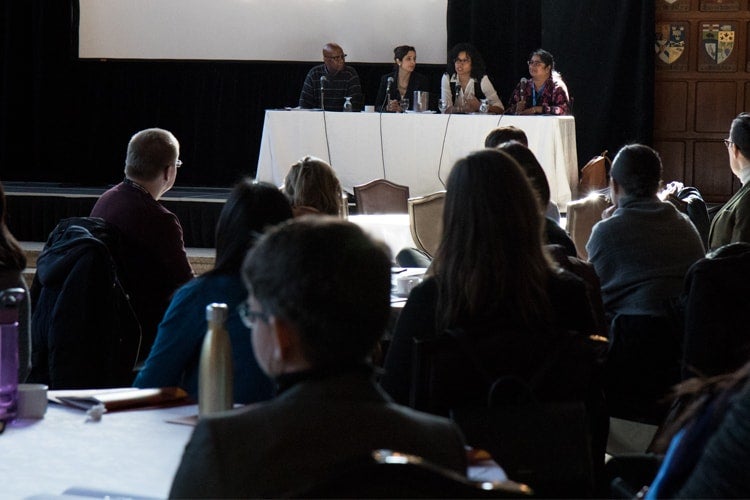 U of T Associate Professor Alissa Trotz speaks during a panel discussion at the IDERD conference. Other panellists include (from left to right) York University Professor Carl E. James, Harvard University Associate Professor Natasha Kumar Warikoo, and York University Associate Professor Enakshi Dua
Given the underrepresentation of Indigenous and racialized people at the post-secondary level, the conference – now in its second year – provides a place to focus specifically on issues of race, racism and anti-racism, said Sandra Carnegie-Douglas, U of T's Anti-Racism & Cultural Diversity Officer, whose office organized the event.
"As a leading research institution hosting this conference, it sends a strong statement in terms of our readiness to have these conversations," Carnegie-Douglas said. "That is not to say that we have it all figured out. These issues also exist here at the university so it's important for us to have spaces where we can speak openly about the issues and the challenges and boundaries that Indigenous and racialized students, faculty and staff are facing whether it's in terms of access, continued participation and engagement, or having opportunities to thrive."
Last year's IDERD conference included participants from colleges and universities beyond U of T. This year, Carnegie-Douglas said, organizers wanted to open the conversation to an even broader post-secondary context, and invited participants from outside Canada, including the United States and Switzerland. 

"It's incremental," she said. "We're reaching out, and people are paying attention. These issues are really important to people, and very relevant beyond the U of T community."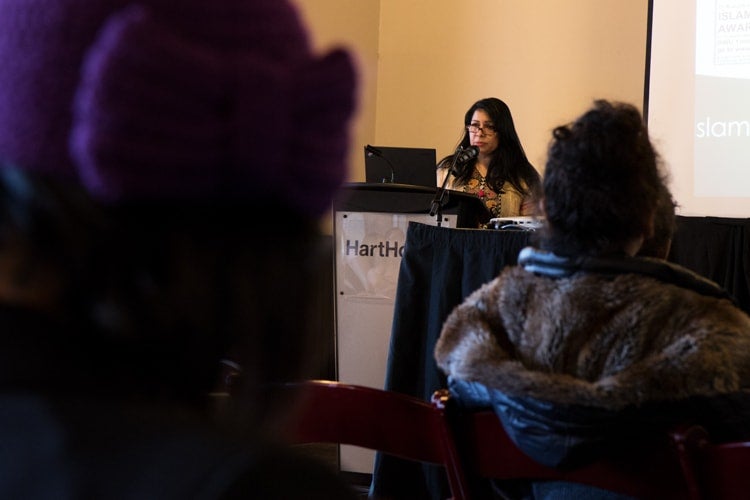 Jasmine Zine, a professor of sociology at Wilfrid Laurier University and a U of T alumna, spoke about Islamophobia on university campuses
Discussions at the conference ranged from Islamophobia and the surveillance of Muslim Students Associations by the RCMP and Canadian Security Intelligence Service to the experiences of Black women in academia. Participants talked about how to build a campus community that rejects anti-Semitism. U of T's Jonathan Hamilton-Diabo explained that building relationships with the Indigenous community begins with listening. White-identified professionals talked about recognizing their white privilege and identifying how to create change in their own offices and departments. And they left with some takeaways – such as the importance of collecting demographic data at the university, and how to use that information to push for systemic change.
The conference kicked off with a keynote from Natasha Kumar Warikoo, an associate professor at Harvard University who talked about issues of race among students at elite universities such as Harvard and Oxford universities. Discussing her book, The Diversity Bargain, she said white students at elite institutions in the U.S. support affirmative action when it personally benefits them because they feel they're learning from racialized students, but often see their Black and Latino classmates as less qualified. In the U.K. meanwhile, she found that white students accept their racialized peers as intellectually equal because equity screening doesn't exist, but then deny the discrimination they may experience.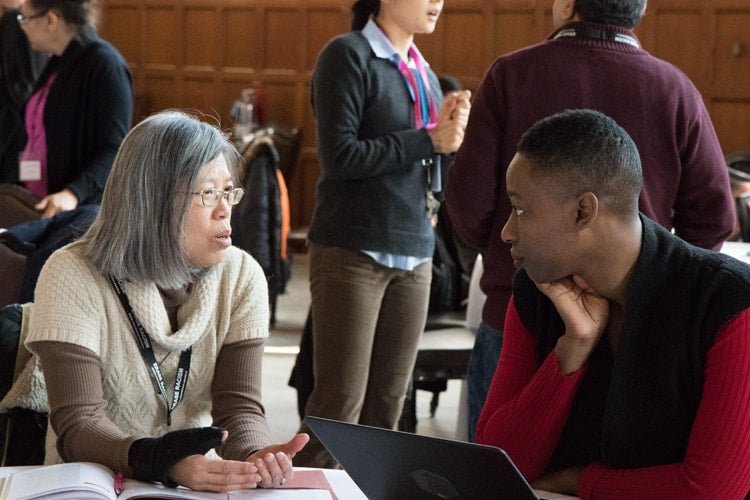 Tammy Chan, a student at OISE, speaks with Janelle Joseph, who heads the Academic Success Centre
A panel discussion on the newly released book, The Equity Myth: Racialization and Indigeneity at Canadian Universities, considered the first data-based study of racialized and Indigenous faculty members at Canadian universities, drew a packed audience in the Great Hall.
One of the authors of the book, Carl E. James, a professor of education at York University, spoke about its findings. Despite a proliferation of statements supporting equity and diversity, institutions have seen very few changes, he said. The book shows how racialized faculty members still comprise a small percentage of the total faculty, do not receive tenureship as often as white professors, experience hostile working conditions and don't have pay equity. Plans are passed but not implemented, those on hiring committees hire friends, and people with accents or immigrant experiences are deemed unqualified or not a good fit, James said. 
Trotz, who also spoke on the panel, called the book a gift for racialized faculty and staff, and called on advocates and universities to move beyond the "congratulatory patting on the back" to address issues like targeted hiring, funding priorities and curricular changes.
U of T has begun collecting race-based data. One of the first universities to collect detailed information about the diversity of its faculty and staff, U of T earlier this year released results from an Employment Equity Report. The university hopes the data will help officials identify where they can improve hiring practices and employee supports. The provost has also set aside funds to hire 10 new Black faculty members and 40 new Indigenous staff and faculty members. In the coming months, the Anti-Racism and Cultural Diversity Officer will be working with an advisory committee to develop an antiracism strategy for the university.
"If we are to transform our universities and colleges into vibrant, equitable and inclusive institutions where members can thrive, then we must be willing to change the values, norms and culture within our institutions that continue to marginalize and exclude racialized and Indigenous students, faculty and staff," said U of T's Vice-President of Human Resources & Equity Kelly Hannah-Moffat.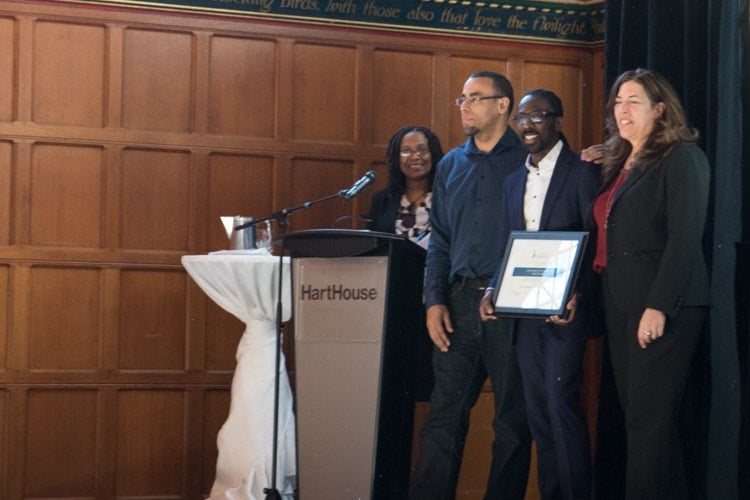 Black Medical Students Association was one of the winners of this year's IDERD awards. From left to right, Anti-Racism & Cultural Diversity Officer Sandra Carnegie-Douglas with Faculty of Medicine's Ike Okafor, who nominated the group; Sean Wharton, who started the organization; and U of T's Vice-President of Human Resources & Equity Kelly Hannah-Moffat 
The winners for this year's IDERD recognition awards included the Black Medical Students Association, which was established in 2000 and runs outreach events and high school visits to inspire future Black physicians. Sean Wharton, who founded the group as a young medical student, recalled how in the early days other marginalized groups who were underrepresented in medicine also ended up joining their organization.
Other winners were Janelle Joseph, director of the Academic Success Centre and assistant director of the Transitional Year Programme; Amorell Saunders N'Daw, director of governance at U of T Scarborough who helped the campus develop a clear strategy and framework for equity and diversity, and was instrumental in starting the U of T-wide affinity group Connections and Conversations; Marie Laing, a member of OISE's Indigenous Education Network;  and Roy Strebel, who is the coordinator of the SOAR Indigenous program at KPE and cares for the traditional medicine garden near Hart House.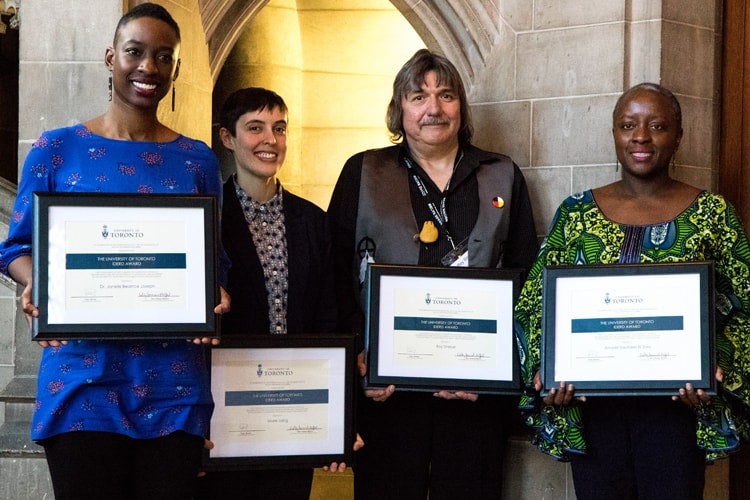 Janelle Joseph, who heads the Academic Success Centre, OISE's Marie Laing, KPE's Roy Strebel and U of T Scarborough's Amorell Saunders N'Daw were among the winners of this year's IDERD recognition awards 
UTC