The University of Toronto has released the results of its 2016-2017 Employment Equity Report. 
Among the report's findings: 47 per cent of faculty and librarians self-identify as women, with 17 per cent self-identifying as racialized, 10 per cent having a sexual orientation other than heterosexual, seven per cent reporting an invisible disability and one per cent being Indigenous. 
The new survey is the most detailed by a Canadian university about its employees, aimed at helping the University better understand the different social identities of its staff, as well as where it can improve its hiring practices and employee supports.
"I'm grateful to all of our employees who filled out this voluntary survey," said Kelly Hannah-Moffat, vice-president, human resources and equity. "The information we've learned about the diversity of our faculty and staff is incredibly valuable. We are very proud of our diverse community.
"As an institution, we believe it's important to have a diversity of thought and experience in all areas, and that diversity and excellence go hand-in-hand. We've collected this information so that we can identify where gaps in our diversity exist and develop strategies to address them."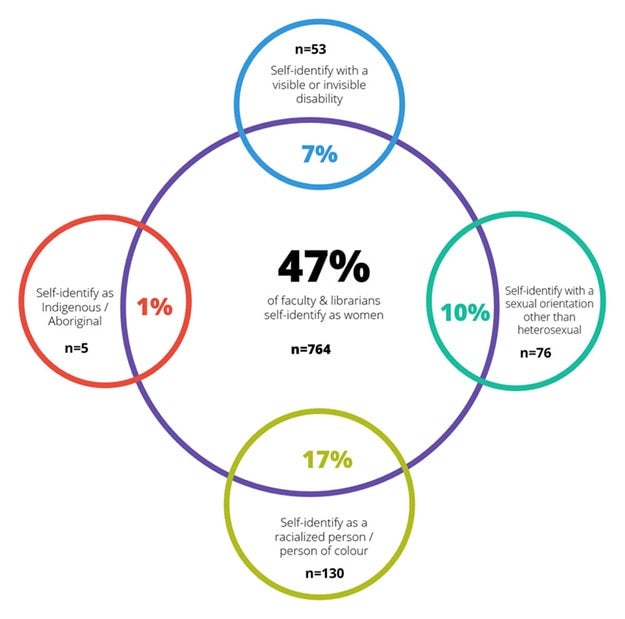 The report also found the following:
33 per cent of staff, 17 per cent of faculty and 12 per cent of librarians self-identify as racialized/persons of colour
One per cent of staff, one per cent of faculty and one per cent of librarians self-identify as Indigenous/Aboriginal People of North America
Nine per cent of staff, six  per cent of faculty and  nine per cent of librarians self-identify as Persons with Disabilities
Nine per cent of staff, 11 per cent of faculty and 12 per cent of librarians self-identify as LGBTQ.
The report is a snapshot of the responses provided by University employees as of August 1, 2017. The survey's response rate was 70 per cent, representing 7,572 faculty, librarians and staff.
The survey remains open, allowing new employees to fill it out, and ensuring faculty and staff have the ability to update their responses if their self-identities change. 
Employees can complete the survey through the Employee Self-Serve website.
U of T began employment equity surveys more than 30 years ago and had not updated its questions for nearly a decade. However, in 2016, after more than a year of consultations, the University introduced a revised version, with new questions and updated wording aimed at improving the quality of the information gathered. The new survey also allowed respondents to choose not to answer individual questions, pick more than one answer, or write in responses where applicable. 

Some of the changes from previous surveys included:
The ability for respondents to self-identify according to their gender and gender identity
Offering two terms, racialized persons and persons of colour, in place of visible minority
The addition of an Indigenous/Aboriginal People of North America category as a response to the question regarding Indigenous/Aboriginal status
Delineation between visible and non-visible disabilities
The ability to self-identify with multiple ethnic backgrounds and racial identities.
"The new survey has important language changes that give our employees more choice about how they identify themselves," said Hannah-Moffat. "As we better understand our workforce, we can continue to provide resources, training and support across all three campuses, particularly for the designated groups identified in the report as being underrepresented at the university. 
"It also results in the development of recruitment strategies that encourage diversity."
In an additional effort to better understand its community, the University will do a similar survey of its student population. The survey will be available towards the end of the term.