Connections and Conversations, an affinity group for racialized staff at U of T, meets at their second annual tri-campus event last week (photo by Aisha Raja)
For racialized staff at the University of Toronto, supportive friends and mentors – both in their own departments and elsewhere across the university – can play an important role in helping them get ahead.
So Connections and Conversations, an affinity group for racialized staff at U of T and their allies, made "critical friends" the theme of its second annual tri-campus gathering last week.
The staff-driven initiative, which began informally three years ago, officially launched last year in September. It now has chapters at all three campuses. This year's event brought out about 90 people to the Ontario Institute of Studies in Education for a 3½-hour workshop.
The group brought in George Dei, a professor of social justice education at OISE, to explain how to find and cultivate a "critical friend." For non-racialized staff at the event, he talked about how critical friends can work in solidarity with racialized staff to bring about institutional change.
"Friendship is about healthy and sustainable relations, connections and reciprocity," Dei told participants, adding that it can also include providing space to ask destabilizing and uncomfortable questions.
Amorell Saunders N'Daw, director of governance and the interim senior equity adviser at U of T Scarborough, said Connections and Conversation hoped disentangling what the concept means could help staff members attending the workshop.
"As racialized staff at U of T, there may be barriers both visible and invisible to getting ahead at this large institution," she said. "It's really important to talk about the role of critical friends who can help us navigate spaces and enhance our profile as contributing members of the U of T community."
The event was organized by the Anti-Racism & Cultural Diversity Office (ARCDO), which reports to the vice-president of human resources & equity and provides services to students, faculty and staff that are in line with the university's commitment to equity, diversity and inclusivity.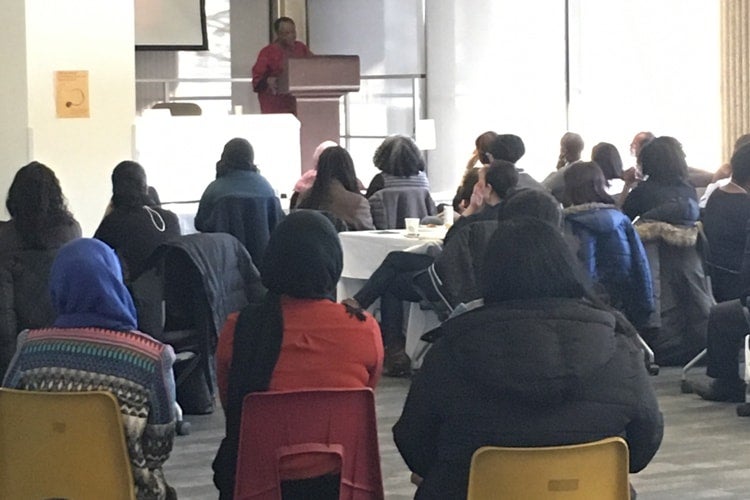 Professor George Dei speaks at the second annual tri-campus event for Connections and Conversations (photo by Aisha Raja)
The topic was further explored with a panel discussion that included David Kim, dean of residence at Chestnut House; Heather Hines, director of undergraduate programs and student services at U of T Mississauga's department of management; Liza Nassim, dean of students at Woodsworth College; and Naraindra Prashad, former director of operations and finance for the office of the governing council.
Hines talked about how racialized staff often fear damaging their brand or reputation by speaking up.
"As a racialized manager, it's been scary, and I've often thought, 'Why am I going to do this?'" she said. "But there's people who came before me and will come after me, including my children. If I am not willing to put myself out there and be better, how can I expect any of you?"
Nassim talked about what it meant to be a critical friend and listening, taking risks and supporting people from behind the scenes.
Sandra Carnegie-Douglas, who heads ARCDO, says to bring about change at an institution like U of T, racialized people can't work alone.
"So, the notion of critical friends, as described by Dei, offers the opportunity to redefine the way in which racialized staff and critical friends at U of T can work together to bring about equity and address anti-racism that will, among other things, support racialized staff," Carnegie-Douglas said. "The notion of racialized staff and critical friends working in solidarity – with guarantees, transparency and accountability – shifts the landscape regarding the type of relationship and the responsibilities that come with it.
"Therefore, the role of critical friends is an essential part of the conversation if we are serious about creating and fostering an environment where racialized staff can thrive and see themselves contributing throughout the university."
The group is hoping that the workshop discussion will help them draft a strategic framework to bring to senior executive administrators at the university on how they can support racialized staff. In addition, Human Resources & Equity is working on an employment equity survey of racialized staff.
"It will include mentorship, professional development opportunities, membership on committees, advisory groups, hiring panels – a systemic approach to making sure that the environment is supportive of racialized staff," N'Daw said. "We're working collaboratively with the administration in recommending some ideas. We want to be supportive, collegial and helpful."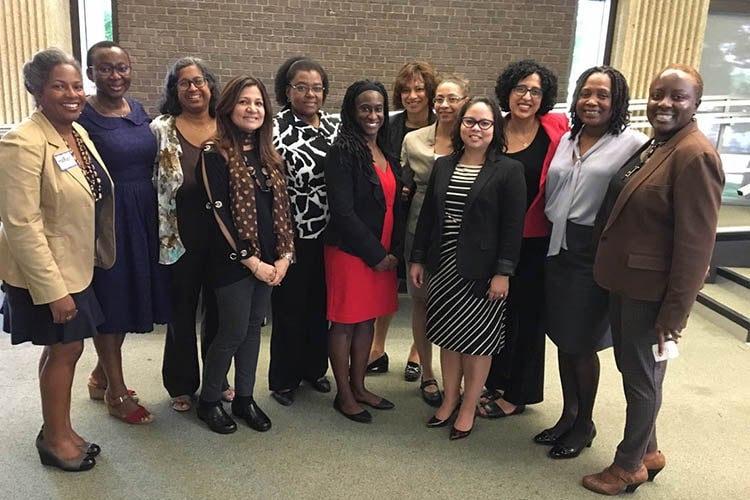 At last year's event, some of the founding members of Connections and Conversation. From left to right, Heather Hines, Titi Oridota, Kaye Francis, Jeevan Kempson, Deborah Simon-Edwards, Sharon Grandison, Suzanne Macintyre, Liza Arnason, Kimberly Yeh, Archana Sridhar, Sandra Carnegie-Douglas, Amorell Saunders N'Daw (photo by Rachel Halpern)