U of T faculty, staff and students help run pop-up vaccination clinics in COVID-19 hot spots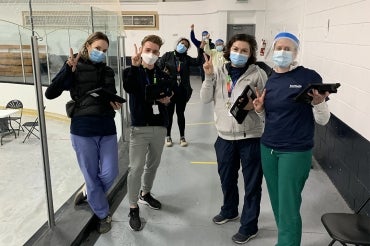 Working out of community centres and hockey arenas, University of Toronto faculty, staff and students are helping run pop-up vaccination clinics in Toronto's COVID-19 hot spots.
Erin Bearss, a physician at Sinai Health and an assistant professor in U of T's department of family and community medicine in the Temerty Faculty of Medicine, is part of the team administering vaccines inside the rink at Albion Arena in Toronto's Rexdale neighbourhood.
Roughly 2,300 people a day, on average have received their first dose of vaccine at the clinic, which first opened last week.
"Everyone recognizes how important the vaccine campaign is for getting our lives back on track," said Bearss, who is an ER and family doctor at Mount Sinai Hospital. "I think it's a case of all hands on deck."
U of T is also hosting mass vaccination sites at its St. George and Mississauga campuses. They operate in collaboration with health-care partners and follow Ontario's priority vaccine schedule and ethical guidelines.
The Albion Arena pop-up clinic is similarly being operated by U of T and Sinai Health under the umbrella of the University Health Network. "Sinai, being a relatively small group, we couldn't have done it without the support of U of T," Bearss said.
The temporary clinic, on Albion Road just west of Kipling Avenue, is at the heart of one of Toronto's harder hit communities, with 950 cases per 100,000 people – three times the case rate of the Annex neighbourhood, according to city statistics for April 17 to May 7. Rexdale borders West Humber-Clairville, with more than 1,300 cases per 100,000.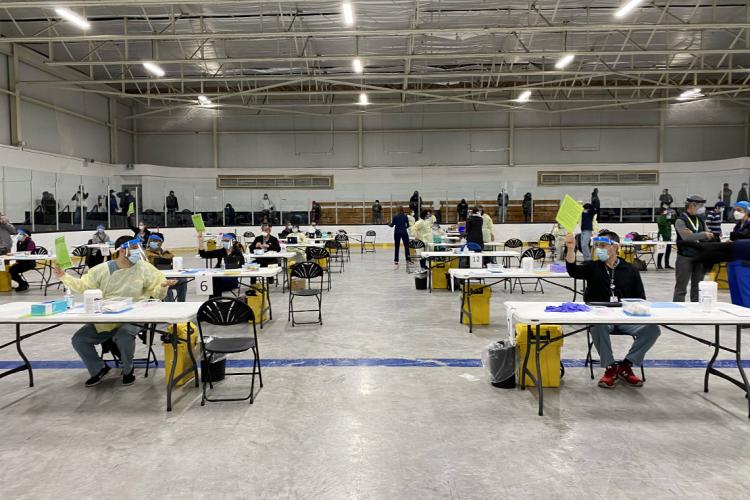 (photo courtesy of Erin Bearss)
Pascal Lumbala, a COVID-19 community response manager in Rexdale, spoke of the urgency to vaccinate people in the neighbourhood in a recent interview with City News.
"The majority of the community – you have essential workers, immigrants, low incomes, people living in buildings with multi-generational houses," he said, noting that all are factors that put residents at higher risk.
U of T community members were also on hand at temporary clinics at the Habitant Arena, near Weston Road and Finch Avenue, and the Oakdale Community Centre, in the area of Jane Street and Finch Avenue.
Thomas Brown, an associate professor in the Leslie Dan Faculty of Pharmacy, has been arriving at the Oakdale site early in the morning, about three hours before it opens, to prepare individual doses from vials of vaccine – a 20-step process that requires the utmost care and precision.
Operating a pop-up clinic without appointments presents staff with unique challenges, Brown said.
"Once we start putting [the vaccine] into the syringe, it's only good for six hours, so we can't just make a whole bunch," he said. "We have to anticipate how much we're going to use."
When the line outside the clinic appeared to be thinning, managers put out a call through Vaccine Hunters, a volunteer group that's working with the City of Toronto to connect residents to available vaccine appointments, to ensure that every dose found an arm.
Pharmacy students who have just completed their final exams are also working at the clinics.
"I think we all just want this to be over," said Brown, "and we all want people to stop getting into hospitals. That's why we're health-care providers."
Similarly, Lynn Wilson, professor and vice-dean of clinical and faculty affairs at the Temerty Faculty of Medicine, said assisting with vaccination efforts in vulnerable communities is part of health professionals' responsibility to address community needs.
"Right now, getting vaccines to communities at risk is an enormous priority and we would like to be part of the solution," she said.
UTC