Volunteers step forward as U of T hosts downtown vaccine clinic on St. George campus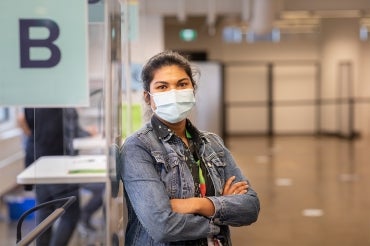 This time last year, Upasana Saha was planning to transform an art gallery at Mount Sinai Hospital into a COVID-19 assessment centre where patients could be tested for a new and dangerous disease.
One year later, Saha is part of a team that laid the groundwork for a Toronto Public Health-approved vaccine clinic housed in the University of Toronto's Exam Centre.
Launched last week, the clinic is being operated by the University Health Network (UHN), with significant participation by Sinai Health and U of T. It operates by appointment only and follows the vaccine priority schedule and ethical guidelines established by the province.
A senior manager at Sinai Health and PhD candidate at U of T's Institute of Health Policy, Management and Evaluation at the Dalla Lana School of Public Health, Saha says the mood at the clinic is much more upbeat compared to last year's assessment centre.
"In those early days we didn't know too much about COVID-19 and how it spread," Saha said. "There was high anxiety and a lot of nerves. Now that we're vaccinating against a disease we learned about just over a year ago, the atmosphere is so much brighter."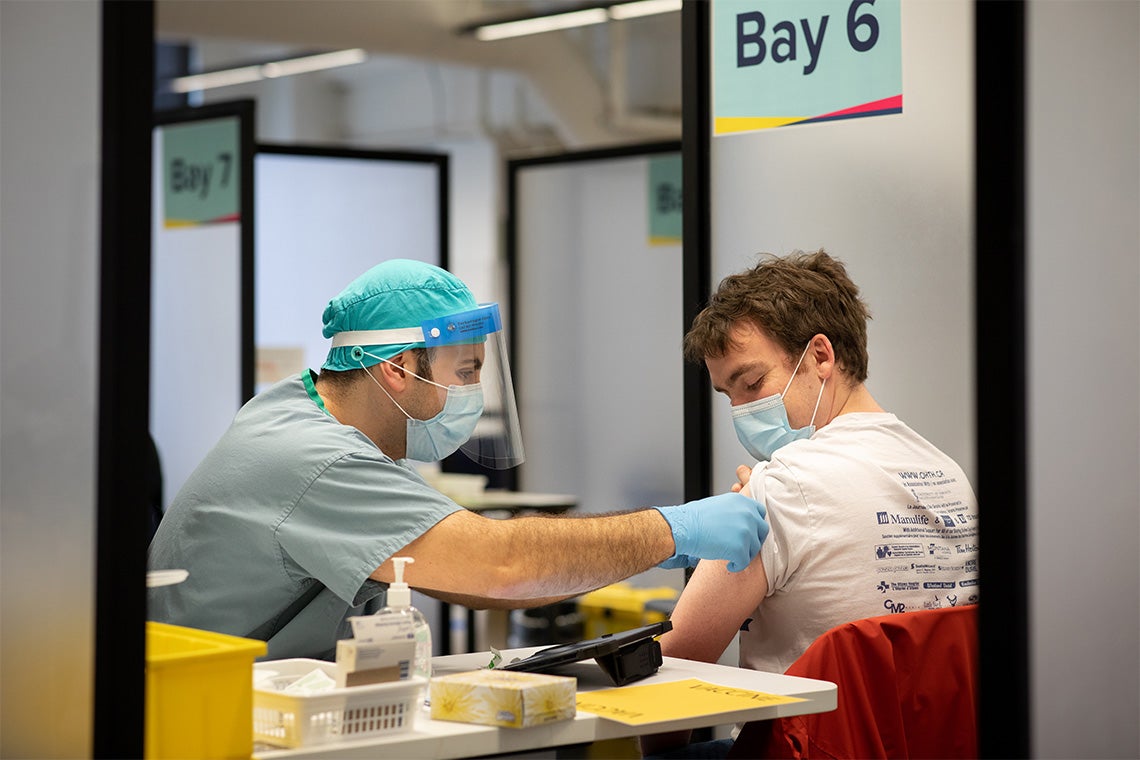 Stefan Juckes, a patient-facing learner from U of T's Faculty of Dentistry, receives a COVID-19 vaccination at the U of T-hosted clinic on the St. George campus (photo by Johnny Guatto) 
The vaccine clinic, hosted on the St. George campus, is part of a university-wide effort to support the largest vaccine mobilization in Canadian history. At U of T Mississauga, a mass vaccination site operated by Trillium Health Partners and overseen by Peel Public Health plans to administer up to 2,000 shots a day, and to scale up to 4,000 later on.
U of T is ultimately planning to host vaccination sites on all three of its campuses, and to provide health-profession students with opportunities to get involved, said Salvatore Spadafora, a physician and senior adviser to the dean of the Temerty Faculty of Medicine who is also special adviser to the president and provost on COVID-19.
"Our main goal is to do what we can to partner with our hospitals and public health to serve our communities," Spadafora said. "Our students have the same goal, and we are pleased to be able to help them achieve it."
On Wednesday and Thursday of last week, the U of T-hosted clinic – located near McCaul and College Streets – was vaccinating health-care workers and patient-facing learners. That includes U of T students in medicine, pharmacy, social work and nursing, among other front-line fields.
By Friday, the plan was for the clinic to begin vaccinating members of the public – specifically people over age 80, another phase one priority group identified by the province.
U of T President Meric Gertler said he is pleased to see members of the U of T community offer their time and expertise to support the province's mass immunization drive. He added that such initiatives align strongly with one of the university's key priorities – to leverage the resources of our three campuses for the benefit of communities across the Toronto region.
"From the start of the pandemic, members of the U of T community have shown remarkable resilience, creativity and a willingness to help others," he said. "I continue to be immensely proud to see U of T and its health-care partners working together to support an unprecedented immunization campaign that is critical to Canada's recovery."
Erin Bearss and Lynn Wilson, both of U of T's department of family and community medicine in the Temerty Faculty of Medicine, were an integral part of the local group of health organizations that got the U of T-hosted clinic on the St. George campus up and running.  
Bearss, who is also a staff physician in family health medicine and emergency medicine at Mount Sinai Hospital, said it was "all hands on deck" to turn the U of T exam facility into a vaccine site in just a couple of weeks.
"It really does bring us a sense of, 'It's going to get better. We're going to get through this,'" said Bearss, who, in her role at Sinai Health, visited long-term care homes in January to administer vaccines to a hard-hit segment of the population.
"Maybe it's the first time in a long time that people have that sense of, 'We're going to make it.'"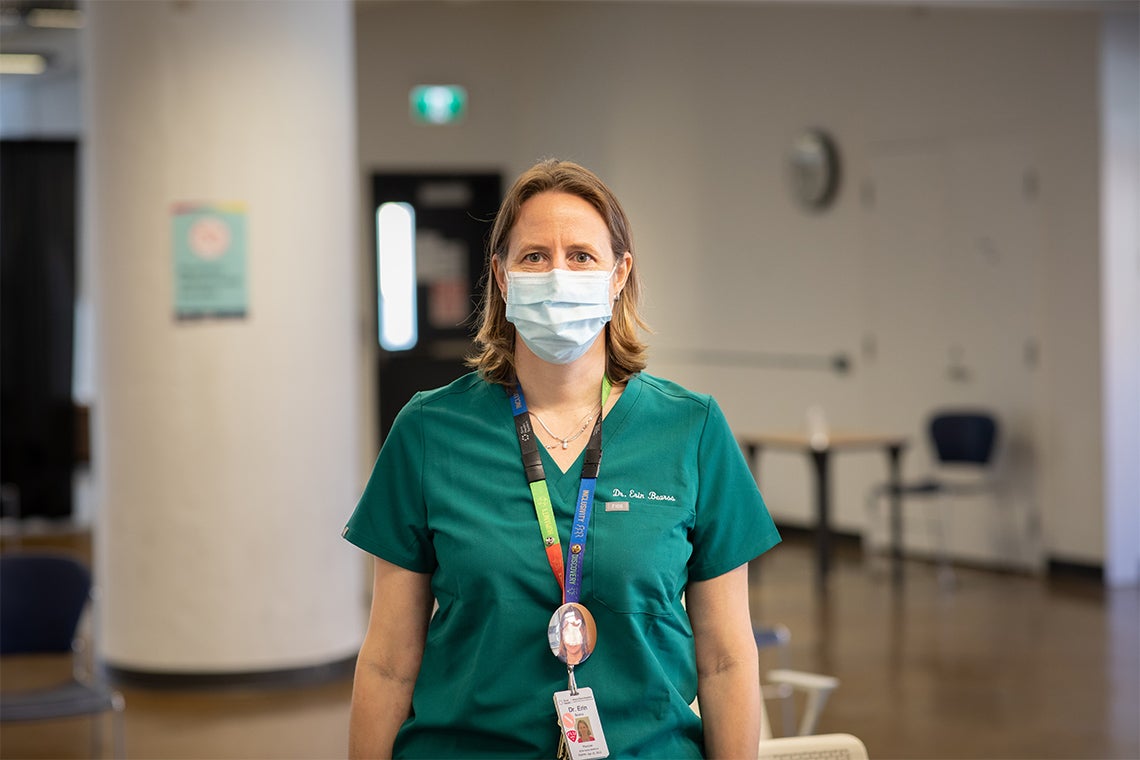 Erin Bearss, of the Temerty Faculty of Medicine and Mount Sinai Hospital, says it was "all hands on deck" to turn the U of T exam facility into a vaccine site in just a few weeks (photo by Johnny Guatto) 
Wilson, who is vice-dean, clinical and faculty affairs at Temerty Faculty of Medicine, said she was delighted that U of T and its hospital partners were able to establish a vaccine clinic in a strategic downtown location close to mass transit on such a tight schedule. Yet, while the approval of vaccines is good news, she struck a note of caution about more contagious variants of COVID-19 that are currently leading to an uptick in cases in Ontario.
"With experts warning of a possible third wave, it's essential that we continue to follow public health precautions," she said.
Wilson added that the number of U of T students in health professions who are eager to support the vaccination efforts – more than 1,000 have volunteered so far – speaks volumes about the U of T community.
"It's quite evident that we have a very caring community that are keen to help in whatever way they can in terms of this global crisis."
Pharmacists are playing an integral role at the vaccine clinic. Under the leadership of Linda Dresser, assistant professor in the Leslie Dan Faculty of Pharmacy, the clinic's pharmacy team is focused on vaccine preparation, which requires careful aseptic technique to ensure a steady flow of individual doses that are ready for injection.
"Pharmacists are playing an active role in Ontario's vaccination campaign, both preparing and administering vaccines," said Dresser, who is the pharmacy director of the vaccine clinic and a UHN staff member.
"This clinic is an opportunity to serve our community, model an interdisciplinary team-based approach and build capacity to support the province-wide roll-out."
U of T staff are also doing their part. Sitting at a desk behind a Plexiglass barrier, Tim Machin spoke with patients after they got their shot and informed them when they would be due for a second dose. A theatre actor and musician, Machin is also a casual worker in U of T's standardized patient program, where he has played the part of an ailing patient in simulations to support medical teaching and assessments.
Machin says many of the program's exercises aim to teach students about "patient-centred care" – an approach he says he's employing at the vaccine clinic to make sure everyone who walks through the door feels as comfortable as possible.
Susan Camm, the clinic manager and clinical team lead at U of T Health & Wellness, said those working at the U of T-hosted clinic are eager to get as many needles in arms as possible.
"People are thrilled to participate," she said. "We have had tons of volunteers: physicians, pharmacists, nurses and people from all over campus. Deans and associate deans are saying. 'I can come in and work as a clerical.'"
Meanwhile, many more U of T students are waiting in the wings to lend their support once the site ramps up to a vaccination rate of more than 1,000 doses per day by the end of the month.
"People understand how important this is," Camm said. "We have a huge volume of health-care learners across disciplines – nursing, medicine, dentistry, pharmacy, occupational therapy, physical therapy, speech language therapy and dieticians – all of them keen and eager to get in.
"We're part of the community at large and we want to help."
UTC