U of T faculty and alumni named among Toronto Life's 50 most influential
Geoffrey Hinton, Dr. Danielle Martin and many more make the list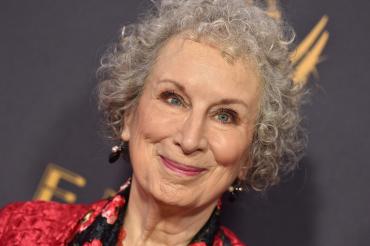 Some of the biggest movers and shakers in the city can be found among University of Toronto faculty and alumni, according to Toronto Life magazine.
Its list of 2017's most important influencers includes
University Professor
Emeritus
Geoffrey Hinton
, the "godfather" of artificial intelligence, and Associate Professor Dr.
Danielle Martin
, an author and activist who led U.S. Senator Bernie Sanders on a tour of Canadian hospitals. 
U of T graduates, like Margaret Atwood, Mayor John Tory and Ontario Premier Kathleen Wynne, also figure prominently in the new ranking.
Hinton, who placed 10th on the list, is famous for pioneering a field of artificial intelligence called neural nets, which let computers recognize patterns and learn like humans do.
"His breakthrough enables machines to think like humans, bringing to life the stuff of Star Trek-plotlines: self-driving vehicles and smartphones that can diagnose cancer," the magazine says.
Hinton splits his time between the university, where he heads the Vector Institute for AI research, and a fellowship with Google's AI research arm.
Martin, vice-president of Women's College Hospital, came 41st. She's noted for championing universal public health care while identifying room for improvement in the system. Her new bestseller, Better Now, outlines six ideas to improve Canadian health care, from a return to relationship-based primary care to universal prescription drug coverage.
Martin, who is an associate professor at the Dalla Lana School of Public Health's Institute of Health Policy, Management and Evaluation, made headlines in 2014 for defending Medicare before a U.S. Senate subcommittee in an appearance later viewed millions of times online. And last month,
she accompanied Sanders on a tour
of the Canadian health-care system, which ended with a sold-out speech at U of T's Convocation Hall.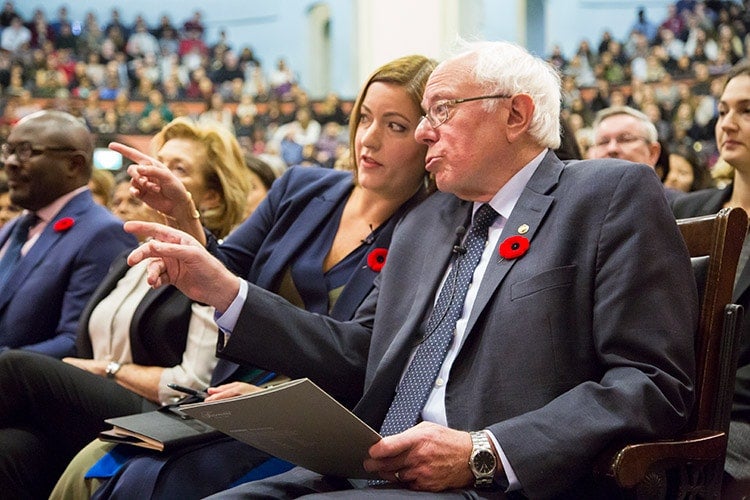 Dr. Danielle Martin with U.S. Senator Bernie Sanders at Convocation Hall in October (photo by Geoffrey Vendeville) 
It was also an eventful year for Atwood (9th). The author saw her 1985 dystopian novel The Handmaid's Tale become a multiple Emmy-award winning TV series. A TV adaptation of her novel Alias Grace has also received glowing reviews.
"In these early end times, Atwood has never seemed more prescient," Toronto Life says. 
Any list of influencers would be incomplete without some of the top government leaders and U of T alumni, from Mayor Tory (3rd) to Premier Wynne (7th) and her conservative rival Patrick Brown (21st).
U of T alumna Olivia Nuamah was named among the most influential (17th) after becoming executive director of Pride Toronto. The experienced social justice advocate, who has a bachelor's degree in international development and social anthropology, once worked on British prime minister Tony Blair's campaign to end poverty.
Author and activist Naomi Klein, who cut her teeth at campus paper The Varsity and served as its editor-in-chief, came in 34th. Her latest book No Is Not Enough was a New York Times bestseller. She argues that critics of U.S. President Donald Trump should do more than resist; they should unite and reclaim the populist ground. 
Alumnus Michael Serbinis (19th) is a familiar name to anyone in Toronto's tech scene. He's "Toronto's best hope at creating the next Google, Uber or Spotify," the magazine says. Since selling Kobo, the book technology company he founded, for $315 million, he started the benefits and insurance platform, League. Doctors Without Borders and Loblaw Digital, among others, have already signed on, Toronto Life says.
Another big name in the business world: Dani Reiss. 
What do Wayne Gretzky, Emma Stone and José Bautista have in common? A fondness for Canada Goose jackets. Reiss (46th) is the CEO of the jacket maker, which went public in the spring and posted over $400 million in revenue in its most recent fiscal year.  
In addition to nurturing many of the most influential people, U of T was also home to one of the "buzziest exhibits" of the year, according to
Toronto Life
. Cree artist
Kent Monkman's show at the Art Museum at the University of Toronto
took a critical look at the 150 years since Confederation. Monkman was 15
th
on the magazine's list of influencers.
"I believe art has to be challenging and it has to take us sometimes to dark places," he told U of T News at the time. "I felt in this moment in time it was important to have a critical perspective on Canada."
UTC