Spotlight on Canada's health-care system during Bernie Sanders's visit to Toronto this weekend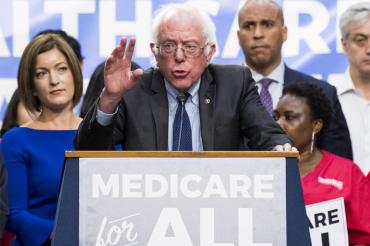 As he tries to build a movement for universal health care in the United States, Senator Bernie Sanders's much-anticipated trip to Toronto this weekend is meant to be a fact-finding mission on Canada's health-care system.
The most popular politician in the U.S., according to a new poll released this summer, Sanders arrives in Toronto Saturday for a whirlwind trip of roundtable discussions, meetings with patients, visits to health-care facilities and this weekend's hottest ticket – a talk on Sunday at University of Toronto's Convocation Hall.
Professor Gregory Marchildon of U of T's Dalla Lana School of Public Health said Sanders's appeal – especially for millennials on both sides of the border – lies in his populist message.
"The event sold out in less than a minute – I wasn't surprised by that, in part because of his high profile during the presidential campaign," Marchildon said. "I think he captured many Canadians' attention during that time. They saw the substance of his message as being more reflective of their values."
Sanders, who proposed a Medicare for All bill in the U.S. Congress last month, said he's coming here to learn about Canada's health care, and how this country is spending half as much as the U.S. per capita in providing services. He's also interested in understanding how Canada's cost of prescription drugs is "substantially less than in the United States."
"The United States is the only major country on Earth not to guarantee health care to all their people as a right," Sanders said via email. "In Toronto, I look forward to speaking with Canadian doctors, patients and administrators to see what we can learn from the Canadian system."
Sanders, who hopes to reshape American health care into a government-run, single-payer program – similar to what we have in Canada – has taken his bill on the road to various U.S. states. His trip to Canada – organized by Dr. Danielle Martin, a vice-president of Women's College Hospital, the Broadbent Institute and Marchildon – is an opportunity to learn more about the pros and cons of Canada's health-care system.
Martin, an associate professor at Dalla Lana's Institute of Health Policy, Management and Evaluation, first met Sanders three years ago in Washington D.C. Her defence of Canadian health care before a tough U.S. congressional committee debating Obamacare drew immediate international attention. Sanders endorsed her recent book about Canadian health care, titled Better Now: Six Big Ideas to Improve Health Care for all Canadians, and she in turn showed up to support Sanders when he launched his bill last month.
"We thought it would be terrific for him to come and see the Canadian system for himself and to learn more about what's working and also our challenges, to hear directly from patients, health-care providers and policy experts," she said. "We're all clear, and he understands very well that in a single day or two visiting the city of Toronto, he's not going to get a complete picture of everything to do with the Canadian health-care system, or the particular challenges of rural communities, Indigenous health disparities or a wide range of important issues. He'll get a flavour of what's working, although it won't be exhaustive."
Martin emphasized that the trip will also present some of the challenges of health-care delivery in Canada.
"I certainly don't think he believes for a minute that everything is positive and glowing, and neither do we. We all know that there's very significant challenges in the Canadian health-care system," she said.
"This is not a public relations exercise. It's a learning exercise, and that means he'll be hearing about what works and what doesn't."
She added though that this was still an opportunity to show pride in our health-care system.
"It's very Canadian to downplay your accomplishments and focus solely on the distance yet to be travelled. So, we won't solely be highlighting the challenges, we will also be celebrating our successes. From the perspective of many of the patients that I know he'll be meeting when he comes to Toronto, many of them, if they had been in similar life circumstances in the U.S., would have almost certainly had a far inferior experience in the health-care system than the one they had in Canada. And that is also an important message for our neighbours south of the border to hear."
Though considered dead-on-arrival in the Republican-controlled Congress, Sanders's bill hopes to build momentum for universal health care – for the next election.
"This is about more than just passing a bill," Martin said. "It's about engaging citizens in a conversation. Senator Sanders is known for his capacity to build a movement and not just campaign on a particular legislation. That's what he's trying to do with this bill, build a movement for universal, single-payer health care in the United States, and part of his journey to Canada is to understand how that movement may or may not cross borders."
Marchildon added that Sanders's bill is also intended as a criticism of the Trump administration's efforts to dismantle Obamacare and to offer alternatives to current health-care options.
"[Sanders] sees his bill as a symbol of where the U.S. can go down the road and as a critique of the current approach," said Marchildon, who is the founding director of the North American Observatory on Health Systems and Policies, which studies and analyzes health systems in the U.S. and Canada at Dalla Lana's Institute of Health Policy, Management and Evaluation. He's speaking this week at another health-care conference in the U.S. about the Canadian system.
Does he believe a universal health-care proposal like Sanders's could ever get passed in the U.S.?
"It's more likely now than it would've been five years ago," Marchildon said. "The experience of the Affordable Care Act [Obamacare] is that it has been good in some respects. It covered gaps in coverage, but it has very little cost control. It is extremely expensive from an administrative standpoint, and therefore single-payer could work. Some states have tried it, so I think there's more openness about it now.
"But it would be a huge battle. I would warn that the demonization of Canada is part and parcel of a campaign to derail any movement to a single-payer system by a broad range of interests who do not want this to happen. Right now, insurance companies play a very important role in the U.S. system, and they would lose that position with the creation of a single-payer system. There are numerous other powerful interest groups that are against this."
Sanders's public talk on "What the U.S. Can Learn from Canadian Health Care" will be livestreamed at 11 a.m. on Sunday. For streaming details, visit the U of T Facebook page on Oct. 28. 
UTC