U of T Entrepreneurship Week: Six startups working on COVID-19 innovations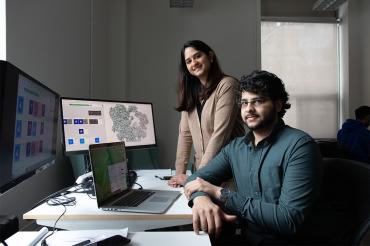 From speeding up diagnostic testing to streamlining communications between health-care facilities and promoting hand-washing, University of Toronto startups are finding a number of ways to contribute to the fight against COVID-19.
Many U of T entrepreneurs pivoted quickly during the early days of the pandemic to help address a global health threat, demonstrating a capacity for innovation, flexibility and quick-thinking. 
With Entrepreneurship Week underway, here's a look at six U of T startups whose innovative products and services are helping shape the response to the pandemic.
---
Structura Biotechnology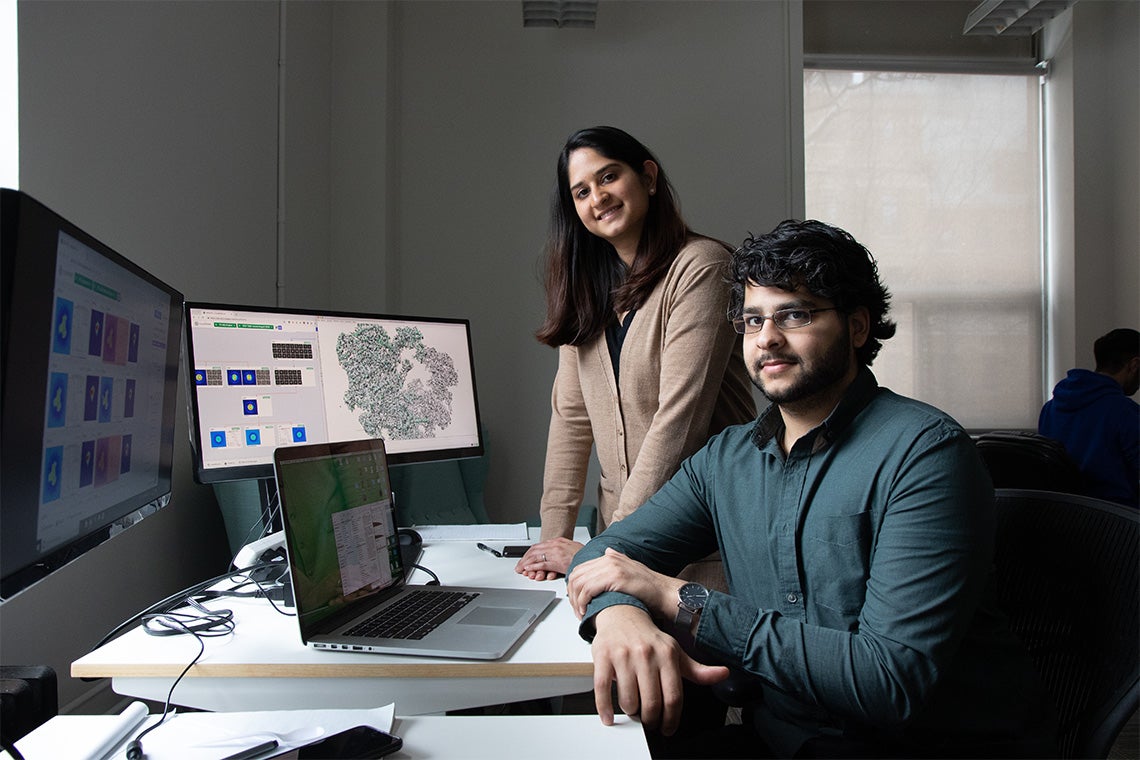 U of T PhD candidate Ali Punjani (right) is CEO of the U of T startup Structura Biotechnology, which is built on research he did during his PhD in computer science at U of T. His sister, Saara Virani (left), is the company's chief operating officer (photo by Chris Sorensen)
Before COVID-19 vaccines could be developed, researchers needed to understand the coronavirus spike protein – the part of the virus that infects human cells. Thanks to software developed by Structura Biotechnology, they were able to do so at warp speed, without a lot of the trial and error that usually characterizes such efforts.
The company's contribution was a software program called cryoSPARC that can quickly process data of the spike protein and generate 3D images, allowing scientists in academia and pharma alike to understand 3D protein structures.
Using cryoSPARC, which was spun out of research done by Ali Punjani while he was a PhD student in the department of computer science and was designed by alumnus Suhail Dawood, researchers at the University of Texas at Austin and the U.S. National Institutes of Health were able to quickly go from a raw sample to being able to produce an atomic scale map of the spike, according to research that was published in the journal Science.
"One of their novel algorithms, referred to as 3D Variability Analysis, provided insights into the dynamic motions of the coronavirus spike protein that are important for receptor-binding and membrane fusion," Jason McLellan, an associate professor in molecular biosciences at UT Austin, told U of T News in February 2020.
"The work by UT Austin and the NIH demonstrates the power of structural biology," Punjani said at the time. "We can actually look at a new disease that was discovered just a couple of months ago and see how it works at the molecular level. It's very exciting."
Structura Biotechnology's product is already being used by hundreds of institutions worldwide, including the University of California, Berkeley, the Hospital for Sick Children in Toronto and several large labs.
LSK Technologies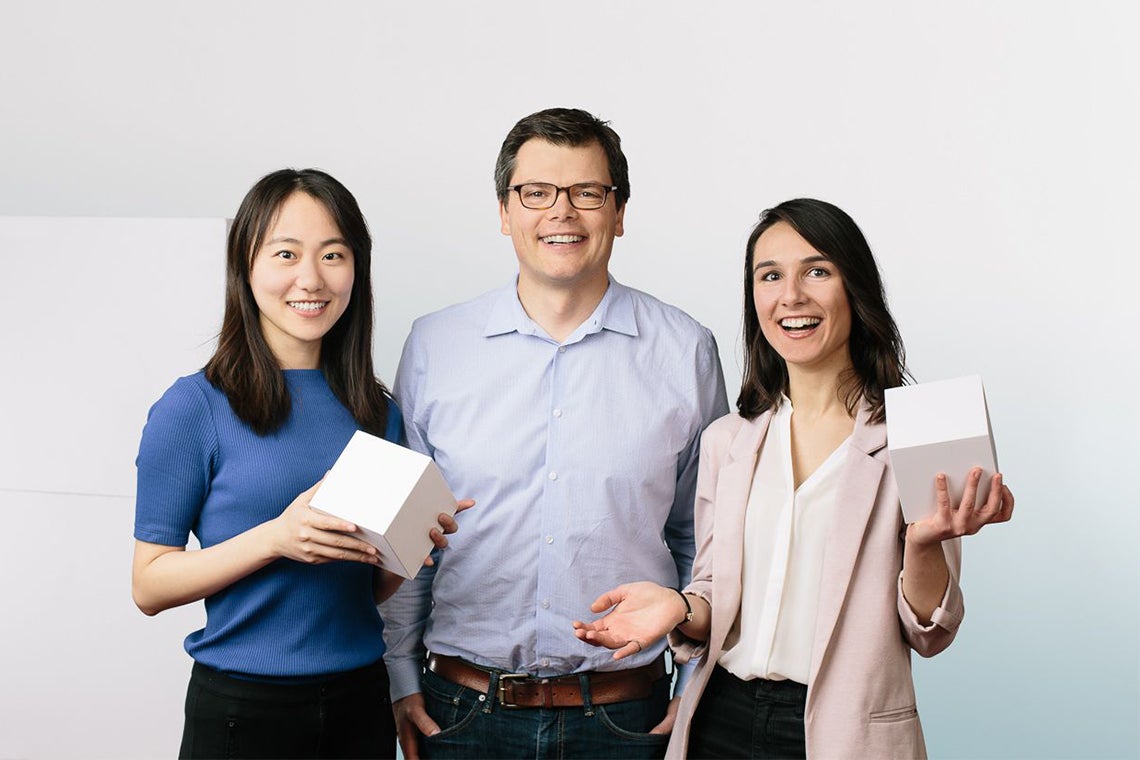 From left to right: Livia Guo, Assistant Professor Keith Pardee and Seray Çiçek of LSK Technologies, which is developing a portable, "lab-in-a-box" technology to diagnose COVID-19 and other diseases (photo courtesy of LSK Technologies)
Founded by alumni Seray Çiçek and Yuxiu (Livia) Guo, along with Assistant Professor Keith Pardee of the Leslie Dan Faculty of Pharmacy, LSK Technologies has invented a portable diagnostic device that can provide rapid testing for infectious diseases, including COVID-19.
The origins of the device lie in a special paper, invented by Pardee in 2016, that changes colour in reaction to a viral genome. In 2018, Çiçek and Guo – then graduate students in Pardee's lab – built a portable device that could use the paper to provide test results, and can be used even by people not skilled in medical and lab processes.
Since joining U of T's UTEST and Health Innovation Hub (H2i) in 2019, the company has gone from strength to strength, creating prototypes, running pilot projects, securing investment and winning a series of awards, including at the RBC Innovation and Entrepreneurship Early Stage Competition.
The first versions of the device, dubbed PLUM, were deployed to remote Latin American communities to tackle the threat of Zika virus. When the COVID-19 pandemic hit, the company quickly expanded their platform to diagnose SARS-CoV-2.
Hypercare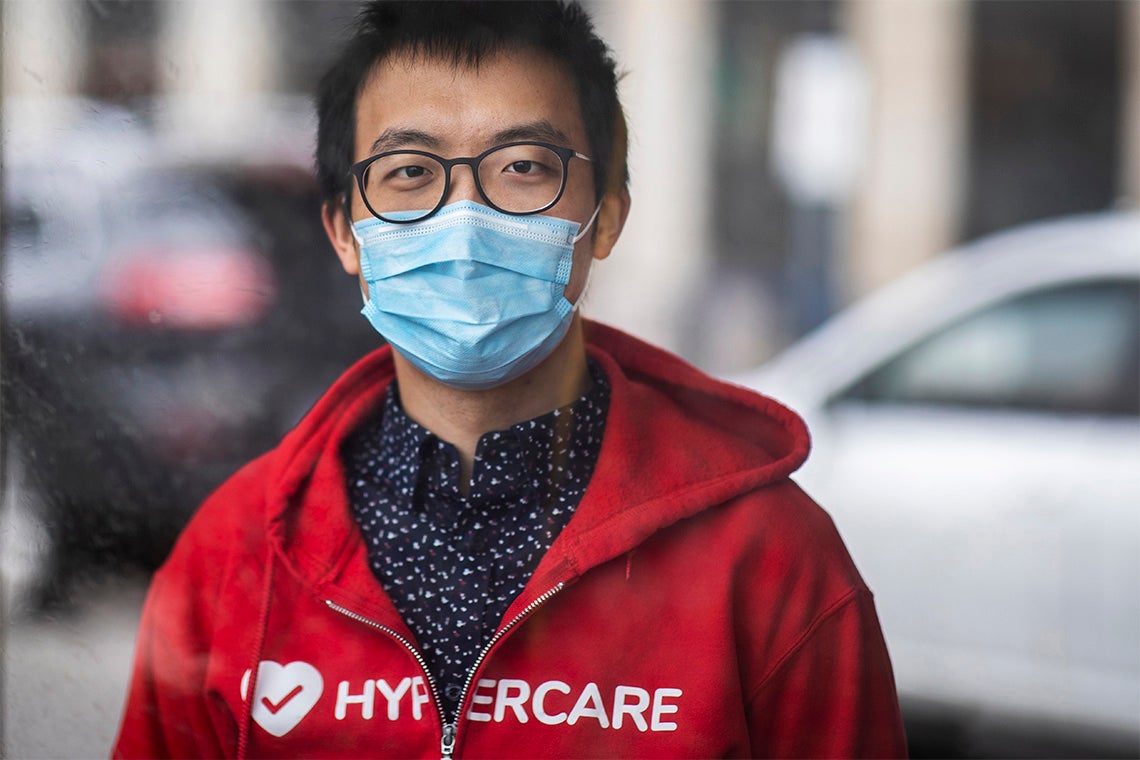 (photo by Nick Iwanyshyn)
Hypercare, a digital app developed by U of T alumnus Albert Tai, enables health-care workers in different facilities and hospitals to streamline their communications, helping to improve the care of COVID-19 patients.
Prior to the app being rolled out, a physician attending to a patient with COVID-19 would typically need to go through multiple phone calls and paged messages to co-ordinate care.
Hypercare simplifies matters by enabling the physician to use an app to alert critical care response teams that can facilitate the transfer of a patient to the intensive care unit while co-ordinating with an intensivist and anesthesiologist over the app.
Launched by Tai alongside Joseph Choi, an emergency physician at the University Health Network and assistant professor in U of T's department of medicine in the Temerty Faculty of Medicine, and software engineer Umar Azhar, Hypercare received support from H2i and UTEST before securing investments from angel investors.
The company's app is now being used by nearly 600 health-care staff throughout Toronto's Michael Garron Hospital. It's also being used by inner-city physicians to improve care for people experiencing homelessness.
DNAstack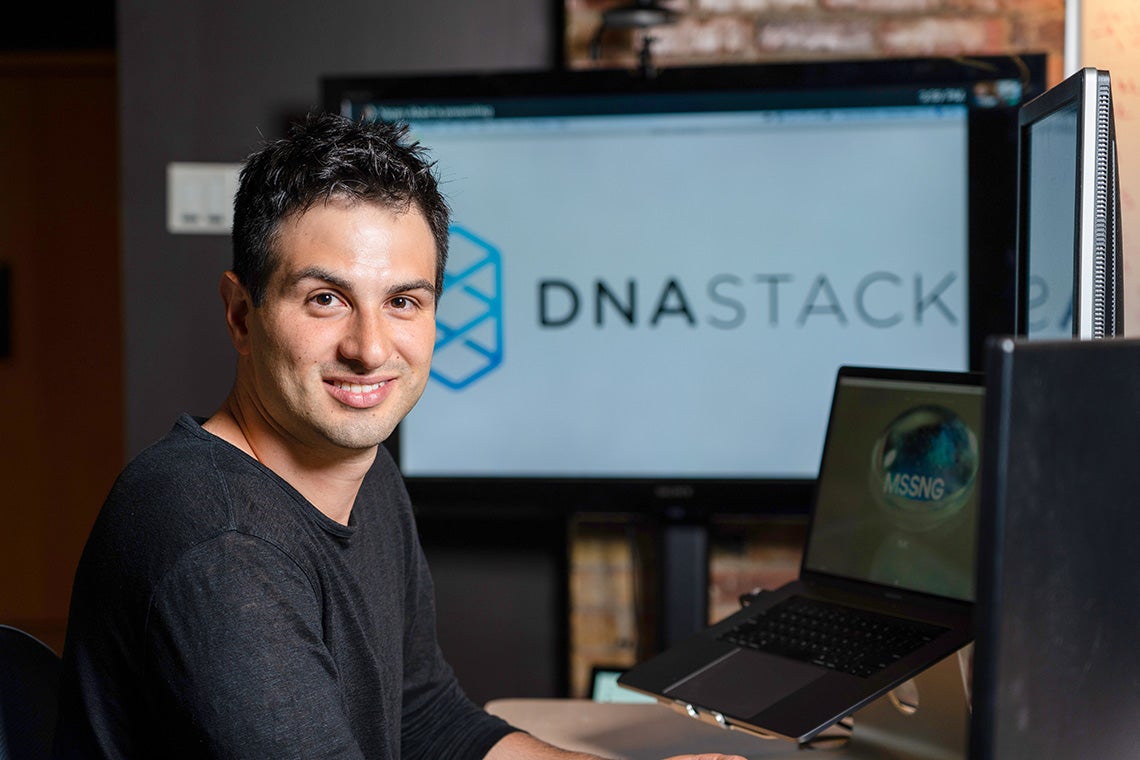 Co-founded by U of T alumnus Marc Fiume, DNAstack launched a search engine aimed at the global research community that scans and indexes genomic information about the novel coronavirus (photo by Jeff Beardall)
When the COVID-19 pandemic began, DNAstack – a software company that specializes in cloud computing solutions for the biomedical space – quickly adapted its technology to address the public health crisis.
Their solution: COVID-19 Beacon, a search engine that can scan and index genomic information about the SARS-CoV-2 virus shared by scientists from across the globe.
Based on the company's health-oriented search engine, the COVID-19 Beacon tool enables researchers to use information on the virus's genome and other biological data to see how the virus evolves as it moves through the global population.
"By sharing this genomic information over a cloud-based global network, there is the potential to improve knowledge of COVID-19 at a speed and scale that isn't otherwise possible," said DNAstack co-founder Marc Fiume, who earned his bachelor's, master's and PhD from U of T, in an interview with U of T News in May 2020.
"That will contribute to new ways to fight the virus, such as the development of a vaccine."
DNAstack also leads the COVID Cloud consortium, which is dedicated to expanding development of software platforms for genomics and health data pertinent to COVID-19. In December, the company announced that COVID Cloud secured $5.1 million for the project, which is co-funded by Canada's Digital Technology Supercluster.
Indaggo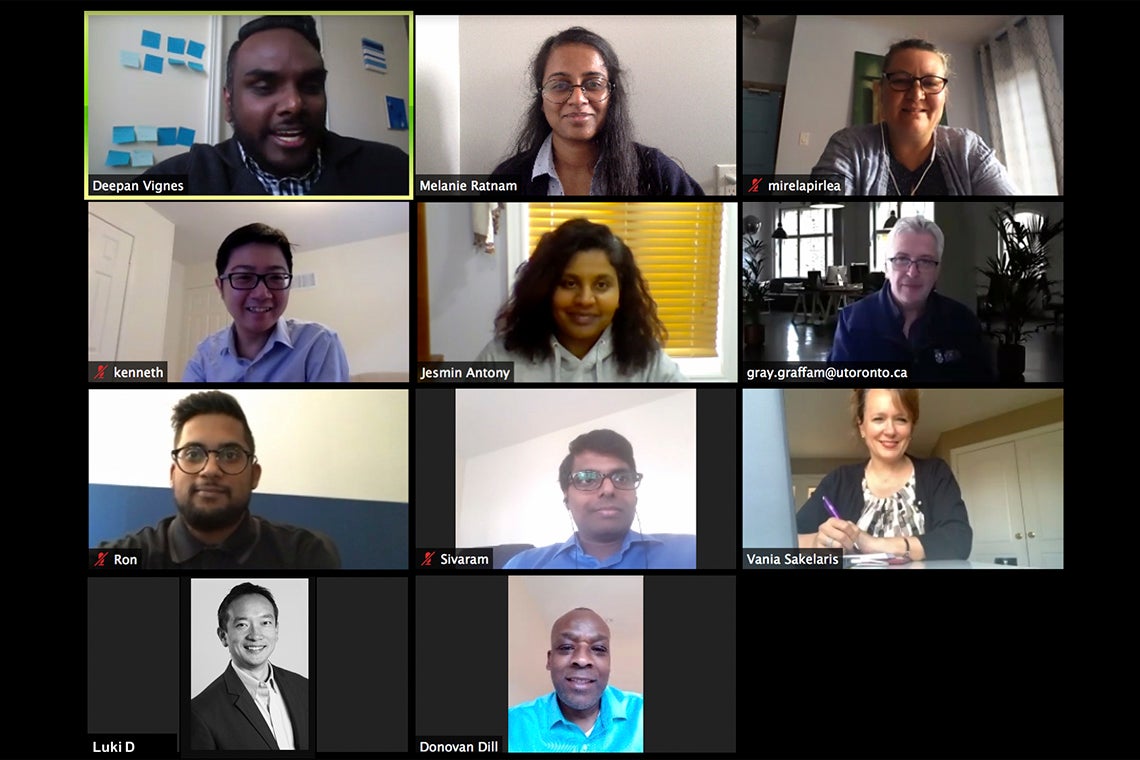 Melanie Ratnam (centre, top row) and her team pivoted their startup Indaggo, conceived as a platform to help labs source supplies, when COVID-19 struck. They are now connecting health-care workers with donated equipment (screenshot via Zoom)
When the COVID-19 pandemic struck, many labs and research facilities halted operations. For U of T Scarborough startup Indaggo – which was preparing to launch a platform to help labs source research supplies – that meant having to put its launch and business plan on hold.
But it wasn't long before the company decided to refocus its efforts on helping front-line medical workers and organizations access health and medical supplies such as personal protective equipment (PPE) and hand sanitizer. How? By developing a platform called RESPOND to connect organizations in need of the supplies to willing donors.
"If an organization is in need of something – say, 500 bottles of hand sanitizer, they can log into the app and put out a call," said Indaggo's founder Melanie Ratnam in a May 2020 interview.
"Volunteers can then respond by donating toward the goal."
Among the organizations that have used the application is Services and Housing in the Province (SHIP), a non-profit that provides housing and supports to vulnerable populations in the Greater Toronto Area.
"During these uncertain times, many doors have been closed to those most in need. Individuals who are homeless, precariously housed or living with a mental health issue may face increased challenges in practicing measures essential to keeping them safe," said Laurie Ridler, CEO of SHIP.
"Indaggo has supported SHIP in working toward these efforts through a generous donation of 500 hand-sewn masks. We are thankful of the support for our community, especially at a time like this."
Hygienic Echo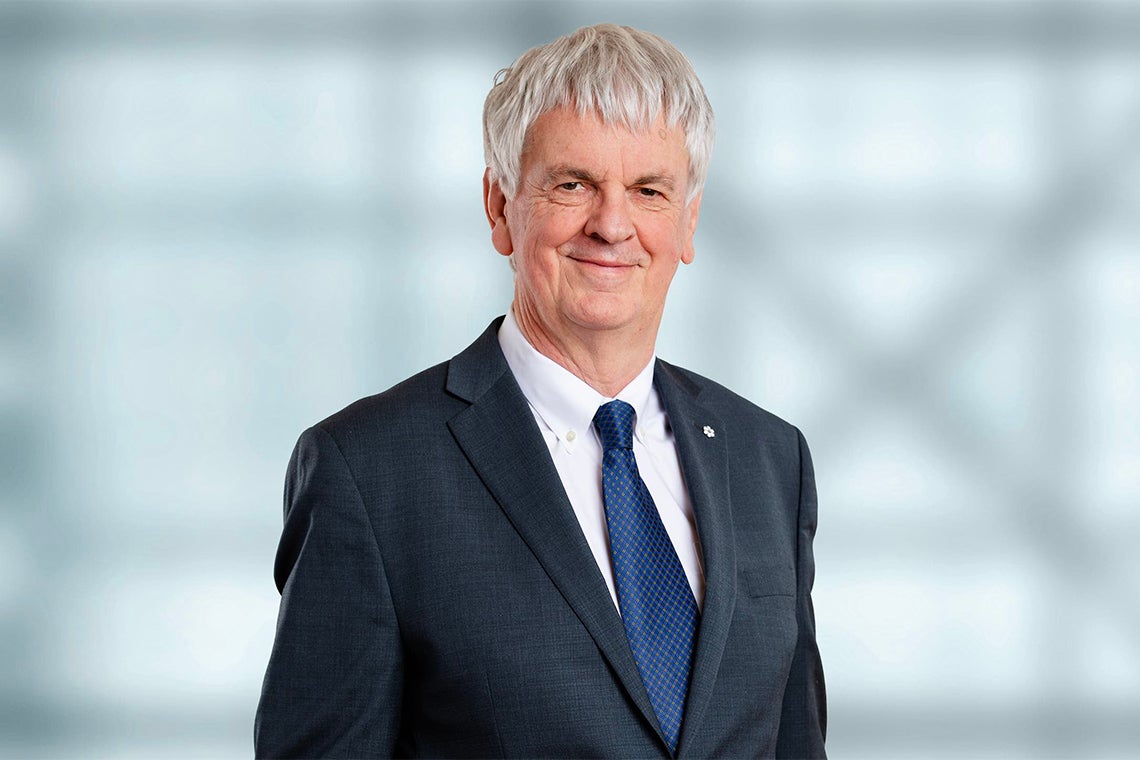 U of T and UHN researcher Geoff Fernie's startup makes a wearable device that reminds health-care workers to wash their hands, helping to reduce hospital-acquired COVID-19 infections (photo courtesy of The Kite Research Institute at UHN)
A wearable device developed by Hygienic Echo – a startup founded by Professor Geoff Fernie of the Institute of Biomedical Engineering and the Temerty Faculty of Medicine – is helping reduce the spread of hospital-acquired COVID-19 infections by reminding health-care workers to wash their hands.
The "Buddy Badge" comprises an array of sensors that are connected to hand-washing stations, doorways and paths to patient wards. If a worker hasn't washed their hands before passing through a doorway to a patient's room, for example, it will vibrate to remind them to do so.
"Studies in some hospitals showed that our device has doubled the hand hygiene rate, which should reduce the infection rates," said Fernie, a senior scientist and former director of the Toronto Rehabilitation Institute, in an April 2020 interview. "We hope this system helps change the habits of health-care workers, making it safer for everyone."
Hygienic Echo was formed in 2018 with the goal of creating products that help reduce infections. The company's technology was the product of 17 years of wearable technology research by Fernie and his team.
UTC