U of T computer vision expert to lead new Nvidia research lab in Toronto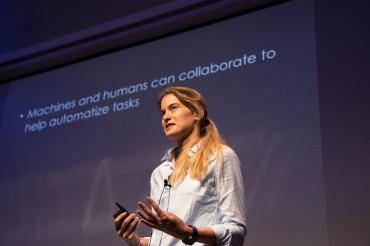 Graphics chip giant Nvidia Corp. is launching a new artificial intelligence research lab in Toronto to be headed by the University of Toronto's Sanja Fidler, making it the latest Silicon Valley heavyweight to tap the city's rich vein of AI research.
Nvidia, which revealed the news today in a blog post, said it is hoping to triple the number of researchers and interns it employs in Toronto by year's end, and that the new lab would become the "focal point" of the company's presence in the city. 
"Toronto is a thriving hub for AI experts," Nvidia said in its post, "thanks in part to foundational work out of the University of Toronto and government-supported research organizations like the Vector Institute."
Fidler, an expert in computer vision and applied machine learning, will take on the new role as director of AI research in Toronto while remaining an assistant professor at U of T Mississauga's department of mathematical and computational sciences.
"I'm thrilled to join Nvidia to lead its new AI research lab in Toronto, where we'll be conducting cutting-edge research projects in machine learning, computer vision, graphics, and more," Fidler said in a statement. 
"I'm hopeful that the lab strengthens Nvidia's connection with the University of Toronto, and provides great recruiting opportunities for students interested in AI."
The Santa Clara, Calif.-based Nvidia makes graphics processing units, or GPUs. Though originally designed for video games, the chips have more recently become a preferred piece of hardware to run machine learning applications. As a result, Nvidia is rapidly moving into high-growth areas ranging from advanced robotics to self-driving cars, earning it a market valuation of about US$160 billion. 
With today's announcement, Nvidia becomes the latest in a line of deep-pocketed foreign multinationals to set up an AI research lab in Toronto – and hire a U of T researcher to run it. Others include Google, whose Toronto Brain lab is helmed by deep learning "godfather" and University Professor Emeritus Geoffrey Hinton; Uber, whose self-driving car lab in Toronto is led by Computer Science Associate Professor Raquel Urtasun; and Samsung, which revealed in May it was launching an AI Centre in Toronto to be led by Sven Dickinson, a U of T professor of computer science. 
"Attracting multinationals' research labs is integral to building a sustained innovation ecosystem in Toronto," said Vivek Goel, U of T's vice-president of research and innovation. "Moving cutting-edge research into the commercial sphere is a difficult process that can be best achieved by bringing together researchers, entrepreneurs, investors and big, established industry players – both domestic and foreign."
Nvidia first opened an office in Toronto in 2015 following its acquisition of a local gaming technology company. It currently employs about 50 people in the city.
UTC