U of T budget invests in students, research amid a challenging financial landscape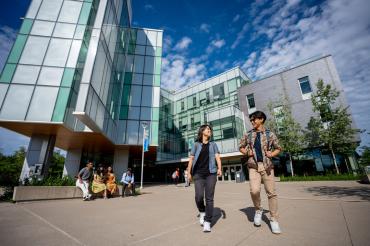 The University of Toronto's budget for the 2023-2024 academic year features investments in research, infrastructure, student experience and initiatives promoting equity, diversity and inclusion.
The $3.36 billion balanced budget, recently approved by Governing Council, represents a 3.9 per cent increase over last year and includes $19.3 million in priority investments on initiatives that include:
Extending the Diversity in Academic Hiring Fund to support the hiring of 30 more Black and Indigenous faculty members, bringing the total number of new positions created under the program to 190.
Implementing the recommendations of the student mental health and campus safety reviews.
Investing in classroom renewal and staffing a new student advising initiative.
Supporting interdisciplinary research projects carried out through Institutional Strategic Initiatives.
Supporting divisions facing budgetary challenges and cushioning the impacts of the province's continued freeze on domestic tuition.
Demand for U of T's programs remains strong as more than 90,000 students returned in-person to the three campuses in September 2022 – many of whom set foot on university grounds for the first time – and residences returned to full occupancy.
"It brings me great joy to see U of T's vibrant community reunited after showing such resilience through the challenges of the COVID-19 pandemic – and we are committed to expanding access to this world-class academic experience," says Cheryl Regehr, U of T vice-president and provost.
"Our campuses are bustling with energy and the exchange of ideas – and we are deepening our investments to support student success, inclusive excellence and innovative research. Still, we need to be strategic to make the most of our available resources as we navigate a new financial landscape."
Other priorities in this year's budget include a substantial increase in funding for information security and support for U of T's Defy Gravity fundraising campaign.
"The University of Toronto is a leading hub of innovation, sustainable growth and inclusive community-building in Ontario and beyond," says Jeff Lennon, U of T's assistant vice-president, planning and budget.
"We will continue to work toward these goals but expect to face some tough decisions about how to help divisions meet their highest priorities."
When combined with a 10 per cent cut in 2019-2020, the cumulative impact of the Ontario government's four-year freeze on tuition fees means U of T saw a reduction of $195 million in annual operating revenue this fiscal year compared to projections under the prior framework. As it stands, U of T's tuition fees for Ontario residents remain lower than they were in 2018-2019. Adjusting for inflation, tuition for Arts & Science programs is lower than it was in 1999.
The province's tuition fee framework is among the areas that will be examined by a recently launched blue-ribbon panel of experts tasked with providing recommendations on securing the financial future of the wider post-secondary sector.
Meanwhile, undergraduate tuition for Canadians from other provinces will increase by five per cent, while international fees will rise by 2.1 per cent on average.
The university is scaling up its investment in merit-based scholarships for international students in the year ahead. The International Scholars program will reach full implementation in 2023-2024 at $75 million, with plans to boost the budget to $89 million in 2027-2028. This comes in addition to the prestigious Lester B. Pearson International Student Scholarships, as well as an expansion of bursary supports for international students.
Total spending on student aid is projected to be $365 million in 2023-2024, excluding external funding and internal employment income for doctoral stream graduate students.
The budget also highlights a total of 28 capital projects taking place across the three campuses worth $5.2 billion.
Twenty-four of those projects are academic in focus. They include: the James and Louise Temerty Building on the St. George campus; a new computation, robotics and new media building at U of T Mississauga; and a literature, arts, media and performance building at U of T Scarborough, as well as the Scarborough Academy of Medicine & Integrated Health.
"We recognize the transformative power of education, research and innovation to build a better, more sustainable tomorrow," says Scott Mabury, U of T's vice-president, operations and real estate partnerships.
"That same bold thinking is reflected in the way we're planning – and building – the physical spaces across the three campuses to help drive that important work."
UTC