U of T to improve how campus safety services respond to mental health crises on its three campuses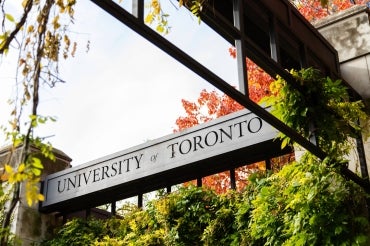 The University of Toronto is working to improve how campus safety staff respond to students experiencing mental health crises – with improvements planned in key areas ranging from training and after-hours crisis response to ensuring a consistent application of policies and procedures across the three campuses.
In response to the final report of the Review Committee on the Role of Campus Safety (Special Constable Services) in Responding to Students in Mental Health Crises, the university described how it has been working with Campus Safety – as well as the vice-provost, students and student mental health services – to make changes to policies and practices.
The changes emphasize the need for understanding and compassion, as well as a recognition of the U of T community's diversity of identities and lived experiences. Both are overarching themes of the review committee's recommendations.
"Students are at the heart of everything we do at the University of Toronto and supporting them entails both celebrating their successes and helping them during difficult times – which, in some cases, can involve struggles with mental health," said Kelly Hannah-Moffat, U of T's vice-president, people strategy, equity and culture. "In rare cases, a mental health crisis can result in an emergency that's attended by campus safety staff – which is why, in recent years, U of T has accelerated efforts to equip staff with the knowledge, training and cultural competencies required to manage such situations with compassion, sensitivity and an understanding of the diverse lived experiences that comprise our student body.
"However, we also acknowledge that more improvements to policies and practices are needed."
The review of campus safety services was launched in spring 2021. It builds on the final report of the Presidential and Provostial Task Force on Student Mental Health, which called for the expansion of supports and resources pertinent to direct crisis response – including mental health training for campus safety services and enhanced co-ordination with other first responders and mental health service providers.
"This report affirms U of T's belief that the most effective responses to students in mental health crisis are those that are rooted in deep expertise, inter-cultural awareness and humanity," said Sandy Welsh, U of T's vice-provost, students. She noted that student consultations will be ongoing and feedback integrated into planning around key components of crisis response, such as peer supports.
Welsh added that the report comes amid a sweeping transformation of the way mental health services are delivered across the three campuses, including the recent elimination of wait times for mental health appointments and the ongoing hiring of mental health navigators to bridge support services between U of T and partner hospitals like CAMH.
"As our approach to mental health service delivery evolves, so too must our strategies around responding to incidents of crisis," Welsh said. "I am heartened to see that the path forward proposed by the review committee aligns with the direction of collaborative efforts underway between the offices of student life and student affairs, mental health services and campus safety divisions across the tri-campus.
In its final report, the review committee – chaired by Professor Joseph Desloges of the Faculty of Arts & Science – made 19 recommendations that address student mental health and wellness as it relates to campus safety services under the overarching theme of promoting an empathy-driven approach and recognizing and respecting the diversity of the U of T community.
Hannah-Moffat said she welcomed the review committee's "thoughtful and informed recommendations," which align with the work underway to improve how campus safety services support the U of T community and respond to students in crisis. She also noted that the recommendations recognize the significant challenges faced by campus first responders, and the importance of devoting resources to safeguarding their own well-being.
As many of the recommendations are interconnected and will require engaging in consultations across different portfolios and services, Hannah-Moffat said the administrative response is being released in phases. Subsequent phases will address timelines for implementation, and the Division of People Strategy, Equity and Culture and Office of the Vice-Provost, Students will share progress updates on the People Strategy, Equity & Culture website.
"I would like to extend my gratitude to Professor Desloges and all the members of the review committee for their diligence in exploring this issue and helping us to chart a way forward," Hannah-Moffat said.
The review committee comprised four working groups focused on the following mandates:
·      Access to health and wellness supports on campus and in the broader community
·      The role of special constables in managing situations where students may represent a risk to themselves or others, and the implications of these interactions on individuals in crisis
·      Application of the principles of equity, diversity, inclusion (EDI) and accessibility in responses to mental health crises
·      Resources, training and practices available to support the mental health wellness of special constables themselves
A key concern that informed the report's recommendations is the need for greater consistency across the three campuses. In response, U of T has created a new tri-campus leadership table. Campus safety leaders from each of the three campuses – Michael Munroe from the St. George campus, Tanya Poppleton from U of T Scarborough and Deb Fritz from U of T Mississauga – will work together and, where appropriate, collaborate with tri-campus Health and Wellness centres to develop consistent approaches to campus safety operations, relevant policies and institutional responses to students experiencing mental health crises. Any solutions would recognize and respect the local contexts of each campus.
U of T is also committing to steps to foster "deeper integration of equity, diversity, inclusion and anti-racism competencies and mental health knowledges throughout education programs" for campus safety staff, as recommended in the report.
While special constables and other campus safety personnel are already required to receive training in EDI, Indigenous rights and culture, mental health and de-escalation and conflict resolution strategies, U of T is backing the report's calls for greater progress. Accordingly, managers responsible for education planning for campus safety services will expand training opportunities and implement evaluation processes to assess the training their teams receive in EDI- and mental health-related competencies.
Managers will also be tasked with ensuring that training procedures and policies integrate an awareness of how mental health intersects with different forms of racism and discrimination.
To improve after-hours crisis response, U of T is taking steps to strengthen consultation and collaboration among relevant partners. This includes integration of peer-support models into the university's crisis response protocols. Campus safety staff and tri-campus mental health providers will also work to review protocols around the transportation of students experiencing mental health crises to hospital, including addressing concerns about the use of restraints.
The improvement of strategies to recruit and retain campus safety services staff is another area highlighted by the report. To that end, leaders from campus safety services will work with the Division of People Strategy, Equity and Culture to forge a plan to attract staff with proven mental health expertise and lived experiences that reflect the diversity of the U of T community. These plans include measures to boost staff numbers to mitigate burnout, as well as expanding wellness supports available to campus safety staff directly affected by crisis situations.
The report recommended that action be taken to close communication gaps between campus safety services and the broader U of T community. To address this recommendation, the Division of People Strategy, Equity and Culture and U of T Communications will play a major role in proactively enhancing cordial community relationships.
"The review committee's work represents a key moment in the evolution of campus safety services," Hannah-Moffat said. "It has laid the groundwork for a redoubling of U of T's efforts to strengthen the sharing of skills and resources across offices and units, and among students, faculty and staff.
"It also underscores the critical importance of grounding all our efforts in a profound understanding of – as well as compassion and respect for – those who experience the trauma of a mental health crisis."
UTC