U of T and IIT Bombay to launch entrepreneurship program, shared innovation pipeline
The University of Toronto and Indian Institute of Technology Bombay (IIT Bombay) are developing a new entrepreneurship program that will strengthen ties between the innovation ecosystems in Canada and India, benefitting startups in both countries.
The partnership will see the two top-ranked universities implement exchange programs for budding entrepreneurs, support research collaborations and develop a strong, two-way innovation talent pipeline.
The program will be an important component of U of T's new Entrepreneurship Centre in Mumbai, part of the upcoming U of T Centre in India, a wide-ranging collaboration that will also include the Indian affiliate of U of T's School of Cities. Programming will include an innovation conference that alternates between Canada and India, startup competitions, workshops and sustained support for entrepreneurs.
There will also be opportunities for placements within the entrepreneurship hubs of select Indian companies.
"The University of Toronto is delighted to build on our already strong relationship with IIT Bombay, an institution that's recognized worldwide for excellence in teaching, research and innovation in the engineering and technology disciplines," said Derek Newton, U of T's assistant vice-president, innovation, partnerships and entrepreneurship.
"As leading universities in Canada and India, each located in our respective countries' commercial hubs of Toronto and Mumbai, this partnership will leverage our many commonalities, as well as our unique strengths, to promote research collaboration, knowledge-sharing and market access, while creating an environment where new business ideas can thrive."
Poyni Bhatt, the CEO of IIT Bombay's Society for Innovation & Entrepreneurship (SINE), said the partnership will enrich entrepreneurship activities in both countries.
"SINE IIT Bombay is excited to work with U of T to leverage mutual synergies for startups from India and Canada," she said. "We look forward to productive outcomes out of this partnership in the coming years."
Both U of T and IIT Bombay are leaders in university-managed startup incubation. 
Over the past decade, U of T has nurtured more than 500 startups that have secured more than $1.5 billion in investment. SINE, set up in 2004, has supported more than 150 startups that have raised more than $223 million in funding and created more than 4,000 jobs.
Exchange programs will be a central part of the new initiative, with U of T Entrepreneurship set to welcome IIT Bombay startups to Canada and curate their engagement with the Canadian innovation scene, and SINE doing the same for U of T startups in India.  
Up to 30 U of T entrepreneurs will have the chance to go to India through the Mitacs Entrepreneur International program, allowing them to explore new business development opportunities. Mitacs is a not-for-profit organization that fosters growth and innovation in Canada by solving business challenges with research solutions from the best academic institutions at home and around the world.
It's an initiative that resonates with the entrepreneurs behind iMerciv, a U of T startup that developed a wearable mobility device for people with vision loss called the BuzzClip. Co-founded by U of T civil engineering alumnus and CEO Bin Liu and chief operating officer Arjun Mali, iMerciv received support from U of T's Impact Centre accelerator, one of several U of T campus-linked entrepreneurship hubs. The company is active in India, where Mali's family are longtime supporters of a school and orphanage for blind children – and where much of BuzzClip's early testing took place.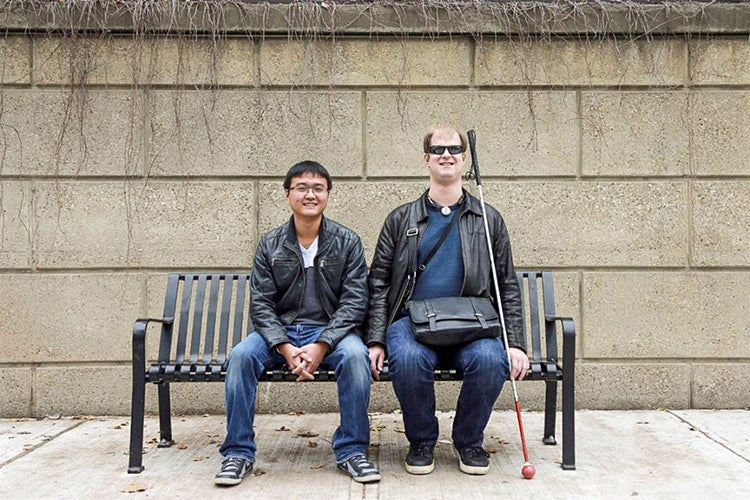 Bin Liu, CEO of iMerciv, and Rylan Vroom, a digital accessibility expert who is one of iMerciv's senior advisers (photo courtesy of iMerciv)
Mali said U of T's partnership with IIT Bombay presents a great opportunity for entrepreneurs in both universities.
"The market potential in India is massive," said Mali. "If your product is competitive when it comes to quality as well as cost, it can be a very large market for your business.
"That's a key benefit for Canadian entrepreneurs who go and explore the Indian market."
As for IIT Bombay entrepreneurs who get to take part in exchange programs in Canada, Mali said: "It's about understanding how the culture and sales-cycle process work on this side of the world … learning how to take a company that's growing in India and adapting that to make it essentially global.
"Toronto is a great stepping stone to go international."
UTC