U of T startup aims to make world more navigable for pedestrians, especially those with vision loss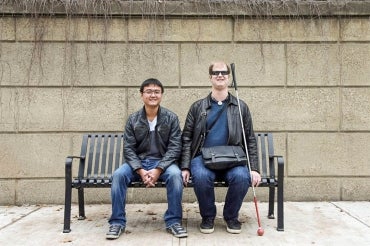 Whether you are driving or hopping in an Uber, you probably depend on a navigation app to get where you need to be.
But as handy as these tools are, they have significant drawbacks that leave behind many potential users, especially those with accessibility needs who travel on foot. University of Toronto Faculty of Applied Science & Engineering alumnus Bin Liu aims to change that.
"Anything physical has an impact on the way we travel," says Liu. "Potholes, narrow sidewalks, low hanging tree branches, construction – none of these things are considered by current solutions."
Liu has spent a lot of time thinking about barriers to mobility. Five years ago, while studying civil engineering with a minor in engineering business, Liu met Arjun Mali, the future co-founder of their company iMerciv, at a poker game. The two students quickly discovered that they shared a love of entrepreneurship, as well as experience working with people who have impaired vision.
"I had recently learned that my dad has glaucoma, and Arjun grew up working at an orphanage and school for the blind in India," says Liu. "We wanted to see if we could do anything to help."
Initially, the pair planned to approach the challenge with a mix of hardware and software. But after talking to potential users they met through CNIB, they decided to focus on the hardware first.
The result was the BuzzClip, a discreet, wearable device that detects obstacles using ultrasound. Through haptic feedback in the form of a buzz that can be felt through the skin, the BuzzClip provides early warnings about objects up to three metres away.
"Canes and guide dogs are extremely useful, but they can have trouble detecting things that are above the waist," says Liu. "Our sensor fills that gap."
Mali and Liu developed their company with the support of the Impact Centre, one of U of T's many campus entrepreneurship hubs. 
The BuzzClip has been a great success, with more than 3,000 units sold so far through a network of distributors in North America and Europe. Now, after five years and a lot of learning, the iMerciv team feels that the time is right to return to the software side of the problem.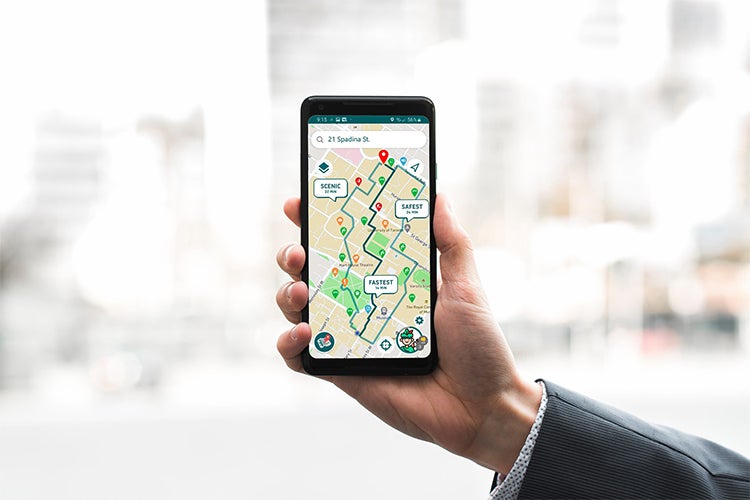 MapinHood is a new navigation app designed especially for people with low vision. It maps obsctacles that affect pedestrians, from sidewalk construction to low-hanging branches (photo courtesy of iMerciv)
Their first step will be to gather information about potential hazards – from the quality of street lighting to the unevenness of pavement – that are ignored by current navigation apps.
Liu and his team have started using open-source information, but going forward they plan to fill in more details via crowdsourcing – that is, by asking volunteers to log hazards in real time using a simple app.
Based on this data, the team will then build a routing engine that is optimized for pedestrians, not vehicles. Through the use of artificial intelligence, the algorithm will be able to adapt to the travel preferences of individual users, including those with visual impairments.
"Every individual has different levels of mobility training and skill sets," says Liu. "Over time, our app learns the user's preferences and provides personalized routing for them based on what is most important to their needs."
Development of the app — which the team is calling MapinHood — will be supported in part by Microsoft's AI for Accessibility program, which aims to harness the power of AI to amplify human capability for the more than one billion people around the world with a disability. iMerciv is one of 11 organizations that joined the program on Oct. 17.
Liu says the funding will help with both refining the optimization engine, and with the data collection. On the latter, the team plans to work closely with the network of volunteers identified through their partnership with CNIB, an approach that Liu says has been key to the success of iMerciv so far.
"No matter how many market research reports you read, there is no substitute for talking to real people," he says. "They can give you small hints and details that really add up to paint what is sometimes a very different picture. Getting that early on saves you a lot of time and effort down the line."
Engineering