Two U of T researchers to receive Governor General's Innovation Award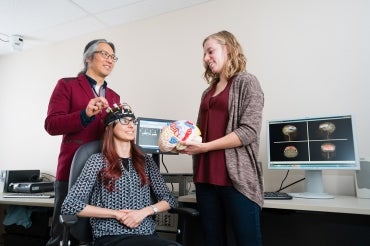 Two University of Toronto professors, renowned in their respective fields of pediatric rehabilitation engineering and the early detection of globally dangerous infectious diseases, are the recipients of the 2018 Governor General's Innovation Award.
"It's exciting that innovations in the field of childhood disability are being recognized by the Governor General as important to Canada's success and future," said winner Tom Chau, a professor in the Institute of Biomaterials and Biomedical Engineering and vice-president of research at Holland Bloorview Kids Rehabilitation Hospital whose research and inventions are helping non-verbal young people overcome communication obstacles.
"Indeed, this award affirms our vision of no boundaries for children and youth living with disabilities and their families, and the value of their voices in Canadian society," he said.
Chau and his fellow U of T recipient, Dr. Kamran Khan, an associate professor with the Faculty of Medicine and the Dalla Lana School of Public Health and a scientist at St. Michael's Hospital, will receive their awards at a ceremony with Gov. Gen. Julie Payette on May 23 in Ottawa.
"The University of Toronto congratulates Tom Chau and Kamran Khan on winning the prestigious Governor General's Innovation Award," said Vivek Goel, the university's vice-president of research and innovation.
"Their exceptional research and creativity in tackling major global problems are great examples of how our innovators can – and are – having a positive impact on the lives of people around the world. We'd also like to thank MaRS Discovery District for nominating our two winners."
Yung Wu, CEO of MaRS Discovery District, added: "MaRS is honoured to play a role in highlighting and celebrating Canada's most talented and creative innovators. These awards provide an important platform for recognizing their outstanding contributions to Canada and the world."
This is the second year in a row a U of T researcher has received the Governor General's Innovation Award. In 2017, IBBME Professor Paul Santerre was recognized for his contributions to biomaterials research that improves the safety and effectiveness of medical devices, and for sharing his commercialization expertise with students through U of T's Health Innovation Hub (H2i).
And, in 2017, U of T was ranked by Reuters Top 100 as the most innovative university in Canada for its contributions to advancing science, inventing new technologies, and powering new markets and industries. 
Chau leads a world-renowned research group that has published more than 190 journal articles and holds more than a dozen patents. He has also supervised more than 250 undergraduate and graduate students.
Working with a multidisciplinary team, Chau has examined how hemodynamic signal features and facial thermography can be employed in emerging methods of electrical engineering and machine learning. The result is a range of personalized, life-changing assistive technologies that give voice to the voiceless. From virtual musical instruments and vocal cord transmitters to an ultrasonic brain-computer interface, these innovations have had a profound impact on families, caregivers and health-care providers by boldly reimagining the way we communicate.
Recently, his team won the Governor General's Meritorious Service Cross (Civil Division) for their development of the Virtual Music Instrument, a device that helps individuals with complex medical problems express themselves and experience the benefits of music therapy.
For Khan, the worldwide health, economic and social impacts of the SARS epidemic in 2003 inspired him to develop a global early warning system for dangerous infectious diseases. He spent the next decade working to create a big data platform to drive scientific research on outbreaks and pandemics and founded BlueDot in 2013 to accelerate that goal.
Using geographic information systems, natural language processing and artificial intelligence, the multidisciplinary team at BlueDot has been able to predict the worldwide spread of influenza, and track the spread of recent outbreaks, including Ebola and the Zika virus.
With files from Sasha Babakhanova
Engineering