U of T named Canada's most innovative university
University ranked among top 30 public institutions worldwide by Reuters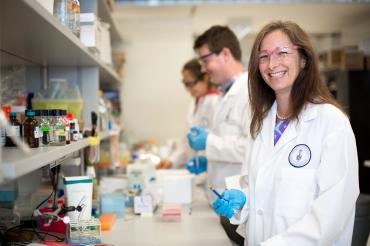 The University of Toronto is Canada's most innovative university, according to an independent survey of top global post-secondary institutions by media giant Reuters.
Known as the Reuters Top 100, the ranking "aims to identify and rank the educational institutions doing the most to advance science, invent new technologies and power new markets and industries," the company said in a news release Wednesday.
U of T ranked 46th overall – up 11 spots from last year's showing – with Stanford University, located in the heart of Silicon Valley, coming in first place for the third consecutive year. The University of British Columbia, in 58th spot, was the only other Canadian university to rank.
U of T was also among the top 30 publicly funded universities.
"We're pleased to see the work of the brilliant students and researchers at the University of Toronto recognized for their ability to publish globally important, cutting-edge research, as well as to patent and commercialize their discoveries to help solve some of the world's most challenging problems," said Vivek Goel, U of T's vice-president of research and innovation.
In fact, U of T submits a U.S. patent application at a rate greater than one per week with the help of its Innovations & Partnerships Office (IPO), and its researchers have published papers that are among the most cited and influential in the world on a range of subjects, Goel said.
The university has a robust entrepreneurship ecosystem, with programs, events and incubators, that is enabling students and faculty to learn how to take an idea or years of research and form a company. Last week, the university officially opened ONRamp, a new collaborative workspace for entrepreneurs and startups for U of T and other Ontario universities. 
In a break from other recent rankings that noted the rise of Asian universities, Reuters said their research shows that "anyone looking to find the most influential research leading to the most transformative technologies should look west, not east."
North American universities dominated the Reuters Top 100 list, with 51 universities placing, followed by Europe with 26, Asia with 20 and the Middle East with three.
The ranking process examined approximately 600 global organizations, such as educational institutions, non-profits and government-funded labs that publish the most academic research. Each was then evaluated and ranked using 10 different metrics, including published academic papers and patent filings, an indication of its ability to commercialize its discoveries.
Overall, the University of Toronto continues to be the highest ranked Canadian university and one of the top ranked public universities in the five most prestigious international rankings: Times Higher Education, QS World Rankings, Shanghai Ranking Consultancy, U.S. News Best Global Universities and National Taiwan University.
UTC